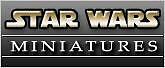 Ever wanted to recreate some of the great battles? Could a squad of Clone Troopers defeat a squad of storm troopers? Well here is your chance to find out!
Star Wars Miniatures is a game that can be played by the whole family with it's very simple rules and easy set up.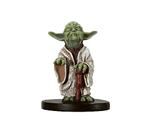 The only thing you need for a game is characters and a map, both of these can be found at any Hobby shop or my ebay store.
The figures are 4-6 cm high and include all the main (and minor) characters of the movie; the game now also includes characters from the books, computer games and comic series.
To start the game you should get a starter kit which has a set of the rules, a map and some figures form the game. The rules are well written and easy to follow and it will take no time at all to start a game.
The basic rules allow you to move around the map and shoot at your opponent; after one game you will be ready to move to the advanced rules which allow lightsabers, vehicles, using the Force and other abilities.
The rules of the game are very simple and if a character has a special ability then the rules are written on the card that comes with the character.
Once you have played a few games then you may wish to buy other characters in order to improve your squad.
If you wish to play other people in tournaments or friendly games then simply find your local hobby store and ask there. At my local store we have a friendly tournament on Tuesday nights.
Even though the objective of this game is to kill your opponent I dont' find it violent at all - in fact I play tournaments with my 8 year old daughter while my other 12 year old plays games with us at home!
Don't forget to visit my store in order to buy figures or the starter game - http://stores.ebay.com.au/Clifton-Bazaar-and-Emmas-Emporium