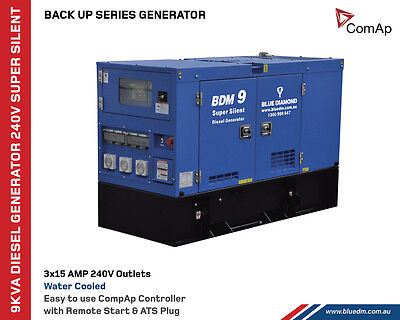 Add a caption
9 KVA Blue Diamond Generator 240V Single Phase
Click to Edit Caption
The Blue Diamond Backup Series range of diesel generators are ideal for the residential and farming markets, offering high performance, reliable technology and operation at a fraction of the cost of bigger brands.

In some instances, power outages can last for days on end. What would this mean for your home or farm? How much frozen or refrigerated content might you lose? With a backup generator, your equipment and lights stay on while others could be left in the dark. Power outages also risk a breakdown in communication systems as well as security services. Our silent diesel generators can be installed to switch on as soon as the power goes out. They can also be controlled remotely via the web or mobile app thanks to our ComApp computer control systems and Web Supervisor online monitoring.

Blue Diamond Backup series diesel generators are powered by Laidong engines, one of the longest established and most highly respected engine brands, as well as Isuzu motors.

Because diesel is safer to store for long periods than petrol, a Blue Diamond diesel generator is the ideal solution if you're in the market for a safe and reliable backup home generator or something for the farm. Diesel is also a far more efficient fuel than petrol meaning you'll also be saving on running costs. Our Backup series are built with large fuel tanks able to deliver up to 24 hours of uninterrupted power supply.

Blue Diamond generator alternators are electronically governed and equipped with AVR technology which means they're safe to use with sensitive electronic equipment including computers for home and business use.

If something goes wrong, Blue Diamond generators are covered by a 12 month or 1000 hour engine warranty as well as our full support and service operation. If parts need replacing, we also stock all spare parts to ensure you'll be back online in no time.

Our Backup series of diesel generators come in 9 KVA, 12 KVA, 20 KVA and 25 KVA, available in 240v or 215v and are competitively priced to ensure you'll find the backup generator you need to suit both your power needs and your budget.

Don't risk your lifestyle or enterprise to power outages any longer, get in contact with us today and we'll have you powered up with a backup generator in no time.