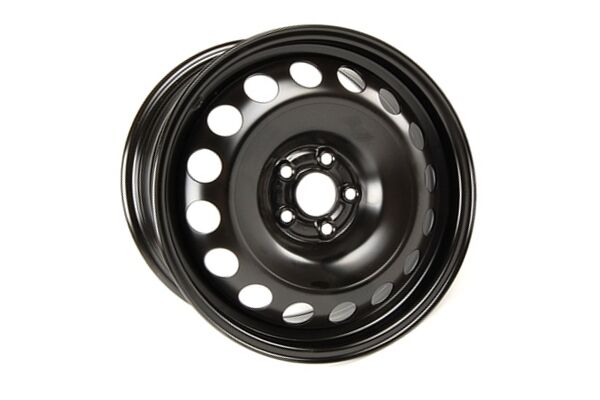 When it comes to buying rims, also called wheels, steel is the heavier, more durable choice. These are a good option for larger vehicles that need higher performing rims, such as SUVs and trucks. If buyers drive frequently in snow or ice, steel rims are more solid and help them navigate easier through rough or icy terrain.
Another good thing about steel wheels is that they are generally cost effective, at least for their durability and size, in comparison to aluminium or magnesium rims. Strong steel wheels are a reliable choice when it comes to purchasing rims, and buyers who understand the different makes, sizes, and types are able to make a more informed decision about the types of steel rims that are best for their vehicle.
Steel Rim Make and Size
The first step to choosing the right steel rims is to ensure that consumers are getting the proper size and make for their vehicle. There are steel rims made for every type of car, such as Holden, Toyota, and Nissan, and this ensures that the rims and tyres correspond, and that the rims are the right size for the car.
Consumers also need to know what size rims they need for their tyres. Rims vary in size and need to be compatible with the tyres that they are to be fitted into, so consumers should note the size of the needed rims, such as 15-inch or 18-inch steel rims.
Steel Rim Types
There are several types and designs of steel rims for consumers who are looking for the right rims for their needs. While steel rims are available in various colours, designs, and finishes, there are many options for buyers to choose from. Steel rims are shiny and silver or burnished and black with a glossy finish. Steel is a versatile material that is used to make different rim designs, styles, and shapes. Steel rims are also widely used for snow tyres and winter wheels.
Most people who opt for steel rims may not be as concerned with aesthetics as they are durability. Steel is known for being more resilient and stronger than aluminium and magnesium, which makes the rims the best option for drivers who are more interested in sturdy rims than stylish rims, though steel rims are able to be customised with the use of easy, slip on rim covers.
Black Steel Rims
Black steel rims are a sporty option for consumers looking for a sleek steel rim design. Black rims are modern and stylish, and are available in many designs. These are popular for four-wheel drive vehicles such as sport utility vehicles and trucks.
Black steel rims offer durability and heavy-duty designs, and they are made with a powder coating that offers a glossy finish. Some black rims have additional enhancements like painted stripes on the rims, which add more sportiness to the overall look of the rims.
Smooth Steel Rims
Smooth rims, sometimes referred to as smoothies, essentially do not have much of a design, but instead offer a simple style of rim that is elegant and open ended. These are also called hot rod wheels. This type of steel rim is seen on some vintage vehicles. Smoothie rims are versatile and look good on many types of vehicles.
Steel Rim Designs
Most consumers are looking for steel rims that offer style and aesthetics. There are many types of steel rim designs, from spider style wheels and detailed mesh designs to simple lip designs. Sporty torque wheels are another option. Some steel wheels offer a rounded bolt pattern, which adds pizzazz to a 4x4 vehicle. Some buyers may opt for a more traditional steel rim design such as a window design. Rims with racing stripes are not as common but offer a unique touch.
Tyre and Rim Sets
For consumers who are replacing the rims and the tyres at the same time, it may be more convenient and economical to purchase the items together in a set. There are many designs available and car makes, such as tyre and wheel sets for a Ford or a Nissan. This is a good option for spare tyre as well.
Installing Steel Rims
Buyers seeking steel rims need the necessary components to install the rims. These include lug nuts, caps, and something to access the tyres and wheels, such as a jack. Consumers also need a socket wrench to loosen the nuts on the previous rims to install the new steel rims.
Caring for Steel Rims
One of the good things about steel rims is that they do not require as much maintenance as other types of rims, such as chrome rims. However, to keep steel rims looking sharp and stylish, consumers want to use specialised wheel wax and cleanser to keep the rims from oxidising, but regular rim maintenance is achieved easily by using soap and warm water. Consumers should skip using any harsh abrasives or sponges on steel rims to avoid scratching the wheels.
Benefits of Steel Rims
For buyers who are choosing between alloy rims and steel rims, there are a few benefits to using steel over other materials. Cost is the biggest benefit, but durability is important too.
| | |
| --- | --- |
| Benefit | More Information |
| Various styles available | Black, smooth, silver, and burnished designs |
| Wheel covers are available to easily change the style | Wheel covers mimic the look of alloy wheels and fit over the rims easily |
| Inexpensive | Cost is low compared to alloy rims and mag rims |
| Strong and durable | Does not bend like aluminium and magnesium; may last longer |
| Better in inclement weather | Often used for snow tyres |
| Handles rough terrain better | Does not bend in potholes or over rough roads like aluminium alloy rims |
Consumers may be disappointed that steel rims do not come in as many fancy designs as their alloy counterparts. However, that can be fixed with wheel covers that easily change the way the wheels look.
How to Buy Steel Rims on eBay
If you are looking to upgrade your rims to sturdy steel, find great deals on steel wheels on eBay. Use the search box on the eBay home page or any internal page for the easiest, most user-friendly way to begin shopping. Type in "steel rims" to bring up your options, or "steel wheels", which may bring up more results. You will be able to shop by price range as well as car make, such as steel wheels for a Ford.
Buying from Reputable Sellers
For the best purchasing experience, buy steel rims from an authorised merchant who is a Top-rated seller, and check the seller's feedback to ensure that seller is reputable before buying. Read the listings carefully to see what comes with the rims, such as lug nuts or caps, to see if you need to purchase additional items to make installation easier.
Conclusion
There are many ways to upgrade the way a vehicle looks, but adding steel rims is inexpensive and immediately changes the way a car looks. Steel rims also have other benefits, such as durability, extended life, and strength, which makes them easier to care for and offers consumers the ability to drive the steel rims over rougher terrain without worry.
Steel rims are also the best option for buyers who live in regions where it snows frequently, and they are usually the only rims that are used in conjunction with snow tyres during the winter season. Steel rims are a good option for general, everyday driving, and though they are not as pricy as their alloy counterparts, they are efficient, strong, and resilient, which make them a sturdy and stylish choice, especially for buyers on a budget.
steel rim|steel wheel|tyre|smooth steel rim|black steel rim