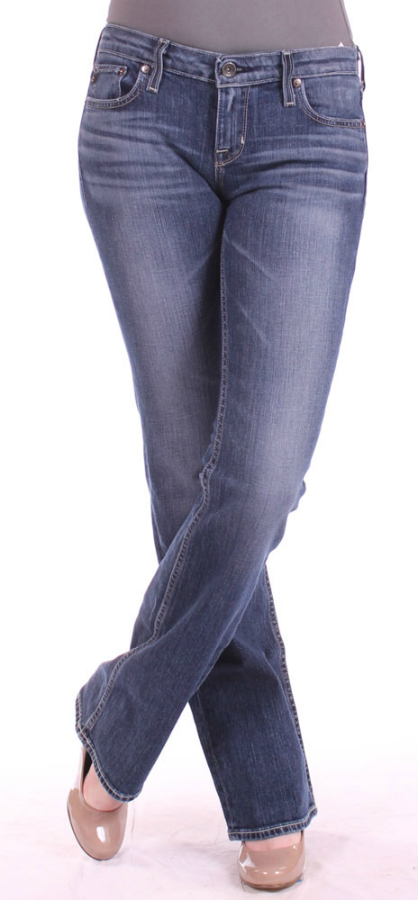 In 1873, Levi Strauss and Jacob Davis invented the denim pants now known as blue jeans. Originally designed for cowboys, jeans became popular amongst teenagers in the 1950s. Since then, jeans have become a constant in almost every wardrobe around the world. Jeans today come in many styles and fits, some of which feature a distressed or used look. These jeans appear faded, and the fabric is also softer than non-treated jeans. Stone-washing and acid-washing are two methods used to achieve this used look and feel.
Jeans are available at clothing stores and online. Buyers considering a new pair of "used look" jeans should know the difference between stone-washed and acid-washed jeans. They should also know how to choose the right size and fit of jeans. Finally, they should know where and how to purchase their chosen pair of jeans.
Stone-Washed Jeans
Stone-washed jeans are jeans that go through a process called stone washing. Stone washing gives jeans a faded look and also makes the fabric softer and more flexible. The original method used to stone wash jeans involved the use of pumice stones and industrial washing machines. The rough pumice stones scraped a layer off the denim, exposing the white threads beneath. Though effective, stone washing with pumice stones is detrimental to the fabric, reducing its lifespan and harming the environment as well.
Today, another method is used to stone-wash jeans. Cellulase enzymes affect denim the same way pumice does, but without the negative effects to the fabric. After the jeans fade, they are rinsed and then undergo a softening process. The end result is the same. Stone-washed jeans are usually available in blue or black.
Acid-Washed Jeans
Acid-washed jeans undergo a harsher process. Chemical bleaching breaks down the fibre of the jeans. Similar to stone washing, the end result is faded jeans. However, acid-washed jeans have white streaks or spots where the dye faded. Acid-washed jeans are available in the standard jeans colours of blue and black. However, they may also be available in a range of other colours.
Popularity of Stone-Washed Jeans vs. Acid-Washed Jeans
Both stone-washed and acid-washed jeans were popular in the 1980s. Acid-washed jeans lost ground in the 1990s. Stone-washed jeans, however, are still commonly worn, and most manufacturers sell them. Although acid-washed jeans are not as popular as they were in the 1980s, they are still available. When worn today, acid-washed jeans are often paired with solid colours or neutral clothes and accessories. This differs from how they were worn in the 1980s, when it was popular to match acid-washed jeans with acid-washed jean jackets, for example.
What to Wear with Acid-Washed Jeans
Stone-washed jeans are considered "normal" casual wear, and no extra care is needed when choosing what to wear with them. Care must be taken however, when choosing what to wear with a pair of acid-washed jeans.
Colour of Acid-Washed Jeans

Clothes to Wear

Blue

Solid colour dress shirt, t-shirt, or sweater

Most colours work well with blue jeans

Solid colour blazer, leather jacket, or denim jacket

Black

Solid colour dress shirt, t-shirt, polo, or sweater

Light colours like white or cream

Dark colours like grey or black

Black, white, denim, or grey jacket
Casual shoes, boots, or tennis shoes all complement acid wash jeans. Buyers can complete their outfit with a watch, ring, or chain. They should wear a belt, as well, especially with a tucked-in shirt.
Choosing the Correct Jeans Size
Whatever the type, buyers should choose jeans that are the correct size and fit. Most jeans makers use two measurements for jeans: the waist, and the inseam. These measurements are written as "waist x inseam". For example, the label on a pair of jeans with a 32-inch waist and a 30-inch inseam reads "32x30". Once buyers know what their size is, they should consider the type of "fit" of the jeans.
The Different Fits of Men's Jeans
When applied to jeans, the word "fit" refers to the seat and thigh. Men have several fits of jeans available to them. Buyers should choose the one they are most comfortable in.
Type of Fit

Description

Least fabric in rear panels

Narrower thigh openings

Show off the body

Fit like traditional jeans

Suitable for most people

More fabric in the back

Extended rise (distance between the crotch and the centre of the waistband)

Bigger thigh openings

Suitable for overweight or very muscular men
Buyers should remember that fit does not refer to the legs of the jeans. Slim fit jeans differ from "skinny" jeans. There is another set of terms used to describe the legs of the jeans (cut).
The Different Cuts of Men's Jeans
The "cut" of a pair of jeans refers to the legs of the jeans. Each cut suits a different body type or situation. Buyers should choose the cut that suits their requirements best.
Type of Cut

Description

Taper or skinny jeans

Legs taper from the thigh to the opening of the cuff

Straight or regular legs

Same size from thigh to ankle

Classic jeans look

Boot-cut or wide-leg

Designed to be worn with boots

Slight taper from thigh to knee

Flares out from knee to ankle

Should not be worn with sandals or low shoes
Jeans are usually described by a combination of fit and cut. The correct combination to choose depends on buyers' body and leg shapes. The three measurements and terms discussed: size, cut, and fit, are all that are required to choose a pair of jeans that fits well. However, there are a few other terms buyers may encounter when shopping for jeans.
Loose jeans or "relaxed" jeans
High-rise jeans (extra-long rise)
Low-rise jeans (low rise, mostly in women's jeans)

Buyers should note that sizes and fits are not consistent from manufacturer to manufacturer. If buyers are considering a pair of jeans from a maker they have not worn before, they should try them on first if possible.

Finding Stone-Washed and Acid-Washed Jeans on eBay

Buyers looking for stone-washed or acid-washed jeans online can easily find and purchase them on eBay. Buyers can begin looking by entering a phrase in the search bar on eBay's home page. For example, a search for "stone-washed jeans" lists all the stone-washed jeans currently available on eBay. When looking for something specific, buyers can save time by adding keywords to the search term.

A search for "blue boot-cut stone-washed jeans" lists fewer, but more relevant items. Buyers can also browse for deals on men's clothing before making a choice. Before committing to a purchase, buyers should review a seller's return or exchange policy. Since it is impossible to try on clothing when buying online, there may be situations when a return or exchange is necessary.

Conclusion

Jeans were invented over a hundred years ago, and since the 1950s they have become an essential part of almost everyone's wardrobe. Stone-washed and acid-washed jeans are two types of jeans that feature a "used look". Originally, stone washing was performed by washing jeans in industrial washing machines with pumice stones. The end result was a faded look and softer, more flexible fabric. The same effect is now achieved using enzymes.

Acid-washed jeans are chemically bleached to achieve a similar effect. However, acid-washed jeans feature streaks and spots of lighter colour, unlike stone-washed jeans. Both styles were popular in the 1980s, but stonewashed jeans are now considered casual wear, while acid-washed jeans are worn by the fashionably adventurous. Buyers looking for jeans should know how to choose the right size, fit, and cut. Jeans are available online and can be purchased on eBay.

men's jeans|jeans|stone-washed jeans|acid-washed jeans|faded jeans