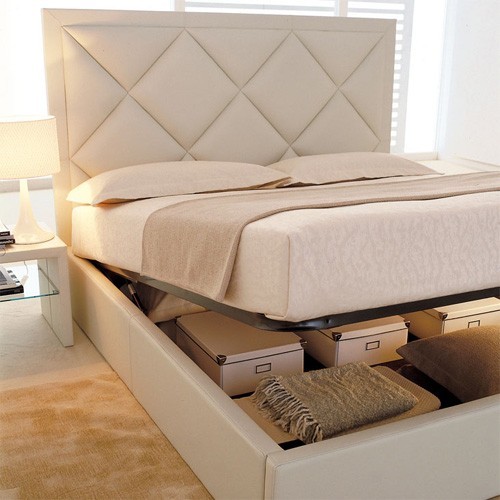 Finding enough space while maintaining a clean, calm, attractive, and enjoyable bedroom is a challenge, regardless of the size of the room. A storage bed provides concealed storage space without taking up valuable floor space, allowing users to forego purchasing large chests of drawers or other bulky bedroom furniture. A storage bed is an essential piece of multi-functional furniture, combining form and function seamlessly. Ottoman beds provide fully concealed storage, while divan and platform storage beds provide more obvious, but equally attractive, storage solutions. Storage beds of all sizes and types are available in furniture shops and on eBay in new and used condition at very competitive prices.
Types of Storage Bed
Storage beds are both attractive and practical, combining aesthetically pleasing form with space-saving function. There are numerous types of storage beds offering different methods of storage and differing appearances. Choosing the storage bed that best meets the appearance and storage needs of the consumer is essential.
Ottoman Storage Bed
An ottoman storage bed is a popular choice of bed. The upper portion of the bed lifts up on hinged arms. These beds, when closed, look like platform beds. However, the bed frame is hollow, providing ample storage within the bed base. The upper lift-up portion of an ottoman bed frame is generally metal with wooden slats, sprung slats, or a platform top on which the mattress sits. The long, wide space inside an ottoman storage bed is ideal for storing a wide array of items. Users can comfortably store anything from clothing and spare bed linens and pillows to sports equipment, suitcases, and luggage.
The substantial storage space inside of a bed frame compromises the durability and comfort of a bed, particularly in lower-end models. The top of the bed that supports the mattress and the bed occupants is similar to a slatted bedstead meaning these beds are not well-suited to those who like a firm sleeping surface. Additionally, if too much is stored beneath the bed or if there are items that are a little too tall, the occupants may experience an uncomfortable sleep as they feel the items beneath them pressing against the top of the frame.
Divan Storage Bed
A divan storage bed is available as an ottoman-style bed or with drawers or sliding compartments on each side. A divan bed has a sturdy wooden frame and a platform or sprung edge top. Additional storage space under a bed helps to save space in the bedroom. Divans are available with between one and six individual drawers. It should be noted that the greater the number of drawers or compartments, the more expensive the bed. A standard divan with drawers generally offers less space than an ottoman bed. However, because of the reduced height of the storage space, the frame is sturdier and provides a firmer sleeping surface. Because there are no hinged components, the bed base is also more durable with a longer lifespan. The divan bed is less aesthetically pleasing than other bed types, but a high-quality divan has a long lifespan and is comparatively inexpensive.
Platform Storage Bed
A platform storage bed is more aesthetically pleasing than a divan storage bed. A platform bed consists of a solid wooden frame with a solid or latticed top for mattress support. The wooden bed frame contains between one and twelve drawers for storage. The drawer fronts are in keeping with the style of the bed. Additionally, manufacturers design the whole piece, including headboard and footboard, with aesthetics, comfort, and storage in mind.
A popular choice for platform bed is the sleigh bed. Sleigh beds, with their curved and scrolled headboards and footboards, provide simple and delightful charm to any bedroom. Contemporary platform beds tend to have clean, straight lines and a simplistic design. Transitional platform beds combine traditional and contemporary styles. Another benefit of platform beds is the low ground clearance, limiting the amount of debris and allergens that can collect beneath the bed.
Maximise Bed Storage Space
To maximise the storage space in a bed, purchase vacuum storage bags. These bags enable users to reduce the amount of space to store soft items, such as clothing and bed linen. Simply insert the items into the bags, attach the vacuum nozzle, and suck out all of the air. This reduces the amount of storage space used by up to 75 per cent. This also keeps packages water-resistant and prevents bug infestations and dust and allergen particles from getting to the items. Place the shrunken vacuum storage packages into the storage space to keep them safe and organised. This is very useful in small rooms or where limited storage space exists. Make sure to keep the storage space organised. Do not just throw items into the space haphazardly. Instead, keep items neat, tidy, and folded. To keep objects in their proper place and maximise space, consider purchasing drawer organisers, drawer dividers, orshoe organis ers.
How to Buy a Storage Bed on eBay
Buy an aesthetically pleasing, comfortable, functional storage bed on eBay with ease. Simply search from a search bar located on any eBay page. Browse through all of the available listings or narrow your search to the most relevant products using the filters provided. When shopping on a budget, purchase a used storage bed in excellent condition. It is also possible to find storage bed and mattress bundles. eBay offers sellers affordable prices across a huge range of storage beds, and some sellers even offer free delivery or allow you to collect a bed yourself once the sale is complete. Free up floor space and gain storage space by purchasing a comfortable and practical storage bed from eBay.