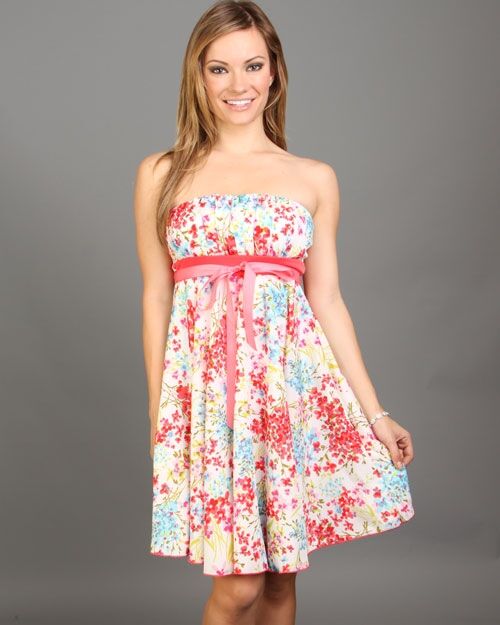 A strapless dress is elegant, versatile, and is worn for casual events like an outdoor barbecue, or more formal events such as a prom or cocktail party. A strapless dress makes a bold style statement on its own, but more modest wearers cover up with a shrug, wrap, or cardigan sweater over the dress. Strapless dresses are short or long, and made of a variety of materials such as cotton, jersey, silk, or taffeta.
Consumers should choose the right strapless dress based on their own figure, what type of event the dress is needed for, and their height. The dress should fit in a flattering way, and not be too baggy or too loose. There are many types of strapless dresses available on eBay that are perfect for daywear or a night on the town.
Casual Strapless Dresses
There are strapless dresses that are more suited to daytime wear than evening wear, and the more casual look provides a versatile dress that can be worn for just about any occasion. Casual strapless dresses are made out of washable materials, such as cotton, jersey style cotton, or polyester.
Sundresses
Strapless dresses that are generally not formal are made of lightweight materials and are worn as sundresses. Sundresses are usually knee-length or shorter, and the top of the dresses vary. A sweetheart neckline is common, which creates the top of a heart, but a straight across horizontal neckline provides a bit more modesty. Women who have short legs are encouraged to wear knee-length or shorter strapless dresses to create the illusion of longer legs.
Sundresses and casual strapless dresses are either solid coloured or printed, and some popular prints include floral graphics, animal prints, or stripes. For a more conservative occasion, a mid-calf dress is more appropriate.
Maxi Dresses
Maxi dresses generally go all the way to the floor. These type of dresses are most flattering on taller women with longer legs, because the additional material can overwhelm petite women. Full-length strapless dresses for casual wear are popular in the spring and summertime. They come in an array of styles and designs such as bandeau top dresses, elastic top strapless dresses that can be slipped over a bikini and worn to the beach, and halter dresses that have an optional tie that goes around the neck, or are worn down for a strapless look.
Maxi dresses that are strapless are typically made of cotton and are quite comfortable to wear. They come in many colours and styles and can be dressed up or down with the addition of accessories such as jewellery. Some strapless maxi dresses are bohemian style with sheer fabric and patterns.
Formal Strapless Dresses
Strapless dresses are perfect for a formal event, and they are worn to proms and dances, weddings, cocktail parties, or other black-tie occasions or special events where elegant dress is required. Choosing a formal strapless dress depends on many factors, such as colour preference, length of the dress, and material.
Short Cocktail Dresses
A short strapless dress, which is above the knee or mini-length, is a somewhat formal type of strapless dress but is still suited to parties, and mostly worn by younger women. These are available in many styles that work for proms, dances, or cocktail parties. Short strapless dresses are made of soft chiffon, lace, satin, silk, or taffeta, among other materials. They are stiffer than casual strapless dresses and the fabric may be more embellished or shinier.
Some dresses have a beaded bodice that flows into a loose skirt, and some are more sheath like and body hugging. These dresses may have extra decorations on them such as rhinestones, a sash or belt, a petticoat underneath to make the dress stand out, or ruffles around the bottom of the dress. Some strapless dresses are covered in glittery sequins.
Long Formal Dresses
A strapless formal dress that is full-length or knee-length is a bit more conservative, and is likely worn as a bridesmaid dress or to a black-tie event. These dresses convey elegance a bit more than shorter strapless dresses do, and they are also made of many different materials similar to short strapless dresses. Some strapless dresses that are longer in length have embellishments like crystal studded sweetheart necklines, layers of fabric, or corset style bodices. Lace detailing or a chiffon skirt may be added.
Strapless dresses that are full-length may be all one colour, or be several different colours that complement each other. An addition sometimes found to a floor-length dress is a slit up the side of one leg, or a mermaid style dress that is tight until it flares out at the bottom of the dress to create a trumpet style silhouette. Ball gowns generally have a horizontal or sweetheart neckline and a puffy skirt. These are both popular wedding dress styles
Purchasing the Right Strapless Dress
Though there are many types of strapless dresses, women should seek out dresses that best emphasise and highlight their figure attributes. Women who are self-conscious of their body type may want a more structured dress to provide support.
Strapless dresses are flattering for everyone, but finding the right dress is sometimes tricky. Another factor for buyers to keep in mind is that a colour that flatters the hair and skin tone also creates a more flattering look, so consumers should stick with colours that they know work on them.
Strapless Dress Sizes
The best way to ensure that a dress is flattering is to ensure a proper fit. Consumers can do this by purchasing the right size strapless dress to fit their bodies correctly. A soft tape measure should be used to determine the exact measurements before selecting a size. Misses' sizes range from 2 to 12 when it comes to dress shopping. The following sizes are in centimetres.
| | | | | | |
| --- | --- | --- | --- | --- | --- |
| Dress Size | 6 | 8 | 10 | 12 | 14 |
| | 93 cm | 95 cm | 98 cm | 103 cm | 106 cm |
| Bust | 84 cm | 86 cm | 90 cm | 95 cm | 99 cm |
| Waist | 66 cm | 70 cm | 74 cm | 78 cm | 83 cm |
Women should measure their hips, waist, and bust for the proper sizing, and for a floor-length dress or a mini, women may want to know how short or long it will be. A measurement can be taken from the underarm to the ankle to see if the dress works for a consumer's height.
How to Buy Strapless Dresses on eBay
Purchase a strapless dress on eBay and get a great deal. There are many types of dresses including mini-length as well as floor-length strapless dresses made of all types of materials. Navigate to dresses on the site, and once you select the option for strapless, you can determine what length you would like your dress to be, or shop by dress material, such as chiffon. A pre-owned dress can save you money for a dress you may only wear once or twice.
Select options for the size of dress you need, or stay in a specific price range by using the price range indicator to stay within your budget. Purchase dresses from authorised merchants who are Top-rated sellers and have excellent feedback from previous buyers. To communicate with the seller about your dress, click "Ask a Question" and see if you are able to pick up your dress in person and avoid shipping costs if the seller is local.
Conclusion
Strapless dresses are stylish, and perfect for warm weather, but they can be worn in cooler climes if consumers add a jacket, sweater, or shrug for a layered look. Since the neck is bare when wearing a strapless dress, accessorising is important, and adding a necklace and earrings makes the outfit complete and adds polish. For shorter women, wearing heels with a strapless dress adds balance and makes legs look longer.
Women should purchase the right strapless dress for the occasion of event the dress is needed for, such as a longer dress for an evening wedding or event, or a shorter dress for a party or daytime event. Strapless dresses are worn by every woman no matter what her body type is, but the proper undergarments must be worn and the shape of the dress should be flattering and make her feel good, and the dress should be comfortable as well.