While eBay allows a seller to list all the important information for a buyer throughout an ad, the data is scattered over various categories, making it more difficult for a potential buyer to see all of a seller's terms and conditions.
If you are a seller who designs ads using Turbo Lister, take advantage of its HTML facility to create a smart Terms & Conditions feature where you can list all your important information in one attractive box.
In either Microsoft Word or Excel, create a table that includes all the information you wish to share with your buyers. Use the same categories that eBay offers, or create your own. For example: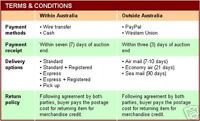 Save the Word or Excel file for future use then copy and paste the table into your Turbo Lister ad. Turbo Lister will automatically adopt all the fonts, styles and colours you've used to make your table look its best.
Sometimes you may need to tweak your table here and there, but once you have mastered the technique, you'll be able to use this easy method to really give your ads a visual boost and give your sellers the benefit of incorporating all of your important information into one convenient area.