This guide is designed to help you safely stretch your ears at home. Using stainless steel tapers you can stretch your ears from a normal ear piercing, 20gauge, to a large 0 gauge or 8mm. Let your individualism shine through!
The most important thing to remember about stretching is to listen to your body. Your body knows when something isn't working and paying attention to what its telling you is important. Stretching your ears takes time and patience. If you go too fast you might damage your skin enough to create scar tissue which, as well as being ugly, will be harder to stretch in the future.

Before you begin you should sterilize the tapers and wash your hands and ears with antibacterial soap. Massaging your ear lobe and soaking it in warm water will increase circulation and soften and relax the tissue to help the taper go in.

Lubricating the taper with liquid soap or Vaseline will also help it go in smoothly. Start by gently pushing the taper into the piercing until it meets resistance. If you can get the taper more than half way through then the stretch will usually be fairly easy. Take a slow breath in and, as you exhale, push the taper through until 1cm is left. There should be some resistance. If you feel a burning sensation, or slight pain, then the stretch was perfect. Try to allow the skin to thicken and heal before attempting to stretch further.
The first taper should go in your ear relatively easily. I allowed 1 to 2 weeks for my ears to heal for the first few tapers and then 3 to 4 weeks for each of the larger tapers. It may take shorter or longer for your ears to heal. As you move up the tapers you need to allow more healing time.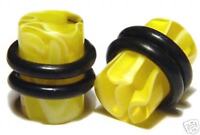 Brighten up your life with some yellow plugs!

When you reach the third taper -8 gauge- you may wish to swap the taper for the plugs. I found that my ears healed a lot quicker with the plugs in as they were not getting knocked around as much.
Once you have reached your desired size you can shop around for some stylish flesh tunnels or plugs. They are available in a range of styles, colours and materials.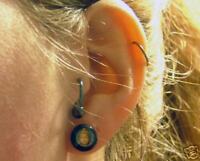 Relax with some peaceful buddha plugs!

The most important thing is to take your time. These tapers look cool no matter what size they are so there is no rush. Good Luck.
This help sheet has been compiled from personal experience with guidance from body piercing professionals. I recommend that you consult with a piercing professional prior to stretching your ears and if you have any problems, such as infection, see a doctor immediately. Natasha Miller- Hepzipah