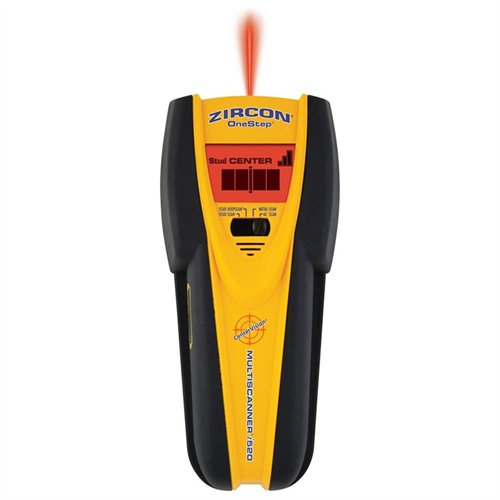 When undertaking a home DIY project, a stud finder tool may not be the first item that springs to mind when drawing up a list of equipment needed. However, this handy and versatile tool is one that is essential when doing any form of drilling, hammering or screwing into a wall or joist. Experienced carpenters will know how to use their knuckles to locate a stud – knocking on the wall will give a different sound when a stud is present. However for the rest of us a stud finder is the perfect bit of kit. This guide will outline the key features to look for when buying a stud finder, as well as how to purchase one on eBay.
Features of Stud Finders
When hanging or securing anything from a wall, the most important thing to bear in mind is that the fastener being used is driven into either a stud or another framing member. Locating a stud can be tough without the use of equipment, and stud finders come in various types so it's important to know the difference as well as know which is best for a particular project or other use. There are some key features to look out for when purchasing a stud finder:
Magnetic or Electronic
There are two main types of stud finder, and each has their merits as well as their cons. The choice must be made between those that are magnetic and those which contain an internal capacitor. The difference depends to a degree on personal preference, but other factors such as the type of wall, budget for tools, and ease of access are relevant to this choice. Here is an outline of each type:
Magnetic
There are two types of magnets that are used in the magnetic stud finders – stationary and moving. Stationary magnets are just what their title suggests; a magnet that is stationary is used to detect the presence of the stud under the surface of the wall. When a stud or screw is passed over, the user of the apparatus will feel a pull or force as the magnet detects it. This is particularly useful when using the equipment on a drywall, as the screws and studs used to secure it are usually quite close to the surface, making them easier to detect. However, on plaster walls the screws can be buried almost half an inch deep, meaning that a stationary magnet (regardless of how powerful) cannot detect them.
To extend the range of the magnet, a neodymium magnet that is free to move is used. Neodymium is a rare earth metal which is an extremely strong magnet, and the ability for it to freely move within the housing of the stud finder means it is capable of detecting studs through almost any surface. The magnet moves at a speed relative to the depth of the metal, so a drywall stud will make a deep thud, whilst one buried behind a plaster wall will make a softer sound – either way it will make a noise.
Internal Capacitor
These types of stud finders use a plate that can detect changes in the electromagnetic composition of the wall – a change in density will often mean that a framing stud has been located. These are the most common type of stud finder and they are divided into three different types:
· Edge Finders – these detect the changes in wall densities that are often indicative of the edge of a framing stud. They're usually the most inexpensive pieces of equipment.
· Centre Finders - these have multiple sensors that can detect the various changes in electromagnetic flux, meaning that they can pinpoint the centre of a stud in a wall.
· Instant Finders – these will generally tend to have multiple sensor plates with multiple sensors that can be placed across the wall. They can find not only the centre of a stud, but the location of multiple studs simultaneously and accurately.
Buying Considerations
When buying a stud finder of eBay there are a certain number of factors to be weighed up before making a purchase. Below outlines these areas and also provides some handy suggestions to help with making the decision:
Cost
When undertaking any DIY project, the cost of tools should definitely be factored in. The cost of stud finders can vary on options such as brand, condition and the complexity of the machine. It's a good idea to have a budget in place, and this can be determined by researching the different options and price ranges available. Remember, budgets can always be saved towards if necessary.
Condition
On eBay it is possible to purchase products that are both brand new, as well as those that are used. This decision will not only be based on the preference of the individual, but also how each condition affects the cost – quite often used equipment presents a more affordable means of buying quality.
Brand
There are a number of different manufacturers of stud finders, and again personal preference and cost will be affected by this. Some major brands are:
· Bosch
· Stanley
· Zircon
Purpose
The use that it is going to be put to is important, as those who are using the device professionally will want to invest in equipment that is up to the task, whilst someone with a casual interest in DIY may not want to spend as much.
Buying a Stud Finder on eBay
Once all the factors have been decided on, navigate to eBay's website to start using the features to find the right model. The Home & Garden section has plenty of tools available, and there is a region specifically for them. Once the right section has been found, the site offers some handy features to help make the buying process easy:
Feature Refinement
At the left of the site there is a section where different criteria can be selected, refining only these items down. Multiple refines on factors such as price, condition and category can be selected, meaning that only the relevant items are displayed.
Product Pages
Each product has its own listings page, and clicking on one of the refined products will open this page. Here information such as the full description, product image gallery, pricing and postage and seller information can be found. It is here that key information can be researched and compared.
Seller Information
It is possible to view details about the merchant that is selling the item, such as their store page, ratings from previous customers, comments left and other products they have available. This is a good way of ensuring that a seller is trusted and has a good reputation. It is possible to contact the sellerfrom this page.
Buy Now or Auction
There are two types of sales on eBay's site. Auctions work just as regular auctions do, with people bidding in a designated time limit. The highest bid wins, and a maximum bid can be placed and re-placed throughout the duration. The option is to buy it now, meaning that the item can be purchased directly.
Conclusion
Stud finders have many different uses, and as such there are a number of different options when it comes to purchasing one. Make sure that the requirements of the job are fully understood before making a purchase. Using eBay is a great way to find a range of tools, and with the sites features and buyer protection programme it is safe and easy to shop online.