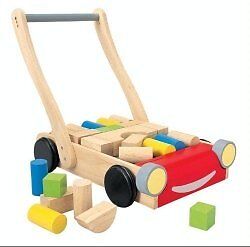 The Plan Toy Baby Walker's handle can be adjusted to your child's height. The Truck includes 24 color and natural blocks.
Pushing the Baby Walker will help improve coordination and balance. The Blocks stimulate creative thinking and imagination.
Children will also learn about size, shape, weight and geometry, which are basic math. concepts.
Features Include:
* A Traditional Baby Walker To Help Young Children Take Their First Steps
* Specially Designed Handle Can Be Adjusted To Different Heights And Stiffness For Stability And Child Safety
* Includes 24 Colored And Natural Blocks
* This Toy Is Made In Thailand From All Natural Organic Recycled Rubber Wood
---
2. Plan Toy Woodpecker Baby Walker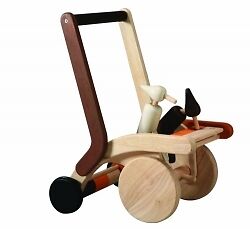 This beautiful eco-friendly walker is made from recycled rubberwood trees. With every step the 2 woodpeckers 'peck' back and forth creating a fairly quite pecking noise that is not load or annoying.
It
stimulates children to walk and develop major motor skills.
Features Include:
* Eco-Friendly
* Excellent solid construction
* Entertaining Woodpeckers that 'peck' when the walker is pushed
* Easy to navigate and change direction
---
3. Wonderworld Hopping Bunny Walker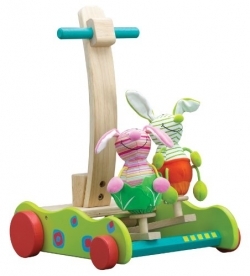 The Wonderworld Hopping Bunny Walker is a toy, a walker and an education center rolled into one.
Your child will enjoy untold hours playing and learning with this Walker. It is beautifully crafted from rubberwood and finished in bright colors. The bunnies hop up and down as the walker is pushed along - which is just hilarious to watch!
The soft bunnies can be removed from the Walker for extra play and to by cleaned when needed.
Features Include:
* Bright multi-colored wooden push toy
* Pink and green striped bunnies perch on front
* Helps young child learn to walk, exercising both arms and legs
* For ages 12 months and up
* Made from environmentally friendly rubberwood, non-toxic water based
paints as well as biodegradable fabrics
---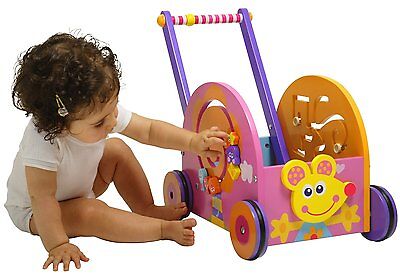 This is a high quality, colorful, attractive and easy to assemble Walker. The Push & Play Mouse Wagon will engage kids in hours of play.
The maze on both sides of the wagon will satisfy children's curiosity and promote curiosity while the large box in the center can be used to store their favorite toys while they move around the house.
Tested to meet both European and U.S. safety standards.
Features Include:
* A perfect toy for any child 18 months or older
* Vibrant colors
* A great learning tool
* Durable wooden toy
* Eco-friendly
* Tested to European and U.S. safety standards.
---