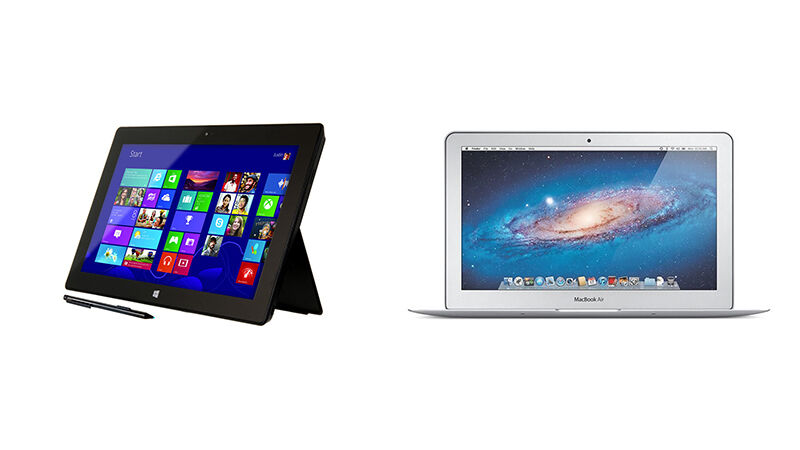 The battle between Microsoft and Apple computers is a lengthy one full of innovative history and product comparisons, and the competition between Microsoft's Surface Pro 3 and Apple's MacBook Air is equally intense. Both computers offer excellent functionality and overall performance, but which is the winner?
Processor
The Surface Pro provides three Intel Core processor options: the i3, i5 and i7. The MacBook Air offers only the i5 and i7 processors. As a rough guide, i3 Intel Core processors are for light use, such as basic web surfing, emailing and streaming videos. The i5 is ideal for casual gaming or for running more advanced applications, while the i7 is the most heavy-duty processor for gaming fanatics or HD video editing.
Memory
In terms of memory and storage, both the Surface Pro and MacBook air offer 8GB RAM and up to 128GB of storage. The Surface Pro, however, also offers a smaller 4GB RAM in addition to the standard RAM.
Display
The MacBook Air features a slightly larger screen (338 millimetres compared to the Surface Pro's 307-millimetre frame). The Surface Pro's resolution display is fantastic, at 2160 x 1440, while the MacBook Air only offers a 1440 × 900 display. Unfortunately, the MacBook Air doesn't have Apple's innovative retina display, so the visual quality of its overall picture is ultimately not as impressive as the Surface Pro's.
In addition, the Surface Pro allows for easier multitasking, with up to three open applications visible side by side. Instead of copying and pasting information between apps, the Surface Pro allows you to simply drag the content between open windows. The MacBook Air allows multiple applications to run concurrently, but they cannot appear side by side unless windows are manually resized.
Weight
When it comes to size, the Surface Pro is the lightest and smallest contender at just 1.1 kilogrammes and 14 millimetres thick (with the Surface Pro keyboard attached). The MacBook Air, while similar in size to the Surface Pro, weighs 1.34 kilogrammes and is 17 millimetres thick. For overall portability, the Surface Pro is the best bet.
Battery Life
MacBook Air boasts an impressive battery life of approximately 10 to 12 hours, while the Surface Pro lasts roughly seven to nine hours. In terms of battery life, the MacBook Air is a clear winner.
Extra Functionality
There are several extra functions to consider when purchasing.
Cameras
The MacBook Air provides a single front-facing 720p HD camera, while the Surface Pro has two separate 5MP cameras, one in front and one in back, with 1080p HD capabilities.
Attachable Keyboard and Surface Pen
One of the biggest draws of the Surface Pro is its tablet transformation abilities. The MacBook Air is always a laptop with a keyboard, but the Surface Pro works as either a laptop for easy word processing or a tablet for better portability and more diversity in applications. The attachable keyboard, which is included in the bundled set along with the Surface pen, comes in a variety of colours for better customisation. However, when it comes to comfort, MacBook Air scores higher points for its keyboard typing ease, as many users feel the Surface Pro's keyboard bends too easily.
The Surface Pro also comes with a unique pen that supports touch input, much like a stylus for tablets. Along with the Surface Pro's Palm Block Technology, the screen's surface easily supports handwriting, art, signatures and notes. The MacBook Air does not come with or support pen usage because it does not have a touchscreen.
Touchscreen Capacity
The Surface Pro supports touchscreen use, whether it's in tablet form or fitted to its keyboard as a laptop. This user interface allows for all the convenience of a tablet coupled with the stability of a laptop. MacBook Air is not touchscreen-equipped.
Software
The Surface Pro comes complete with the entire Microsoft Suite, which includes Word, PowerPoint, Adobe Photoshop and Excel. For intended work use, this is an ideal feature. The MacBook Air's renowned OSX operating system, however, is considered the best operating system available, which may be a reason to get acquainted with Apple's software as opposed to Microsoft's staple suite.
Ports
The MacBook Air has more port options than the Surface Pro, which can be a deciding factor for certain users and their needs. The Surface Pro only offers a single port for the full-sized USB 3.0, a Micro SD card slot and Mini DisplayPort. The MacBook Air, however, has two USB 3.0 slots, a Thunderbolt Port and a MagSafe 2 port.
Conclusion
When purchasing a computer from an online retailer, it's important to consider what you'll use it for. The Surface Pro has exceptional multitasking abilities, visual display and portability, while the MacBook Air offers superior software, more ports and impressive battery life. The choice is truly dependent on users' needs, but they can't go wrong with either computer in terms of quality and performance.