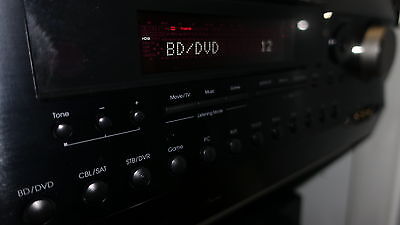 How Many Speakers?
Surround sound has come a long way since it was first presented as a 3 channel effort by Disney in 1940.

With the advent of digital formats such as DVD, Blu-Ray, Netflix and now 4k Blu-Ray there are many different configurations of surround sound to be aware of.
* Please note that the overwhelming majority of movies are in one form or another of surround sound, whereas 99% of music is recorded and mixed in 2 channel stereo only.

5.1/ 7.1/ 5.1.2/ 7.2.4 ? - what do all those numbers mean?
Quite simply those tell you the MAXIMUM number of speakers the surround sound has been encoded for.
The first number is the TOTAL number of speakers around the room (excluding the sub-woofer and any ceiling speakers). The next number after the point is the number of sub-woofers.
So 5.1 would generally mean 3 speakers across the front, 2 at the rear and 1 sub-woofer (hence 5.1)... if you were to add another sub-woofer it would make it 5.2.
DVD movies generally DO NOT go above 5.x, whereas Blu-Ray can support the latest digital soundtracks that go beyond the 5.x channel surround formats.
7.1 would mean a TOTAL of 7 speakers (3 across the front, 2 side rear and 2 rear) plus 1 sub-woofer (see diagram below)... 7.2 would mean you have added a second sub-woofer.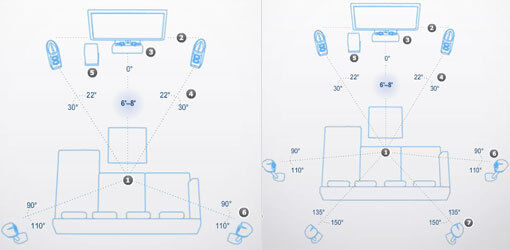 5.1.2...7.2.4... Dolby Atmos....What does it all mean ?
The latest surround formats add a third number to the equation, this third number tells you how many extra speakers you have in the ceiling ( or pointing up to the ceiling in some cases).
By adding ceiling speakers the sound designers are able to give the auditory illusion of height (for example rain falling on the roof, a helicopter hovering above your house).

So 5.1.2 would mean 3 speakers at the front, 2 at the rear, 1 sub-woofer and 2 speakers in the ceiling.
7.1.4 would mean 3 front speakers, 2 side rear, 2 rear, 1 sub-woofer and 4 ceiling speakers (7.2.4 would be the same as above but with 2 sub-woofers).

*As at August 2016 by far and away the most popular format to add ceiling speakers for 3d sound immersion is Dolby Atmos.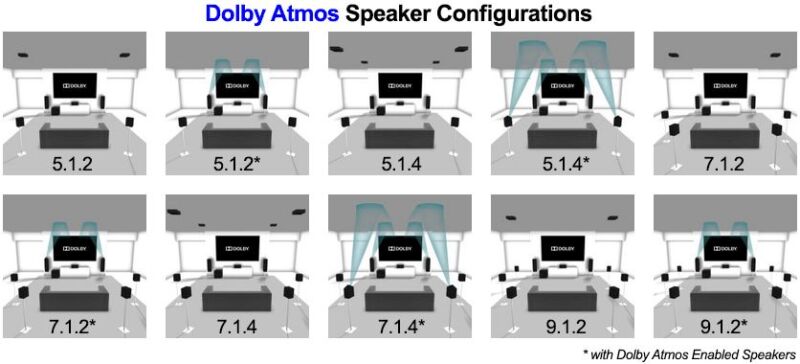 Add a caption
Dolby Atmos supports multiple speaker.configurations
So How Many Speakers do I need?
This can best be answered by consulting with your local specialist surround sound store so they can get a feel for what you watch, and the room in which you are watching in.

As a very general guide, if you are only watching Television and DVD you probably only need 5.1, but, if like most of us you are interested in watching movies in a High Definition or 4k format, you really should take into consideration the latest surround sound formats that include the ceiling speakers for an extra height dimension.
In an apartment or small theatre (12-16sq m) room a 5.1.2 will normally suffice, but if you are planning on a dedicated theatre, you need to examine the options with the help of your local specialist to get the best surround for YOUR room.
That may end up being 7.2.4 or 9.1.2 or any of the other options out there.

THIS GUIDE WAS BOUGHT TO YOU BY : simon@savisystems. com. au