Swimming pool etiquette - the rules of the pool!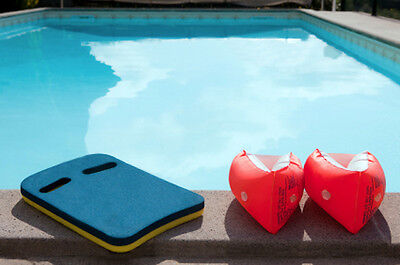 Every pool has similar rules...
For kids there's the no bombing rule, don't eat near the water, walk don't run – all the things we find ourselves calling out repeatedly to our kids at each visit to the pool.
And for adults, there's the rule of laps whereby you stick to the left in the lane appropriate to your speed (your actual speed, that is, not the speed at which you wish you could swim).
Those are the things documented by signs or clearly outlaid when you walk into a pool. And these are the things the lifeguards, pool attendants or teachers will pull you or your kids up on if you break the rules.
But the unspoken rules are a lot tougher.
They may not be focused on safety but don't let that undermine their importance. And sometimes you need to be a mind reader of sorts to know how to act, especially at swimming lessons with so many other families around.
I have my own set of rules of etiquette from my past experience, and making a faux pas here could be very, very embarrassing…
Take your child to the toilet before swimming
A little while ago, my newly toilet trained daughter climbed out of the pool in preparation for a big jump back in. But while she stood there, she leaned over and watched as some, ah, 'extra water' splashed down. The teacher and all the parents at the swimming lesson saw, and I'm sure I turned a bright shade of red. I'm sure the teachers have seen worse – and I know that because of the next etiquette rule I'm about to share – but it was still very embarrassing.
Make sure a young child's swim nappy is secure
Let's just say we've also had an incident with a baby, a loose swim nappy and 'number twos'. I won't say any more, and I'd prefer we never speak of this again.
Let the teachers teach
They have their job and we have ours and, short of seeing a child in danger in the water, a parent should really stay out of it. Seeing parents trying to teach from the sidelines frustrates me, and must be confusing for the child in question as they try to listen to two sets of instructions. Sit back, relax and watch with an encouraging look on your face – that is all your job, as a parent, entails during a swimming lesson.
Avoid looking around in the change rooms
A room filled with people changing is always a little awkward, so keep your eyes to yourself and get in and out as quickly as possible once you have completed all the necessary tasks!
Keep your belongings in one neat pile
Don't spread out everywhere; whether you're in the change room or by the side of the pool, remember there are others around wanting to change or watch their kids too. It's always annoying to have to fight your way through a pile of someone else's towels and bags.
Talk to the other parents
I find this one hard: while my daughter is in the pool, I often want to just watch her. This makes me sound like a really attentive parent, but actually means that after answering the questions of a three-year-old all morning I'm ready to sit quietly for half an hour. But it's nice to have a quick chat – nothing taxing, just some small talk – with the other parents and talk all things swimming.
Breaking these unspoken rules can be embarrassing and make you a poolside outcast (perhaps a slight over-reaction there, but you can't be too careful!).
It's like any other social situation, really: with some manners, consideration and common sense we'll all get along just fine.
Pools are wonderful places for kids to exercise and play - but it's extremely important to always be mindful of pool safety. As a parent, it's essential that you set an example for your children when it comes to safety.
Be safe in the water and enjoy all that swimming has to offer.
The Team @ RedSplat