Welcome to another Guide for the Coca Cola Collector. This guide is really the second half of the guide "Coca Cola Collecting - THE NEXT STEP." I would advise you to read the first half, which gives you many ways to date your memorabilia. In this half, we are going to look at actually working out which country the items have come from.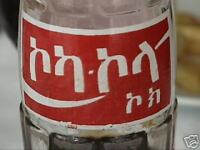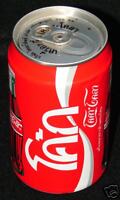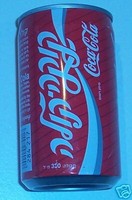 Left: Bottle from Ethiopia. Middle: Can from Thailand. Right: Can from Bnei Brak
Why it is important!
For some people it is not important to know where an item has come from. Thats fine. Not everyone wants to get into the background of collecting. But there will be times when you have an article, like maybe the 3 items above. Everything on the can or bottle is in a different language, except for maybe a proper Coca Cola logo on the other side. How do you determine where it is from.?
Using the "Registered Trade Mark" line
Under the normal Coca Cola Logo that is nearly always on these items, there will be a line of type that basically means "Registered Trade Mark" or something along those lines, in the specifiic language of the country. It does not appear on every single item, but cans, bottles and most memorabila with the normal logo will have it, and thats most.
By knowing what writing each country has, you can narrow down, and alot of the times correctly work out exactly where the item was from. Obviously some countries may have exactly the same line of foreign words, but it narrows it down or confirms what you believe the country to be.
I have compiled a list of lines that many countries use on their items. I have taken it off not only cans, but bottles and memorabilia as well. Thus you will find that some lines might mention bottle in them, but still it gives you the unique language that was used, and it makes it so much easier to get a country.
PLEASE NOTE: The trademark line is written in Upper and Lower case the same way as it appears on the item. Most of these trademark lines are pre-1996, so countries may have changed slightly.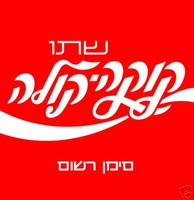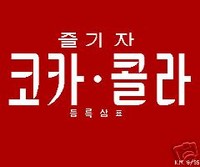 When the Coca Cola logo is foreign, like the ones above, then usually the trademark line is foreign too. This method works only for the normal logos used on foreign items.
COUNTRY & TRADEMARK LINE:
Algeria MARQUE ET MODELE DEPOSES

Argentina MARCA REGISTRADA or MARCAS REG

Aruba GEDEP. HANDELSMERK

Australia TRADE MARK REGD.

Austria SCHUTZMARKE LIMONADE or MARQUES DEPOSEES

Bahamas REGD. TRADE MARK or TRADE MARKS REGD.

Barbados REGISTERED TRADE MARK

Belgium MARQUES DEPOSEE GEDEP MARK or MARQUES DEPOSEE or MARQUIS DEPOSEE - GEDEP MERKEN

Bolivia BOTELLA MARCIA REG. INDUSTRIA BOLIVIANA

Brazil MARCA REG. DE FANTASIA

British Columbia TRADE MARK RE.

Bulgaria 3ANA3HA-MAPKA

Canada Marques Deposees/Trade Marks Reg. or Trade Mark Reg./Marques deposee or Trade Marks/Marques de Commerce

Casablanca MARQUE ET MODELE DEPOSES

Ceylon TRADE MARK REGISTERED

Chile MARCA REGISTRADA

Columbia INDUSTRIA COLOMBIANA

Costa Rica BOTELLA MARCA REG.

Cuba MARCA REGISTRADA/REG.

Curacao GEDEP. HANDELMERK

Cyprus REGISTERED TRADE MARK

Czechoslovakia NAZEVILAHEV-ZAPS OCHR ZNANKY

Denmark REG. VRM FLASK REG. VRM

Dominican Republic BOTELLA MARCA REG.

Equador MARCA REGISTRADA or MARCA REG.

Egypt TRADE MARK REGISTERED

El Salvador MARCA REGISTRADA

England REGISTERED TRADEMARK or REGISTERED TRADEMARKS

Ethiopia TRADE MARK

Finland KASVISVUTE JUOMA

France MARQUE DEPOSEE or MARQUES DEPOSEES

Germany SCHUTZHARKE or SCHUTZMARKEN

Greece Enau Katate Bev

Grenada REGD. TRADE MARK

Guadalupe REGD. TRADE MARK

Guatemala MARCA IND. REG. BAJO

Haiti MARQUE DEPOSEE

Holland GEDEP. MERK or REGISTERED TRADE MARKS or SCHUTZMARKEN MARCAS REG

Hondouras MARCA REGISTRADA BOTELLA

Hong Kong REGISTERED TRADE MARKS

Hungary TORV-VE'D

Iceland SKRASETT-VORUMERKI

India TRADE MARK REGISTERED

Indonesia MEREK DAN BOTOL TERDAFTAR or MEREK-MEREK TERDAFTAR

Iran TRADE MARK REGISTERED (Also in Persian)

Ireland REGISTERED TRADE MARK

Israel TRADE MARKS REGD. (Also in Hebrew)

Italy MARCHIO REGISTRATO or MARCHI REGISTRATI

Japan TRADE MARK REGD (Also in Japanese)

Kenya TRADE MARK REGISTERED

Korea REGISTERED TRADE MARK (Also in Korean)

Kuwait (Trade Mark in Arabic)

Libya TRADE MARK REGISTERED

Liechtenstein MARQUE DEPOSEE LIMONADE GAZEUSE

Luxembourg MARQUE DEPOSEE

Macao TRADE MARK REGISTERED

Malaysia TRADE MARK REGISTERED

Mexica MARC REG/MARCA REG/MARCA REGISTRADA

Middle East (Trade Mark in Arabic)

Morocco MARQUES ET MODELE DEPOSES or MARQUES DEPOSEES (Also in Arabic)

Nepal TRADE MARK REGISTERED

New Zealand TRADE MARK REGD.

Nigeria REG. BOTTLE TRADE MARK

Norway KULLSYREHOLDIG LESKEDRIKK/REG.VRM

Okinawa TRADE MARK REGISTERED (Also in Japanese)

Panama MARCAS REGISTRADAS or MARCA REGISTRADA

Paraguay MARCA REGISTRADA

Peru MARCA REGISTRAA/BOTELLA MARCA REG.

Phillipines REG. PHIL. PAT. OFF.

Poland ZNAK TOW. 1 BUT ZASTRZ

Portugal MARCA REGISTRADA

Puerto Rico REGD. TRADE MARK or MARCA REGISTRADA

Russia TOPTOBAR HAPRA/TOPTOBAR 3HAK

Santa Dimengo MARCA REGISTRADA

Saudi Arabia KAKI COLA (No Trade Mark)

Scotland REG. TRADE MARK

Singapore TRADE MARK REGISTERED

South Africa REGD. TRADE MARK or GEREG HANDELSMERK

South Korea REGISTERED TRADE MARK

Spain MARCA REG or MARCAS REG.

Sudan KOLA (No Trade Mark)

Sultanare of Oman TRADE MARKS

Surinam FLESALS MERK GEDEP

Sweden REG. VARUMARKE or REG. VARUMARKEN

Switzerland MARQUE DEPOSEE LIMONADE GAZEUSE

Tahiti MARQUE ET MODELE DEPOSES

Taiwan REGSIETERED TRADE MARK

Thailand (Trade Mark in Thia)

Trinidad REGD. TRADE-MARK

United Arab Emirates TRADE MARKS (Also in Arabic)

U.S.A. Trademark R or Trademarks R

Venezuela MARCA REG. or MARCAS REG.

West Indies TRADE MARK R

Yugoslavia IME 1 BOCA REG. ZAST ZNACI
The use of these lines will really help in finding where the item came from. Once you get use to the foreign logos as well, it becomes easier to work it out as well.
If you are interested in bidding on some Coca Cola items, have a look at these sellers. I have had great dealings with them, and would recommend them to anyone.
Eamon's Coke Hut - He lives and breathes Coke. Sometimes he drinks it too. Have a look, its worth it.
robbos coke - Some great items for the Coca Cola collector. Sometimes nice rare stuff.
Lucilles Interesting - Collectables - Anything Coke. Another great seller.
ccolasmyhaven - Really nice Coke collectables. Some rare and very different.
or you can vist my items for sale at mmmmmcoke items for auction and make sure you visit my guides at mmmmmcoke guides for you
Thank you for reading my guide and I hope you got something out of it!
Regards, Mike