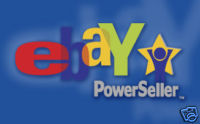 By Storage Surplus Auctions
Proudly Awarded by eBay - Top 50 Reviewer
Many Sellers a currently offering promises of quick fortunes, many also "claim" to be experts at both Dropshipping and Wholesaling on eBay, the fact is most are not experts, most buy a true experts product and basically "steal" that experts property, it happens everyday and has seen a number of "fly by nighter" Sellers popping up on eBay Selling Stolen Property and has seen many Sellers removed from eBay due to selling stolen intellectual property.
Buyers are especially disadvantaged when purchasing from Sellers that don't Dropship themselves as there is absolutely no support - how can they receive any advice when the Seller himself is selling stolen intellectual property that does not belong to him and has no idea how to answer the simplest of questions from their buyers.

This is a common occurence and unfortunately will only get worse. It means you must be sure you are dealing with the Author of the Product - Check their background - Do they have an about me page? Do they offer advice for the broader eBay Community or are they self centred individuals with only one goal - to take your money and run!


How do we know that many are Selling Stolen Intellectual Property?
We bought them - we bought them to find "OUR" Property was sold to us. We then went further to test how knowledgable the Seller really was, no surprise - they didnt have the first clue on how to actually Dropship.

Infact they had never dropshipped a single product! This Seller has been removed from eBay however many are still actively deceiving eBay purchasers - there is absolutely no value in buying any "Learn how to Dropship" from a Seller that is not an experienced Dropshipper himself, there is also no value whatsoever if the Seller is in Full Time Employment, how can they answer your questions when they are at work themselves? Many Dropship Sellers take up to a week to send you a reply, how is this helpful in you becoming a Successful Dropship Seller? You need answers immediately - within the hour for most part.

Ask questions before deciding to buy "any" Dropship Product. The first question you ask might be the last because it took too long to get a simple reply, you will know before purchasing that Sellers Dropship Product it will be a waste of your time and money as when you have a real question that say stops you from listing your intended item it will not be answered for up to a week or depending on the depth of your question - not answered at all therefore the listing does not become an active listing, if you do not list it you cannot sell it!


Don't just rush in and make a Purchase you will later regret.

Do your homework, its not just the purchase price you will save, by starting with the correct product ensures you will "actually" become a Dropship Seller and not just a disapointed buyer left feeling like you have been scammed of your money.

Contact previous purchasers, if a member is listed in a testimonial - contact that member to see if it is a genuine testimonial, check to see if they themselves are now Selling - ask them did their purchase meet their expectations or did it EXCEED THEIR EXPECTATIONS!

If a previous purchaser(s) informs you their purchase exceeded their expectations then you can safely bet that your purchase will also be a wise one. Contact more than one customer to get a honest appraisal of the Product before purchasing it.


How can we confidently advise you to check Credentials - wouldn't it impact on our Sales?

Absolutely not - We offer the most comprehensive and real opportunity to become the very best Dropshipper on eBay, to be better than your Competitors through extensively Self Authored Publications and personal training based on our 4+ years of experience, how to obtain higher final auction prices, how to obtain the cheapest possible buy prices with our Gold Premium Partner Suppliers and ensuring your success with Prompt, Informative, Helpful and in-depth backup support.

We guarantee to answer all customer enquiries during business hours with most being answered within minutes as we are at our Computers up to 12hrs a day, each and every day because this is what we do - Dropship on eBay! We are dedicated to ensuring we offer the very best product available, we are honest family people just like yourself, we stand behind our product and our support, we gladly invite you to contact our previous purchasers.

Check that the Seller is in fact the Author - The Owner - Do They themselves have a Proof Study of Dropshipped Items associated to the account they are selling the dropship product from? This is vitally important.

We are not associated with any other Seller - We are the Authors - We are the Owners as per the Vero Verification Program.

We supply you with absolutely everything you will need to be the very best Dropship Seller on eBay - Everything!

We supply real Suppliers, ones we use Ourselves - not a googled wholesaler that operates out of a shed!


Fly by Nighter and inexperienced Sellers:
There are many fly by nighters and inexperienced Sellers currently listing Wholesale Lists on eBay. Dont be fooled by an outdated "free to the public" List available on Google - they are a waste of your hard earned money - they are outdated and many are to links that lead nowhere. What is worse the links that are still live are to wholesalers you would not recommend to your worst enemy!

Does the Seller Dropship himself?
We Dropship on eBay as our Full Time Occupation - Do they?
We are at our Computers 12 hours a day, sometimes more.
We answer all Customer queiries within the hour during business hours.
This is what we do, we are dedicated to building the most successful Dropship Team on eBay.
Does the Seller Offer After Sales Support during and after Business Hours:


The most important factor when deciding on whether you would like to Dropship on eBay is the after sales support offered by the Seller of the Dropship or Wholesale Product.

Its imperative that the Seller himself is actually a Dropshipper or Wholesaler and whether or not they are in Full Time Gainful Employment and if so how will they dedicate the time needed to answer your quieries? and you will have queiries - as sure as the Sun will rise in the morning.

Without dedicated backup Support from the Seller of your "How To Make a Fortune Dropshipping on eBay" you will have no chance of becoming a large volume dropshipper - in fact most will not sell a single item.



Is the Seller a Power Seller?


We started this account for the sole purpose of proving how to dropship with a brand new account with ZERO feedbacks - we successfully carried out a proof study and over a 3 month period sold every single item we listed - we chose one product type only (Bratz Dolls) and listed 10 a week as part of our proof study - due to our professional listings and years of experience we successfully dropshipped each and every item we listed whilst obtaining higher final auction prices than our competitors in the same categories.

We do have Power Seller Status - Power Sellers must uphold certain values - this is why they are most trusted by the eBay Community.

How can a Seller that is not a Power Seller himself promise to make you a Power Seller? - We are a Power Seller! Also if the Seller has low feedbacks how can he promise you quick fortunes - If the Seller has not conducted a Proof Study whatsoever - to show you how its done for real - proof with feedbacks from Dropship Sales - How can this Seller tell you he can make you thousands of dollars a day? some outrageous claims floating around the pages of eBay are $4,000.00 a day - $10,000.00 a day - some claim how they will make you $30,000.00 a day! This is outrageous - its fraudulent - dont be a statistic - be informed - ask the questions before parting with your hard earned money!

Check with previous purchasers - they will give an unbaised opinion on the Product and the Seller - ask whether they received after sales support as this will be your most valuable asset when purchasing any How to Dropship on eBay Product - without it you are totally alone - performing a little research before deciding to buy any Product will be time most well spent.


Our Vision:
We have a vision to build a team, a strong team that will see us all informing each other of hot products at low prices and with our strength in numbers (like a strong army) comes greater profits!!

There is already encouraging numbers that are serious about doing this for real and immediately we have already developed or started to develop a team, no different to a football team, except a Dropship on eBay Team.

We are currently building our very own website where we will be able to communicate and post ideas and more importantly hot products at low prices to dropship on eBay.


If you found our guide helpful it would be greatly appreciated if you can vote that you found it useful, we love to share our eBay experience with all eBay users and look forward to being a continued part of the eBay Community and helping as many as we can to avoid the negative experiences.
May all Your Purchases be Bargains and all Your Sales be Monsteroussssssssssss!
kind regards,
Daryl and Trish Evans
Storage Surplus Auctions