Face powder is used to set the foundation, blend all colours, protect other makeup, absorb excess oils, add colour and reduce shine on the face. Powder can also be used to tint, tone and highlight the face. They are available in pressed compacts & loose forms. You can also purchase blotting papers with small amounts of powder in them, great for anyone on the go. Translucent loose powder reflects light more than that of other powders and absorbs excess shine on the face, perfect for photography and weddings.
Bronzing, highlighting and shimmer powders are popular too and available in pressed or loose form. Some foundations are wet/dry types with powder built in to its setting process, so you wouldn't need to powder. Cream foundations and some liquid foundations do require a powder finish to set your makeup. If you already have dry skin or are a mature age skin type, go easy on the powdering, too much can make your skin appear older, dull and chalky. You can apply powder with either a powder puff, a large powder brush or a handy kabuki brush. Brush over the entire face, neck and ears, remembering to focus on any shiny T zones. For extra staying & fixing power for makeup in extreme conditions like strong lighting, photography, performance, increased perspiration due to climate, gently press the powder onto the face with a velour puff with an even amount of product and set with a sealing spray.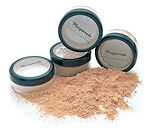 Pro quality Masquerade Professional face powder products.