German artist Thomas A. "Tom" Hoffman is a born iconoclast. Born in Neunkirchen/Saar, Germany, in 1956, after senior school and an apprenticeship to a local decorator, he became a designer, then a product creator in different companies from 1973 to 1986. In 1985, he had the first exhibitions of his own work: statues and dolls. In 1988, he founded Tom's Company in Sulzback/Saar, Germany, with his partner Arno Müller.
Tom's Company deals with particular collections of interior accessories, ornaments, objects, and furniture and managed to quickly establish itself in the German market.
Then came 2001, and the catastrophe of 9/11 in New York, "after which we had to learn to live with a darker side of life," says Tom. In hopes of getting his friends to laugh again, Hoffman created his first Drag statues for family and friends as Christmas gifts.
This highly personal collection quickly morphed into the premiere edition of Tom's Drag: colorful, eccentric, and instantly identifiable figurine statues featuring cool characters such as the bodybuilders Bill, Bob, and Bernie or quirkily characteristic characters such as the signs of the zodiac. They are first sculpted, then a mold is made and they are cast in marmorin -- a new mix of marble and synthetic resin -- and then they are hand painted.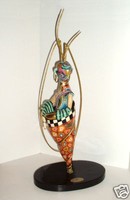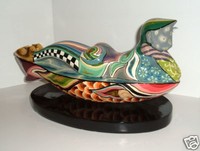 The artist's philosophy is that, "Life is beautiful and behind the grey facades often await vivid colors that only need to be discovered!" A sensitive and contemplative crab (humorously holding a cigarette, slangily known as a "cancer stick"); an intuitive and dreamy fish; a passionate and powerful scorpion: Cancer, Pisces, and Scorpio are just 3 of the 12 highly colored, beautifully original, and extraordinarily charming creations in Tom's Drag's newest collection. Each sports a signature single eyelash and earring.
Their spirit and style are instantly recognizable. They are both amusing and provocative; the Drags express pure life, with plenty of humor. Explains the artist, "The most important aspect for me is the good mood they carry with them."
Thanks to the Tom's Drag collections, Thomas A. Hoffman's unique figures have met with huge international success, delighting people around the world and bringing with them beauty plus a sense of harmony and freedom. "Every day, life holds colorful and sometimes bizarre experiences for us," says the artist. "With this collection, it is my intention to translate some of these experiences artistically in order to share them with others."
The works of Thomas A. Hoffman can be found at fine galleries and shops worldwide. For more information, go to http://www.tomscompany.com. They also can be found on eBay.
Thank you for reading our guide. If you found it helpful, please vote by clicking "Yes" below.