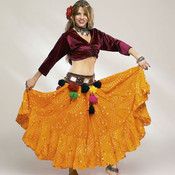 TRIBAL BELLYDANCE ATS SKIRTS~
JAIPUR~SOLID 25 YARD~DIP-DYED&MORE!
TRIBAL BELLYDANCE ACCESSORYS~
SWORDS&SCIMITARS~ZILLS~BELTS~
TRIBAL BELLYDANCE ACCESSORYS~BRAS~
TRIBAL KUCHI JEWELRY~CHOLI TOPS~BINDIS~
CORSET CHOLI TOPS~TRIBAL PANTALOONS~CUFFS~
SILK SARI GHAWAZEE COATS~EXOTIC HOME DECOR~&MORE!
I SPECIALIZE IN TRIBAL BELLYDANCE WEAR&#1 QUALITY EXOTIC UNIQUE GOODS!~SCA~REN~ATS~
PEACOCK GODDESSWEAR~REGGAE RASTAWEAR~EXOTIC HOME DECOR~TEXTILES&TAPESTRYS~
INCENSES&OILS~VINTAGE VELVET ARTDECO WEAR~SPIRITUAL&ALTAR ITEMS~YOGA~
ALSO DO FASHION WARDROBING~HAVE BEEN IN BUSINESS SINCE 1986~IMPORTING FABULOUS&BEAUTIFUL ONE OF A KIND UNIQUE HANDMADE&FAIR TRADE ITEMS FROM BALI,INDONESIA.
I AM A DESIGNER,ARTIST&ENTREPRENEUR~I LOVE TRAVEL&CULTURE~ROOTS~I SINCERELY APPRECIATE YOUR BUSINESS&SUPPORT~FOR SO MANY YEARS~I AM EXCLUSIVLEY ONLINE NOW AS I HAVE RETIRED MY BRICKS&MORTAR STOREFRONT AFTER 25 YEARS~WE WERE ONE OF THE VERY FIRST TRIBAL BELLYDANCE STORES IN CALIFORNIA~MANY HAVE TRIED TO IMITATE,IT IS THE MOST SINCEREST FORM OF FLATTERY!~I SELL MAINLY ONLINE&AT OCCASIONAL FESTIVALS.I LOVE WHAT I DO&WILL GO THE EXTRA MILE FOR YOU.PLEASE CONTACT ME IF YOU HAVE A SPECIAL ORDER OR IDEA,SEE WHAT I CAN HELP YOU WITH.MUCH LOVE&APPRECIATION.
PLEASE FEEL FREE TO EMAIL ME FOR ANY TROUPE DISCOUNTS&ORDERS~THANK YOU!~
WENDYBALISLE AT YAHOO