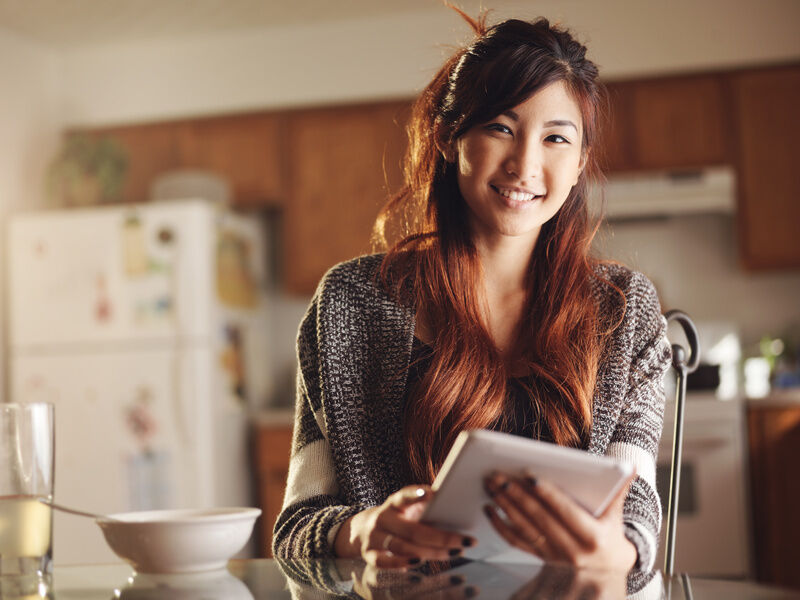 These days, people enjoy surfing the web from anywhere -- while laptops are convenient for some, others find them cumbersome. Tablets are an easy way to cruise the internet on a more portable, less costly device. Tablets enable users to also make phone calls, and access applications like word processors and drawing programmes. Tablet users can read books, listen to music, view videos, and produce high quality photos and movies, too.
There are many new and refurbished tablets to choose from accommodating any budget and desired specifications.
Apple iPad
One of the most familiar tablets is Apple's iPad, with the iPad Air currently a popular choice. The iPad mini is another that many enjoy for its portability.
iPad Air
People love the iPad Air, a small-yet-mighty machine, at 9.7 inches (about 24.64 centimetres), with an incredible resolution of 2048 x 1536. The 3.1 million pixels encompass the display, with 264 pixels per inch (per 2.54 centimetres), offering Retina display with the crispest images and text. The most popular model boasts the iOS 8 Operating System and is 16GB, though it is also available in 32, 64 and 128GB.
The Apple A7 chip processor and M7 coprocessor provide lightening speed and power, and Wi-Fi or Wi-Fi with 4G and 4.0 Bluetooth worldwide connection ability. The battery holds an enviable 10-hour charge, as well as an easy-to-use touch screen and a special fingerprint security system. Family Sharing and the iCloud allow for the ultimate in sharing videos and music. A FaceTime camera rounds out the package, with 1.2 megapixel front and 5 megapixel rear cameras. The backlight provides support in all lighting conditions, with an added ability to brighten or dim the screen.
iPad mini 3
Even more compact is the latest in Apple's iPad minis, the iPad mini 3. At only 7.9 inches (approximately 20.07 centimetres), it has Retina display with mind-blowing graphics, an excellent camera, superiour wireless connections, and more.
Older generation iPads and minis with lesser features are still available brand new at greatly reduced prices.
Samsung Galaxy
The Samsung Galaxy Tab S is a popular Android tablet, as a tablet and a phone in one, differentiating it from other tablets. It comes in 2G, 3G and 4G, with Bluetooth and Wi-Fi. Equipped with impressive 16GB storage, it has 3GB RAM and the 4.4 KitKat Android Operating System. The Micro SD Card can store a whopping 128GB, and 2.1MP front and 8.0 rear cameras with flash can shoot panoramic and facial photos. Users can stream music up to 80 hours, as well as 12 hours in video play time. The AMOLED touchscreen provides an extra layer of precision navigation, and graphics are crisp and optimised, with pixels rated twice the size of the typical HDTV.
The battery has the critical Ultra Power Saving Mode, allowing functionality when the battery is low, putting graphics in black and white and non-essential applications in sleep mode. The fingerprint scanner recognises multiple users and provides individualised security access, unlocking each person's preferred programmes with the touch of a fingertip. Kids Mode offers parental oversight, making it a family-friendly unit.
Lenovo
Lenovo is another sought out brand, with the Lenovo Yoga 2 being one of the most popular models due to its versatility. With 8GB to 128GB in storage space, the favourite of the Yoga 2's holds 16GB plus the SD Card with a 64GB capacity. The 4.4 KitKat Operating System and speedy Intel Atom processor support a range of features, from web surfing to video viewing to music.
With a large screen of 10.1 inches (25.65 centimetres), this tablet is a favourite of those who want to see the biggest picture. Dolby Audio and Wolfson Master Hi-Fi Codec contribute to its superiour sound, and a modular kickstand can be tilted to prop the tablet in a number of positions. This tablet's extended battery can last up to 18 hours per charge, and the Yoga 2 has been crowned environmentally-friendly, with a Green Mark Certification.
EZPad Mofi
The EZPad Mofi is a kid-friendly tablet, fitting easier into smaller hands at 22.8 centimetres -- plus, it is easy to use and durable. It offers a 4.2.2 Jelly Bean Android Operating System and A7 Processor for great performance. The LCD touchscreen, and 800 X 400 resolution, make up to 16 million colours on the display a dream come true. It offers ideal 8GB storage for children just learning to use a tablet, plus there's a Micro SD Card slot for up to 32GB more. Pre-installed applications are standard on the Mofi, with YouTube, Kingston Office and Google Chrome. A 0.3MP front and 2.0MP rear camera facilitate picture and video taking, and the rubber cover provides extra protection against bumps and falls.