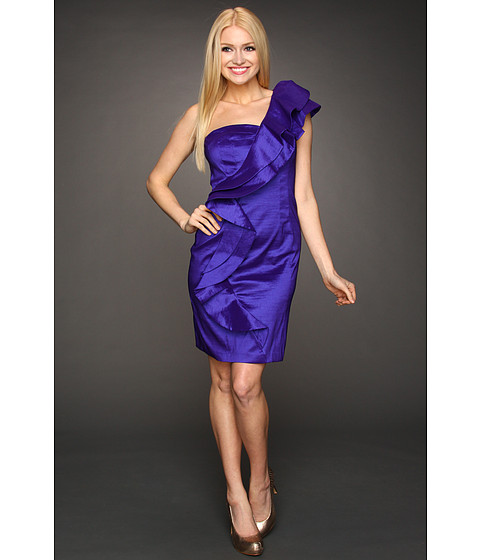 Taffeta is a stiff fabric that is often used for formal attire, especially cocktail dresses, prom gowns, and wedding dresses. Taffeta adds something special to a dress and kicks it up a notch, making it wearable for black-tie events and formal occasions. Taffeta comes in many colours and weights, and some taffeta is lighter and silkier than others, whereas the taffeta of a wedding dress has more substance to it.
The quality about taffeta that many women enjoy is the fact that the material has more depth than other materials such as satin and silk, and the way that taffeta is made enables it to stand out a bit more, creating a wider silhouette which works well for full-skirted dresses. Taffeta dresses on eBay encompass a wide variety, from full-length ball gowns and wedding dresses to short, colourful cocktail dresses and everything in between. Buyers should select taffeta dresses based on the types of event the dresses are going to be worn for, their specific body shapes, and personal preference for design, shape, and colour of the dresses.
Styles of Taffeta Dresses
There is a wide range of taffeta dresses available for all types of occasions. Whether consumers are looking for flirty and fun mini dresses or long, sweeping, full-length gowns, there are many colours and designs to choose from. Taffeta is durable, holds its shape well, and is flattering on generally all figures, as long as the cut of the dress fits properly and enhances the wearer's body type.
While strapless dresses are the most popular type of taffeta dresses, there are also other styles and necklines of taffeta dresses available. Some of these include sweetheart neckline dresses, spaghetti strap dresses, and off the shoulder dresses. Dresses generally fall into one of several styles: dresses that fit tighter to the body, ball gowns which flare out, A-line dresses that fall naturally to the ankles, and mermaid dresses which are tight along the hips and flare out around the mid-thigh or calf area.
Full-Length/Formal Taffeta Dresses
Full-length taffeta dresses bring to mind wedding and bridesmaid dresses, black-tie events, and a more conservative style. Full-length taffeta dresses are strapless, have a V-neck design, a halter-neck, or sleeves. One-shoulder dresses are also popular.
Full-length taffeta dresses may drape around the body or have petticoats underneath to make the dresses stand out. A full-length dress may be strapless on top to provide contrast to the coverage it provides on the bottom. There are dresses of many types and embellishments that add decor, such as rhinestones, sequins, and ruffles.
Wedding Dresses
Many wedding dresses are made with taffeta. In fact, it is the most common material used to create wedding dresses. The structure of taffeta lends support and shape to wedding dresses of many different styles. Some popular types of taffeta wedding dresses include ball gown style dresses, mermaid or trumpet style wedding dresses, and classic A-line style dresses.
Taffeta wedding dresses are generally white or off-white, and may or may not be embellished with additional taffeta ruffles, rhinestones, lace, and tulle. A simple taffeta wedding dress may be a sheath style dress that falls to the floor in a straight, no-frills style. Taffeta is used in many ways to create all types of wedding gowns.
Embellished Taffeta Dresses
Though there are many types of taffeta dresses that are sleek and simple in design, there are also embellished taffeta dresses that add something unique to the dress. Some popular embellishments seen on taffeta dresses that make them stand out include feathers, ruffles, belts or sashes, brooches, rosettes, and bows. Ruching and gathering are added to some dresses, and other dresses include puffy petticoats to make the dress stand out even more.
Some taffeta dresses are one colour on the top and another colour on the bottom. Additional items that are used to accessorise taffeta dresses include matching jackets, hats, and gloves. Sequined or rhinestone bodices along with sparkling trim are also used to accentuate taffeta dresses.
Casual/Knee or Mini-Length Taffeta Dresses
Shorter dresses that are made of taffeta are typically seen more during the daytime, or for events like parties and school dances, such as proms. They are not as formal as floor-length dresses, and come in several lengths, including mini and knee-length, or above the knee.
Most dresses that are meant for semi-formal events or less formal occasions, such as proms or parties, are shorter in length. Younger women and juniors typically wear shorter semi-formal dresses made of taffeta. Body-conscious dresses are also popular with younger women, and may provide a sleeker silhouette than dresses that are A-line or trumpet styled.
Party and Prom Dresses
Prom dresses made of taffeta are often made with glitz and sparkle in mind, and are created in bright colours. There are many styles, such as tight fitting dresses, flared-out style dresses, or more conservative A-line style dresses. Some popular brands are Maggie Tang and Donna Bella.
Royal colours and gemstone shades such as blue, purple, and green are commonly seen in short dresses, but there are also black dresses available as well. As with longer dresses, there are various styles and designs including strapless dresses, dresses with spaghetti straps, and dresses that are embellished with stones, bows, and other decorations.
Day Dresses
While taffeta makes many people think about formal events and evenings out, there are also day dresses made of taffeta for more casual wear. A lightweight taffeta sundress may not be as formal as a full-length taffeta gown, and offers more flexibility for wear during the daytime for more casual events. These more casual taffeta dresses may have sleeves, or may be a different style such as wrap-style taffeta dresses.
Day dresses made of taffeta are generally tea length or shorter. These dresses are tighter, body-conscious dresses, or they offer a more forgiving silhouette such as an A-line design. Some day dresses vary from more formal evening wear by having unique embellishments such as embroidery or a peplum. Others are more casual designs that make them wearable for daytime, as well as something more fun like a graphic print, pattern such as plaid, or vintage style dresses that were worn in the 50s or 60s.
How to Buy Taffeta Dresses on eBay
Get great deals on taffeta dresses when you shop for formal gowns or short party dresses on eBay. Navigate to dresses and select taffeta, then browse the various dresses by selecting a style, such as sleeveless, or a length, such as knee-length. You are also able to shop by colour or size of the dress you are looking for. Purchase taffeta dresses from authorised merchants who are Top-rated sellers, and search for local sellers to alleviate the cost of shipping and meet the seller in person. This allows for a more personal shopping experience.
Talk to the seller about other items that he or she may be selling, and you might be able to get a great deal on a bundle of items, such as jewellery or gloves that match the dress. A pre-owned dress is also a way for buyers who are on a tight budget to save a few dollars. Always check seller feedback before you purchase an item to ensure he or she has excellent feedback from other buyers.
Conclusion
Taffeta is the perfect material for formal wear. It looks elegant, and it is sturdy. It also holds its shape well, and works for every body type. The biggest decisions buyers face is when they have to select the right style, colour, and design. While longer dresses are typically seen as more formal, shorter dresses are for semi-formal occasions or for daywear. Taffeta is sometimes combined with other materials such as lace, chiffon, or tulle.
Taffeta is stiff and textured, creating a look that automatically upgrades any dress to a dressier status. Whether consumers decide on a simple taffeta shift to wear to garden parties, or floor-length taffeta gowns as bridesmaid dresses, the most important factor in choosing taffeta dresses is the fit. Buyers should measure their hips, bust, and waist with a tape measure to ensure the proper size is purchased.