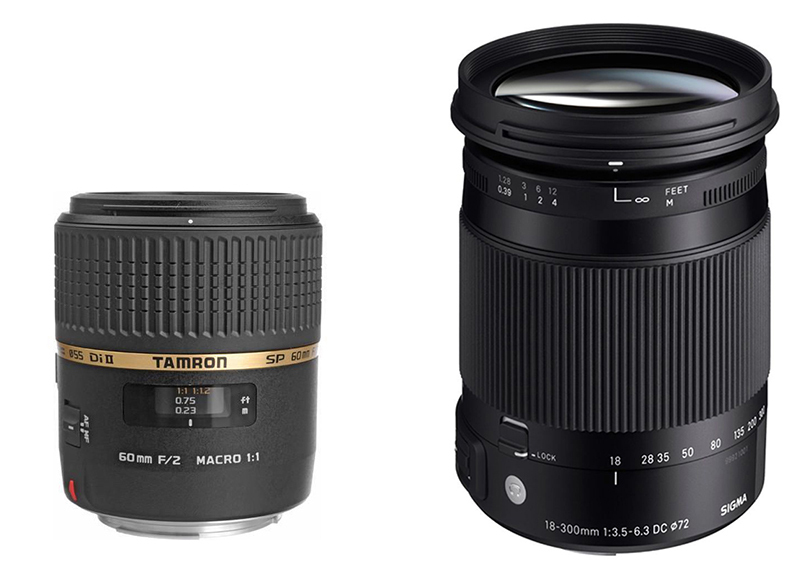 Both Tamron and Sigma are Japanese companies that have been in the camera industry for well over 50 years. They make popular and well-regarded third party camera lenses. Their attractive specifications and reasonable price have led to their widespread use among various camera owners, from Nikon to Canon users.
Since the age of digital cameras and interchangeable lens began, many pro photographers and hobbyists have realised the importance and convenience of having multiple lenses. Those looking to buy an aftermarket lens for different types of shots are certain to hear about these two brands. Since they both are solid, deciding between the two can be tough. This is what you'll need to know when comparing the latest models from both Tamron and Sigma.
Comparing Tamron and Sigma Lenses
Experts and consumers simply haven't reached a consensus on which brand is better. Different photographers have different preferences, and different cameras are compatible with different lenses. So much of it also depends on what type of lens is needed. These comparisons highlight the newest and/or best Tamron and Sigma lenses, being sure to cover every major type of lens: prime, wide-angle, fisheye, zoom and telephoto.
Tamron vs. Sigma Prime Lenses
A prime lens has a fixed focal length. Written in millimetres, the focal length refers to the size of the zoom. As the number gets lower, the view gets wider.
For Tamron, their prime lens is the Tamron SP 60mm F/2.0 Di II 1:1 Macro. It boasts excellent imaging performance and a flexible design that enables great shots from all sorts of angles. The Manual Focus control feature also enhances internal focusing and overall photo quality.
For Sigma, their prime lens is the Sigma 35mm F/1.4 HSM. This incredibly fast lens is truly state-of-the-art, featuring a quieting Hyper Sonic Motor, an intuitive internal focusing system and great low light capabilities. The large F/1.4 aperture makes the lens all the more incredible. This Sigma lens is simply versatile and possesses the high-grade technology needed to consistently produce clean images. Aperture refers to the amount of light gathered by the lens; in photography, aperture gets larger as the corresponding number gets lower.
Tamron vs. Sigma Wide-Angle Lenses
If a camera's focal length spans between 10 and 35 millimetres, it is a wide-angle lens. These capture more than what can be seen by the naked eye and add depth to the image.
For Sigma, the top performing wide-angle lens is the Sigma 12-24mm F/4.5-5.6 DG HSM II. It pairs with APS-C cameras, and offers minimal to no distortion on nearly every shot. Low dispersion glass elements also work to improve colour and photo quality. The price tag may seem high to some, but this is a special piece of equipment.
The Tamron SP 10-24mm F/3.5-4.5 Di II boast similar specs and even has two low dispersion elements. The lens is very durable and the large maximum aperture is impressive for this kind of lens. It also comes with a very reasonable price tag that makes it even more attractive. Hence, the excellent value is hard to beat.
Tamron vs. Sigma Fisheye Lenses
The 180-degree fisheye lenses have an ultra wide-angle and produce a curvaceous image, rather than a rectilinear one.
The Sigma 4.5mm F/2.8C EX DC HSM Circular Fisheye is great for exaggerated close-up shots and giving images a unique perspective. It's simply a fun lens filled with the latest technology and offering unbelievably wide angles.
Tamron recently began work for a new fisheye lens with similar attributes. This 10mm F/2.8 fisheye lens is downright impressive, and features three LD glass elements, vibration control and great internal focus. Pictures created by these lenses are said to whirl the viewer right into the image.
Tamron vs. Sigma Zoom Lenses
Zoom lenses are valued because they're versatile. With a variable focal length, zoom lenses can get wide and narrow views.
The Sigma 18-300mm F/3.5-6.3 DC Macro OS HSM features high ratio zooms that are super compact, excellent customisation and a shake-controlling stabiliser.
The Tamron 28-300mm F/3.5-6.3 Di VC PZD goes the extra mile. It's a moisture-resistant lens that has several special glass elements to enhance image quality, in addition to a stellar autofocus system, full-time manual focus ability and much more.
Tamron vs. Sigma Telephoto Lenses
Telephoto lenses showcase focal lengths going well into the hundreds of millimetres, which gives them a very narrow angle. This makes distant objects appear closer, something wildlife, news and sports photographers always need.
The Tamron SP 200-500m F/5-6.3 Di offers flexibility in terms of focal length and even comes with a detachable rotating tripod mount. Those using it are going to feel as if the subject is within reach.
The Sigma 200-500mm F/2.8 APO EX DG is a high-end telephoto lens that just may be achieving legendary status in the camera industry, as it has the world's biggest high-speed telephoto zoom.