Switchbaiting for the Beginner.
Getting a Marlin or Sailfish up to the back of your boat when trolling lures is sometimes quite easy. Getting the Billfish to take one of the lures in the spread can be frustrating. Many times I have had Marlin cruise up into the Lure spread to have them hang around looking at the lures for a while and not getting any interest, then calmly swimming away.
I have started trying Switchbaiting to a Livebait &/or Deadbait with very good success using a couple of Teaser Rigs and my existing Lures. I am in no way an expert on this type of Billfishing, but its working for me, and because its pretty hard to find details instructions for Novice Fishermen I thought other Semi-experienced or In-experienced Fishermen might be interested.
What you need:
A Teaser Rig - mine is a teaser bird with a piece if 19mm dowel (90cm long) tied to the back if it. To the dowel I have 4 strings of teasers. Drill small holes in the dowel evenly across and tie on a 20cm piece of 100lb Mono to each hole, attach a heavy duty ballbearing Snapswivel to each one. To the snapswivels attach a string of teasers, buy some small cheap unrigged lures (I use a combo of squid on 2 strings and skirts on the other 2) and run 3 or 4 on 80lb Mono crimping behind each lure to hold it in place, 1 to 2 mts is long enough. The Bird holds the dowel up when trolled and the dowel is cheap to replace when it gets worn.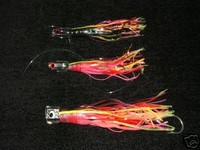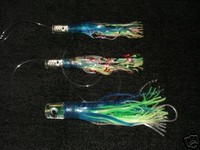 Above: a couple of the Teaser chains that I have made up, the top 2 of each are the teasers and the bottom is a matching rigged lure that runs in conjunction.
A Flasher (optional) - I have made my flasher at home with a piece of Pine 100mm x 50mm and cut it to 35cms long with the front cut at a 45 degree angle. Then painted bright Flouro colours, attach a stainless steel heavy duty eye and sealed with 4 coats of high gloss sealer, I bought some different colour lure tape from the US and stuck it on and attached mirrors on each side with waterproof clear Liquid Nails and attached a length of nylon cord.
A couple of Rods set-up with either Deadbaits, Livebaits or 1 of each. (rig your Liveys and put them back in your livebait tank).
A couple of Rods set-up with Lures (rigged).
How to do it:
Start trolling at 2 to 5 knots.
Let out your Teaser Rig from one corner of the stern until it is about 15 to 20 feet back (I run mine from the rear cleats).
Let out your Flasher from the other side of the stern about 10 to 15 feet back.
Run the 2 Rods with Rigged Lures from your Rod holders about 10 feet back from from your Teasers and Flashers, you can run these from outriggers if you want to. These are rigged so if a billfish takes a lure their on.
If a Marlin or Sailfish comes up the trail interested in the Teasers or Flasher and doesn't take the either of the Lures, quickly pull in the Teaser line and the Flasher line and drop back your Deadbaits or Livebaits towards the fish.
The activity of the Teasers coming into the boat and the baits being dropped back will interest the fish even more and then hold on, hopefully more hook-ups.
This is a guide for the beginner or semi-intermediate angler so if anyone has any other pointers drop me a line, I am interested in gaining knowledge as well.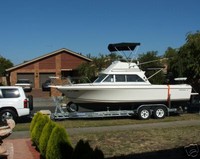 My pride and joy, getting ready to go to South West Rocks. Cheers.
Lastly, remember, our fisheries need sustaining. Take what you need for Food only, not Trophy's take pictures and release the fish for a long and happy fishing future.
Good Fishing, Calvin.