Well Christmas is over...
Well Christmas 2014 is over and done, I must say I have had alot of fun dealing with old and new customers who make the Christmas season, not only profitable but also reminding me of the true joy of Christmas.
Often retailers complain about Christmas, the long hours and the queues. That doesn't happen online; but all you need is an unhappy customer to make your day the worst of the year.
Last Christmas even though we had the usual Australia Post problems, I was overwhelmed by all the positive comments, people who understood I was busy and I managed to pop in a couple of suprises to special customers who made my day.
So this message is just to say thanks to all my Ebay customers last year who really made it a joy to pack and send all those orders. Thanks also for the great 100% feedback which helps new customers know I go the extra yard for you all.
Selling things is easy, creating a service, making people smile, that's a bit harder.
I hope you all have a wonderful 2015.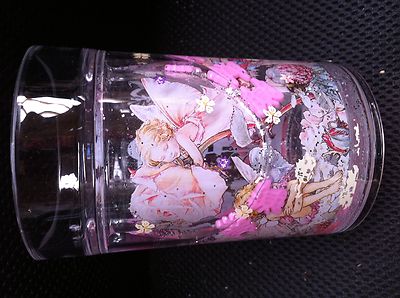 Fairy plastic glass with sparkles.
Although ebay seems incapable of loading an image unless its side on, turn your device around to see my lovely fairy plastic glass, this has an inner and outer skin, so floating sparkles make this fun. I've had my own for 7 years and it still looks great and I wash it in the dishwasher.

Kimmi doll, Flower Fairies and Decorated Tinware
Kimmi doll, Flower Fairies, Decorative Tins with Artwork by well known English Artists that what I specialize in. I hope you check us out. All items are Designed in England or Australia, Manufactured in China, by an Australian business.
These items are not sold in the "big stores" but in boutique small shops. If you see any off these items elsewhere for a lower price let me know and I will change my add to match that price.

Biscuit Tins
People have written to me for years about these tins. The lid is pierced with small holes to make a good vaccum seal when closed. This keeps the biscuits fresh but easy to open too.
I have been using mine, for five years, still going strong as are the two I donated to Mum's nursing home.