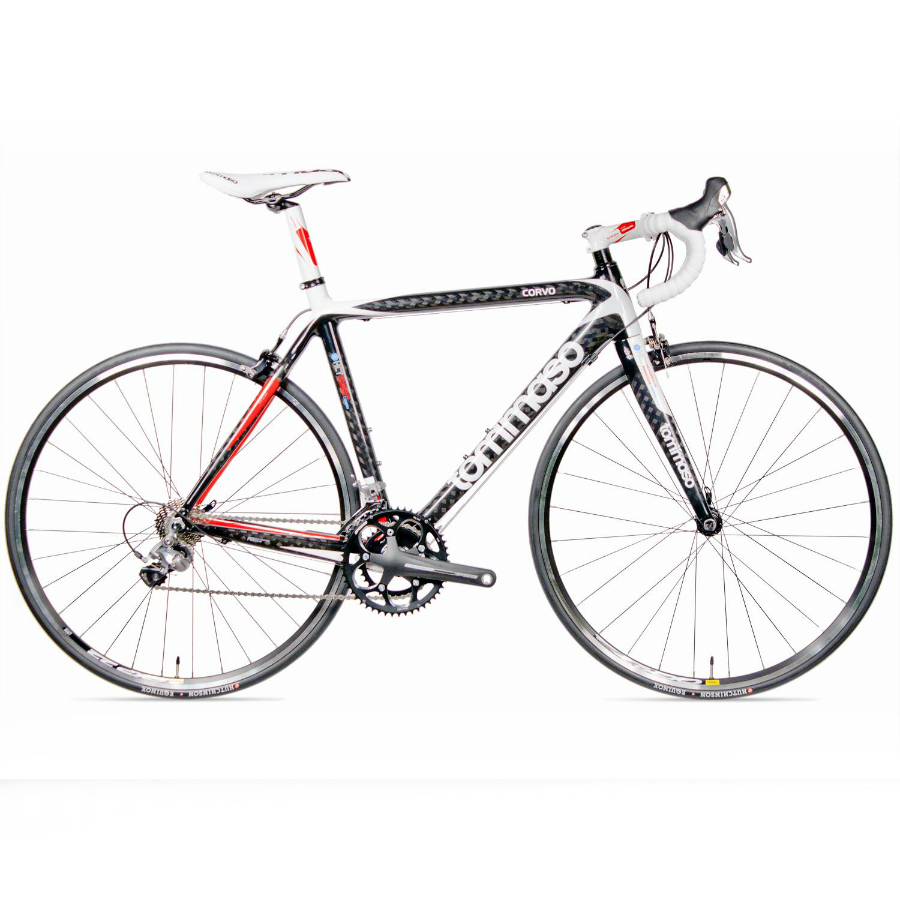 Road bikes
are bicycles that are intended for riding on paved roads at a fast pace. They have skinny tyres, lightweight parts, and they place the rider in a low position so that they are their bodies are more aerodynamic and create the least amount of wind resistance possible. Road bikes are ideal for long distance riders and racers who are going to stick to the smooth roads.
There has never been a better time to shop for a new road bike. Manufacturers are producing and selling more kinds of models than ever before and companies offer a wide variety of high end accessories and parts. It is quite possible to order a bike and then modify it in nearly any way. In fact, there are so many options available that it can become really overwhelming. However, having a variety of options is a good thing because shoppers can find a bike that is a perfect fit for their lifestyle. Buyers just need to have a general idea of what to look for.

History of Bicycles
The first version of the bicycle was invented by Baron Von Drais in 1817. He called it a walking machine and it consisted of two in-line wheels with a front wheel that was steerable and a rear wheel that was fixed. The machine was propelled by Baron pushing against the ground with his feet. Later on, his invention became known as a Draisienne or hobby horse. The invention did not remain popular for long because it was not actually a practical means of transportation.
The next version of the
bicycle
appeared in 1865 and had pedals that were directly attached to the front wheel. At the time of its invention, the bike was called the velocipede (fast foot), but later on it became called the bones shaker. The became popular in the cities and soon indoor riding rinks were common in the larger city. Unfortunately, they were pretty uncomfortable to ride because they were made entirely of wood and had metal wheels. Today's bikes, with their modern designs and flexible materials, are much more practical.
The 2013 Best Road Bikes
One way to figure out what
road bike
to get is to look at the year's top rated bicycles. The road bikes that have gotten the best overall reviews for 2013 are all high-end models. However, do not be intimidated by their cost. By purchasing one of the best bikes of the year, shoppers can feel more secure in knowing that they are buying a bicycle that has the best build quality, features, and positional comfort.
#1 Road Bike of 2013: Neil Pryde Bura SL
The Bura SL is brand new to 2013. The designers used the Cervelo R5 as the guideline for weight and frame build. It has a larger frame than most road bikes, but still only weighs around 785 grams and doesn't compromise on the ride stiffness that is needed by pro racers. In order to make the frame as lightweight as it is, the Hong Kong based company used a new kind of moulding process which involves putting layers of carbon around foam. Later on when the carbon has hardened, the foam inside melts away, leaving lightweight, hollow tubes.
#2 Road Bike of 2013: Jamis Aluminium Icon
The
Jamis
brand understood that certain aluminium frames can out-perform the lighter weight carbon when they designed the Aluminium Icon bike. When the frame is bare, it weighs 1150 grams, hardly more than some carbon fibre ones. The amazing part is that the Aluminium Icon is close to the weight of a carbon bicycle, yet it is also almost half the price of a carbon frame. Experts that reviewed the road bike that it has precise and accurate handling, an attractive look, and a great price range. However, there has been some negative feedback regarding the "bare bones" nature of the product. The company's goal was to make the
bicycle
more affordable, so they did not include any fancy features with it.
#3 Road Bike of 2013: Fuji Altamira SL
The Altamira Sl is the lightest bike that the
Fuji
company has to offer. It weighs in at just 13 pounds with carbon tubular tyres and other lightweight parts from their own in-house manufacturer. The company is able to make their frames ultra light because they use a specialised moulding process that creates higher density tubes with less materials. Unfortunately, saving a few pounds means that buyers end up having to pay a much higher purchase price.
#4 Road Bike of 2013: Kestrel Legend SL
Those who reviewed
Kestrel's
Legend SL fell in love with its smooth ride, excellent handling, and superb comfort. Because of the frame's asymmetrical design, it features a sharp drivetrain response that lets a rider navigate easily. This Legend SL is described as being a road bike that can do nearly any kind of trip or race. It weighs in at only 780 grams, making it a serious competitor against other well-known brands. There are four models available for buyers that range in price. The lowest cost one is a mechanical version that is similar in cost to the affordable Aluminium Icon. However, the higher-end models nearly triple in price.
#5 Road Bike of 2013: Specialised Roubaix S-Works
The
Roubaiz S-Works
is Specialised's new endurance road bike that was designed similarly to their famous Tour de France SL4 model. However, the company's goal with the S-Works was to make it even faster without it being too uncomfortable. They gave the frame a stiffer front end and made several different size options available for riders that vary in height. The more expensive S-Works models are among the most expensive road bikes on the market.
#6 Road Bike of 2013: Bianchi Vertigo 105
The Vertigo 105 by
Bianchi
offers its owners high class performance along with a comfortable ride. The company made the bicycle affordable by not adding any extras onto it. However, each bike is hand assembled in Italy and buyers haven't been disappointed in the Vertigo 105.
How to Find a Road Bike on eBay
Shopping for a road bike on eBay is easy, especially if you already know which model you want. Simply type the name of the bike model into the eBay search bar and then click on the search button. For example, you can enter "
Specialised Roubaix
" and then the site compiles a list of all the Specialised Roubaix bikes for sale. If you have a specific budget in mind, you can enter in your price range and then sort the listings by the lower prices first. You can also search
deals on eBay
for bicycles and accessories.
While looking through the listings, be sure to check on the cost of postage because it can cost quite a lot to ship larger items. Also check the seller's feedback to be see if they have a good reputation with their customers.
Conclusion
A great
road bike
can take a rider anywhere that they want to as long as there are paved roads to get there. Every year, researchers compile a list of bikes that they feel are the best quality. Many of the bikes have been in famous races like the Tour de France. Of course, shoppers should select the bicycle that best fits their lifestyle, but it is helpful for them to be able to view a list of the top bikes for sale so that they can either select a bike from that list, or get an idea of which brands pick a bicycle from. Although the majority of the top rated road bikes are rather expensive, some of the companies also have economy versions of the bikes that sell for less.