THE ART & CRAFT OF HAWAIIAN FIMO FLOWER HAIR PICKS
Aloha to all you Hawaiians and Islanders at Heart!
End your search by embracing a wonderful craft accessory that was a brainchild of the islands! If you've visited our Hawaiian islands, you'll see that the local women enjoy wearing flowers in their hair. Now, women everywhere can enjoy wearing these flowers!
A new craft emerged in the Aloha state about a decade ago where crafters started creating replicas of flowers in their backyard using a material called fimo clay. The clay was mixed, dyed or handpainted to simulate the authentic colors of the flowers. The craft required meticulous artistry. Island women readily purchased the flowers at craft fairs to wear in their hair and included them in their collection of hair accessory "must-haves!"
Over the years, crafters have experimented using various mediums to achieve a light-weight flower hair pick. Crafters and artisans also experimented with paints and colors to achieve an authentic representation of the flowers in their true colors.
These flower hair picks can be found at craft fairs and local drug stores in Hawaii as they are now a popular fashion accessory. Most of the flower hair picks found today are made of a flexible polymer fimo clay, while others are made with a Japanese style air-dry clay or Hearty clay. Some flowers are handpainted individually, while others are spray pained. Then there are other hair picks that achieve their color as a result of manipulating the colors of the clays used in the crafting process.
In the islands, the wearing of flowers over our ears and in our hair is a cultural tradition. How one wears their flower also represents certain meanings. A flower worn over the left ear means that one is taken, while a flower worn over the right ear means that one is available.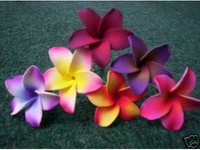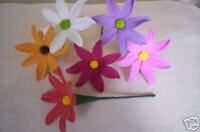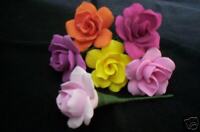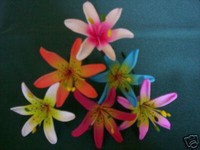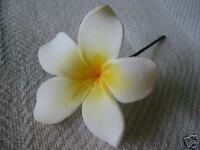 Add an island flower to your collection of hair accessories today. You can find many of these Hawaiian flower hair picks on eBay!