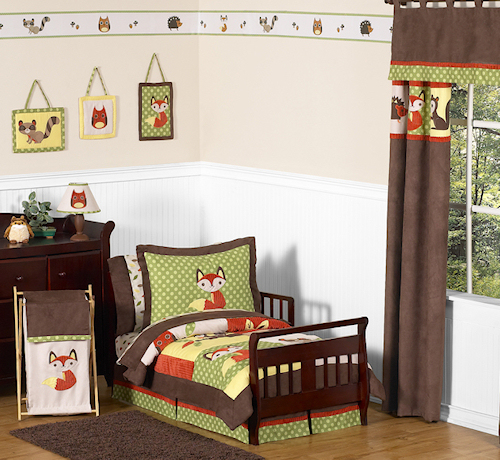 At around 18 months, a toddler makes the transition from sleeping in a cot to sleeping in a toddler bed. This transition is not always an easy one for a toddler. After all, sleeping in a "big bed" is an important developmental milestone, and so the prospect can prove quite daunting for a young child. One way to smooth the transition and celebrate this milestone is by throwing a big bed party and dressing up the toddler's new sleeping quarters with an eye-catching bedding set. Like bedding sets for older children and adults, a bedding set for a toddler bed includes the essentials like a bottom and top sheet, at least one pillowcase, and a doona cover. When shopping for a bedding set for a toddler, parents should consider which bedding a toddler needs, and which bedding the child can do without, the quality of the fabric, and the choice of theme.
Determining What the Toddler Needs
A four-piece bedding set is not always the best option for a toddler. Before venturing out and buying a toddler's first bedding set, it is important for a parent to consider a child's sleeping needs, as well as the season. A child is not going to have much use for a doona in February, so why buy a bedding set that includes a doona cover then? When shopping for bedding sets, it is important to consider the season and the child's comfort, as well as the quality of the fabric.
The Season and the Temperature in the Nursery
Sheet sets are the best bedding sets for toddlers whose parents like to have the option of adding and removing blankets as the seasons change and the weather fluctuates. While it is easier to make a bed up quickly using a doona, duvets are not always practical when it comes to regulating a child's temperature. Bedding items for babies and toddlers are sold with tog ratings. The tog rating refers to the item's thermal insulance. For example, a lightweight doona for the summer has a tog rating of between 3.0 and 4.5 tog, while a winter doona or blanket can have a tog rating that ranges between 12.0 and 13.5 tog. The table below specifies the amount of bedding and the tog ratings for bedding appropriate for the temperature in the toddler's room.
| | |
| --- | --- |
| Temperature in the Room (Celsius) | Bedding Recommended |
| 24 degrees or more | Just a sheet is fine |
| 21 degrees | A sheet and a blanket or a lightweight 4.5 tog doona |
| 18 degrees | Sheet with two layers of blankets, or a lightweight 4.5 tog doona |
| 16 degrees | Sheet with three layers of blankets, or a lightweight 4.5 doona and blanket |
The bedding recommendations listed above are for families living in Australian coastal cities, where the summers and winters are relatively mild. For a family living in the tropical north or inland, parents need to take their cues from their child about which bedding and bedding sets to buy. A child buried under heavy bedding is likely to overheat, sweat, and kick off his or her covers. If a child feels sweaty, the parent should remove any extra bedding or any extra clothing that the child may be wearing. In a tropical climate, it is best to start out with the bare essentials, like a top and bottom sheet, and then add and remove bedding as temperatures fluctuate. A toddler living inland may need a doona with tog rating higher than 4.5 to ensure the child stays warm on nights when the temperatures outside fall to single digits.
The Child's Comfort
Besides keeping a child warm when it is cold and keeping a child cool on humid nights, the bedding must be comforting. Because a toddler's skin is still quite sensitive, a parent should choose sheets, pillowcases, and doona covers that are soft to the touch and do not feel scratchy.
Fabric Quality
Unlike bedding sets for older children and adults, the packaging for bedding sets for toddlers does not always display the thread count. The best option is a bedding set made from percale weave fabric, which is 100 percent cotton. The term "percale" does not refer to the content of the fabric. Instead, it refers to the weave. There are poly-cotton percale bedding sets, but pure cotton is considered superior because the fabric is durable while being breathable and soft to the touch. As far as thread count goes, percale weave fabric starts with a thread count of 200. While percale weave fabric is a medium weight fabric, it is hardwearing and launders well. If the plan is to eventually save money by passing the bedding onto a younger sibling, then it is best to invest in top-quality bedding made from top-quality fabrics that stand up to frequent washes.
Toilet Training
Because recurrent bouts of wetting the bed are inevitable when a child is in the midst of toilet training, it only makes sense to invest in a waterproof pad or waterproof sheet to protect the mattress underneath. With a mattress protector, the mattress stays clean and dry.
Active Sleepers
Some toddlers are more active in their sleep than others. To avoid having a toddler wrap herself up in her sheets, a parent should look for a bedding set with a fitted bottom sheet and a fitted top sheet.
Considering Patterns, Colours, and Themes
A new bedding set is one of the most affordable ways of updating the decor in a child's room. A vibrantly coloured bedding set shifts the attention from the cot and mobile to the bed, so converting a baby nursery into a child's room. What is more, a well-chosen bedding set can entice the child to want to use the bed.
Character Bedding Sets
Bedding sets that depict animated characters from the films or television or characters from children's books are always very popular. There are a variety of character bedding sets from which to choose including Disney character beddings sets that depict Disney princesses or Winnie the Pooh. However, children outgrow their favourite TV and book characters quickly and what a parent thinks their child may like today, the child may not like tomorrow. Also, a character bedding set may clash with existing decor, necessitating an expensive revamp of the child's room. It is better to select a timeless theme rather than choose a character bedding set based on a TV programme that just happens to be hot at the moment. The bedding set needs to be able to grow with the child. What is more, a bedding set based on a timeless theme as opposed to a trendy theme is easier to pass down to a younger sibling, regardless of the sibling's gender.
Bedding Sets That Complement the Existing Colour Scheme
To ease the transition from cot to bed, it is better to select a bedding set that complements the existing colour scheme in the room. The bedding set should be an upgrade of the cot bedding, not a radical departure from it. The theme of the bedding set should also tie in with existing decorative elements in the room. A good way to go is to base the bedding set on the wallpaper or the baby mobile. For example, if the baby mobile has a jungle theme, the parents may want to choose a bedding set with a print that depicts jungle animals, vegetation, and insects. Gender-neutral options include striped bedding, while gender-specific options may include butterfly-themed bedding sets for girls and insect-themed or toy car-themed options for boys. Popular brands of bedding for toddlers include Roomates, Freckles, Pilbeam, and Whimsy.
How to Buy Bedding Sets for Toddlers on eBay
eBay can boast a variety of bedding options for toddlers including bedding sets, as well as some great deals. Because there are potentially hundreds of listings of linen for cots and cotbeds, the best course of action is to conduct a basic keyword search starting on the eBay home page. On the home page, and on every eBay page, is a search bar. Start by entering a description of what you are looking for into the search bar, and then press the enter key. A generic search query like "bedding for toddlers" is likely to yield hundreds of listings, which you then have to sort through. The better way to go is to enter a more specific search query into the search bar. For example, if you are looking for a bedding set with a butterfly theme, enter a search query like "butterfly toddler sheet set" into the search bar. The local search engine then knows to only display those listings that are relevant, and exclude the rest.
Conclusion
The best bedding sets for toddlers are those that made from high-quality fabrics, like percale weave fabric, complement the existing decor of the room rather than clash with it, and help in transitioning a child from using a cot to sleeping in a toddler bed. The bedding should be comfortable and appropriate for the temperature in the room. In the summer, just a top and bottom sheet should be fine, and in the winter, and depending on the location, parents can add and remove blankets to regulate the temperature, so ensuring the child is warm enough. Because a toddler bed becomes the new focal point in the child's room, parents should choose an eye-catching bedding set that entices their child to sleep in the bed. While a child has no say in the decor of a nursery, as much of the nursery furniture, bedding, and decorations are chosen long before the baby arrives, in the case of a toddler's room, parents are encouraged to involve the child in deciding which bedding set to buy.
Toddler Sheet Set|Bedding Set for Toddler|Doona Cover|Duvet|Toddler Bed