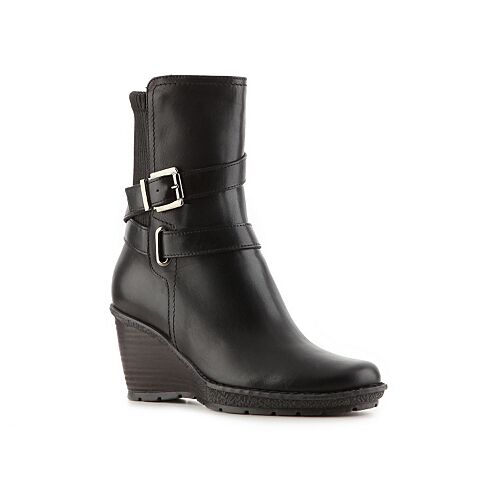 A quality pair of boots is an essential wardrobe piece for many women. The most common styles pull up over the ankle and calf, creating a long and stylish line for any outfit. However, it can be a major challenge for women with larger calves to find boots of this style because most are designed and manufactured with a more slender leg in mind. Still, there are a number of options for women with large calves who want to wear boots. It may be possible to find a style of boots with some flexibility in the calf area to accommodate larger sizes, or even opt for an ankle bootie that does not need to extend up the leg. No matter which style or shape of boots a shopper ultimately chooses, she should be able to easily find a suitable pair at a retail boutique, department store, or on eBay.
Boot Styles
The first thing to consider when shopping for women's boots of any size is the style of boot. There are a few boot styles that are more widely available than others. The three most common styles of boots are ankle boots, mid-calf boots, and knee-high boots. Both mid-calf boots and knee-high boots must be able to fit over larger calves, which can be a difficult proposition for some women.
Boot Sizing
Choosing the right boot size is important to ensure a good, secure fit. This means that the boot should fit both on the foot and on the calf. The following chart displays the difference in boot sizing standards in Australia and Europe for women's boots. Keep in mind that boot sizes in the United States are generally the same as their Australian counterpart.
| | | |
| --- | --- | --- |
| Australian Size | European Size | Measurement (in cm) |
| | 35.5 | 21.6 |
| 6 | 36.5 | 22.5 |
| 7 | 37.5 | 23.5 |
| 8 | 38.5 | 24.1 |
| 9 | 39.5 | 25.1 |
| 10 | 40.5 | 25.9 |
| 11 | 41.5 | 26.7 |
Even in Australia, one cannot always be certain that a certain pair of boots is labelled with an Australian size, since the boots may have been manufactured for sale elsewhere. Be sure to check with the seller of the boots, whether that is a sales associate or a seller on eBay, to determine which type of sizing is used.
Boot Calf Sizing
Although boots are sized the same way that other women's shoes are, buying boots for women with large calves means paying attention to another measurement: the circumference of the shaft of the boot. Some boot manufacturers make boots in a variety of calf sizes. Looking for these styles of boots is a great choice for women with large calves because they can explicitly choose boots with a shaft that is larger than normal. Unfortunately, there is no standard for how big the calf opening is on boots that do not come in different calf sizes. This means that one boot may fit a larger calf while a different boot of the same size does not. Women purchasing boots should first measure their calves so that they can compare them to those of the boots.
Knee-High Boots
One of the more popular styles of boots are those that extend up the leg, either over the knee or just below the knee. Unfortunately, these are also the boots that are the most difficult to wear for a woman with large calves. To find the best tall boots for women with large calves, look to different styles, such as boots with elasticised openings, laces, or boots with specific calf sizes.
Tall Boots with Elastic
Women with large calves are often unable to wear any type of tall boot that has a zip closure or that is intended to be pulled on over the foot with no closure at all. That is because many styles of boots have a shaft made of fairly inflexible material, like leather. However, some boots feature an elastic panel in the shaft that allows for stretching. Boots with this type of construction can be a great choice for women with large calves since the flexibility in the elastic gives space for more ample legs.
Tall Boots with Laces
Much like boots with an elastic panel, boots with laces can also provide more space for women with large calves. When the laces go all the way up the shaft of the boot, they can be tied either tighter or more loosely to ensure a good fit for a wider variety of calf sizes.
Other Boot Styles
The fact is that the best boots for larger calves may not be tall boots. Although some do come with a shaft that can fit larger calves, most brands do not offer this option. This is why women with larger calves should also explore different boot styles that are both fashionable and flexible in the way they fit the leg.
Ankle Boots
Ankle boots are a good solution for women of all sizes. Elle magazine named the boots a top trend, making them particularly desirable. Ankle boots, as the name suggests, only come up high enough to cover the ankle. This means that no consideration needs to be made to accommodate larger calves. Ankle boots can still offer plenty of support to an outfit as well as protection from harsh weather in the winter months. Furthermore, those shopping for ankle boots may find a deal on boots because they are made of less material and, therefore, tend to cost less.
Motorcycle Boots
Another stylish option for women with larger calves is a classic motorcycle boot. These leather boots come up a bit higher than ankle boots, but still leave the broadest part of the calf exposed. Motorcycle boots can be purchased in men's sizes for an authentic and masculine look, but their popularity also means that there are many feminine versions available with options like bows, studs, and pointed toes.
How to Buy Boots for Large Calves on eBay
Whether you choose to seek out boots that are intended to fit larger calves or choose shorter boots that can accommodate any size calves, there are bound to be many options on eBay. To begin your search, simply enter some relevant terms into the search box, which can be found on any page of the site. You may want to search for "wide calf boots" or "women's boots", and then use the eBay filters to narrow down your choices.
Because finding boots for larger calves can be a challenge, be sure that you determine the exact calf width of the boots before completing your purchase. In most cases, boot measurements are made explicit in the item descriptions. If that is not the case, contact the seller using the eBay messaging interface to confirm that the boots are the correct size, and then complete your purchase with confidence.
Conclusion
No matter the climate where a woman makes her home, boots are a wardrobe staple for cooler months. For many women, shopping for boots is a joy, but that is not the case for women with larger calves who have a difficult time finding boots that fit. Luckily, many areas of the fashion industry are tending to cater more and more to different sizes, which means there are more options for women with large calves than ever before. Women who have a difficult time fitting into boots can try different styles, like elastic boots, or different shapes, like ankle booties, to accommodate their more ample legs. Boots should be comfortable, but snug, for the most supportive fit. There is no reason that women of all shapes and sizes should not be able to find a pair of comfortable, stylish boots and with just a bit of legwork, they can.
Boot|Women's Boot|Tall Boot|Ankle Boot|Boot Size