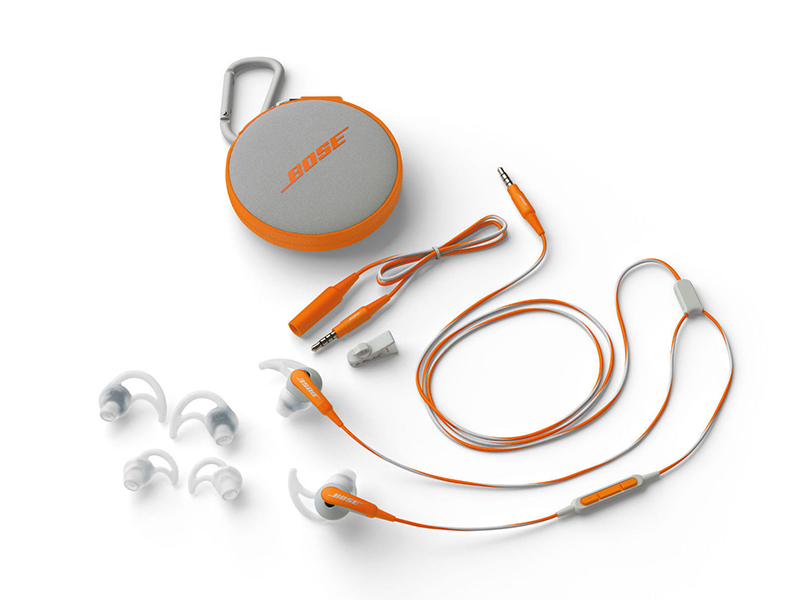 Running is an activity that many enjoy, whether for its health benefits or for the pure athletic challenge; however, for some, running is more enjoyable with the addition of music, podcasts, or audio books. Not every set of headphones can combine quality sound with a form-factor designed for mobility, but Bose, a respected name in audio equipment, has a line of products suitable for all runners. Knowing the best options Bose has to offer can make the difference between a pleasant run and one that feels like a chore.
Headphone Designs Ideal for Running
Traditional headphones use a band that goes over the user's head. The "cans" or ear covers, have speakers that fit over both ears. While these audio devices are good on the go, they are less than ideal for running, as extreme jostling and perspiration can cause them to slip over time. Three types of headphones can remedy this issue.
Ear Buds
These are the most common form of earphones. The speaker portions of these devices fit into the outer ear, but are prone to slipping out. Because of this, ear buds often come with a variety of rubber speaker covers that compensate for different-sized ears.
In-Ear
Also called canalphones, in-ear headphones often have rubber or silicone tips that fit into the wearer's ear canal. This provides a greater resistance to falling out as well as better noise cancellation in comparison to standard ear buds.
Behind-Ear
Behind-ear headphones have the tip design of ear buds or in-ear headphones, but each speaker has a curved plastic piece secures the device behind the ears.
Top Bose Headphone Options for Running
Outside of their on-ear and over-ear headphone offerings, Bose headphones best suited for running are in the style of ear buds or in-ear. Both styles utilise Bose's patented StayHear design wherein a contoured silicone tip fits the outer ear and canal more effectively, as well as a wing that conforms to the upper ridge of the ear for added stability.
Bose SIE2i Sport headphones have a few features that make them ideal for running and other exercise-related activities. This is especially true for the speaker components, which have a hydrophobic cloth that keeps moisture out, but allows sound to pass unobstructed. The Bose SIE2 is a version of these headphones that does not include a microphone.
Though not as moisture resistant, the Bose QuietComfort 20i has in-ear tips which means the chances of it slipping out of one's ear is far less. Additionally, these headphones have a noise cancellation feature that allows its wearer to enjoy their run minus the background noise that comes along with being outdoors or in a gym. However, the Bose QuietComfort 20i also includes a patented Aware Mode which, when activated, allows certain types of sounds to pass through the noise cancellation feature in order to give more awareness to one's environment.
Bose also has a line of IE2 and MIE2 headphones. This line has fewer features than the aforementioned devices, at a more affordable price.
These headphones are ear buds that also use contoured StayHear silicone tips, and are very similar in their offerings outside of a few minor differences. Device optimisation refers to an included microphone that has controls for music playback and answering calls.
How to Buy Bose Headphones on eBay
Finding the right pair of Bose headphones to use while running is as simple as browsing or searching the wide selection of products available from the reliable sellers on eBay. Specify the type of headphones and the model in order to narrow the number of results so they only include proper running headphones. Additionally, sellers offer options for both new and used headphones, making this is another way to refine search results. With this knowledge, choosing the right set of headphones for running is a simple process.