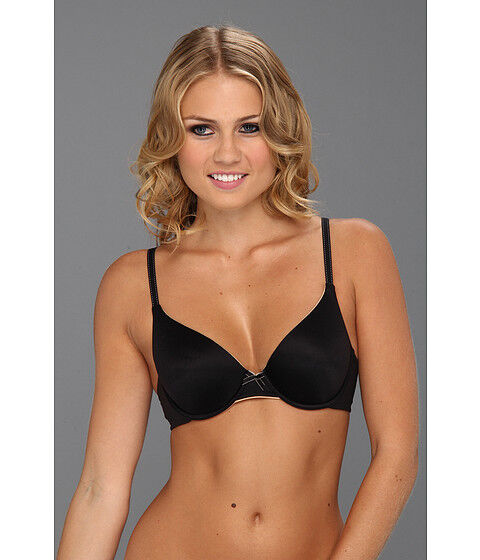 Like ill-fitting shoes, the wrong bra can cause discomfort for a woman, from the moment she puts it on until she removes it. While it is important to ensure that sports, nursing, and strapless bras are the right size, everyday bras must also fit well. When the bra's band, cup, or straps are the wrong size, the woman must tug, adjust, or suffer the discomfort, which is embarrassing when she is at work or on the go. Because of the sheer variety of styles and materials available, shopping for a bra can be overwhelming. Great everyday bras that fit well are available at department stores, and one can find a vast selection of bras in the continually updated listings on eBay.
Types of Everyday Bras
Thankfully, gone are the days when just one style of bra was available. The use of materials such as microfibre allows bras to be more comfortable, and improved design technology creates a better fitting and comfortable bra. Various styles are available, allowing women to wear the right bra with any type of clothing.
Demi Bra
A demi bra is constructed with a half cup that does not provide full coverage, a good choice for blouses with deep necklines. Many demi bras include a push-up feature, creating a flattering look with cleavage. A balconette is a demi bra that reveals more of the breast and provides less cup support than the demi bra. Both bras usually include an underwire, with straps placed towards the outside of the cup to accommodate a wide neckline.
Full-Coverage Bra
Worn by women with larger busts, a full-coverage bra covers the entire bust. These bras are well structured and offer support on the lower portion of the cup to provide comfort and fit. They are available in wired and wire-free versions as well as standard and racerback styles. Front-closure clasps allow women with large busts to put on and remove the bras with ease.
Minimiser Bra
A minimiser bra is worn by full-figured women who need maximum support. Designed to compress and reshape the bustline, this bra creates a smooth, lifted profile. A minimiser bra is an excellent choice for the woman who wants a slimmer look, and the bra is available in padded and non-padded styles.
Padded Bra
The cups of a padded bra include foam padding or inserts that create the appearance of increased cleavage and bust size. Some of these bras include removable pads. Pads are also integrated in other types of bras, such as strapless, minimiser, and push-up bras.
Push-Up Bra
Push-up bras are designed with angled padded cups that create cleavage by lifting and shaping the breasts inward. Push-up bras are usually styled as balconette, plunge, or demi bras. These bras are popular with small-busted women as they help create cleavage and a great shape.
Seamless Bra
Seamless bras are a great choice for women when wearing close-fitting tops made with thin fabrics. Providing average support, these bras create a natural appearance. Seamless bras are contoured and may be lightly padded for a smooth look.
Underwire Bra
Underwire bras are constructed with a thin, curved strip of plastic, resin, or metal sewn into the cup's lower curve. These bras provide extra support and shape. Underwires are integrated into other styles of bra, such as demi bra, balconette, and full-coverage bras.
Wire-Free Bra
Wire-free bras are designed to provide support and natural shaping without underwires and have a wide stretchable band at the bottom edge. The bra utilises stretch material for comfort. These bras may have a plunging front or a higher neckline for casual wear.
Fitting a Bra
Wearing an ill-fitting bra is not only unattractive, but it can be unhealthy as well. Women frequently experience back, neck, and shoulder pain as well as shortness of breath from too-small bras. Many shops offer fitting services that help identify the right bra size for one's figure. Consumers can refer to the following chart to determine the right bra and cup size based on the dress size and the band size with the under-bust measurement. They should measure the fullest part of the bust.
| | | | | | | |
| --- | --- | --- | --- | --- | --- | --- |
| Dress Size | 10 | 12 | 14 | 16 | 18 | 20 |
| Band Size (cm) | 67-72 | 72-77 | 77-82 | 82-87 | 87-92 | 92-97 |
| A Cup | 82-84 | 87-89 | 92-97 | 97-99 | 102-104 | 107-109 |
| B Cup | 84-86 | 89-91 | 94-96 | 99-101 | 104-106 | 109-111 |
| C Cup | 86-88 | 91-96 | 96-98 | 101-103 | 106-108 | 111-113 |
| D Cup | 88-90 | 93-95 | 98-100 | 103-105 | 108-110 | 113-115 |
| DD Cup | 90-92 | 95-97 | 100-102 | 105-107 | 110-112 | 115-117 |
| E Cup | 92-94 | 97-99 | 102-104 | 107-109 | 112-114 | 117-119 |
Australian bras are sized differently than those from other countries. When shopping for a bra from an online resource, it is important to ensure that measurements match.
Signs of an Ill-Fitting Bra
Many women wear the wrong size bra without realising it. They may stick with the same size for years without adjusting for changes in weight, height, and body shape. A woman's bra size can change up to six times during her life. If problems with fit occur, it is time for a new bra.
Issues of an ill-fitting bra can happen if the band climbs up the wearer's back, resulting from a too-large band. To prevent this, the back and front band should be parallel. The wearer should be able to fit two fingers under the band comfortably; if not, the band is too tight. If the bottom edge of the centre section of the bra does not touch the breastbone, it indicates a too-large cup size. Bras stretch over time, and a new bra should fit well on the last hook. When a bra fits well, the cups are smooth, the band is even and low on the back and sides, and the bottom of the centre lies flat on the breastbone.
Caring for a Bra
The consumer should follow the specific care instructions for each bra. Garment experts suggest that women handwash the bra after wearing it twice. Wash bras that contain Lycra with a mild soap and air dry; bras should never be thrown in the dryer, as heat weakens elasticised material. If the bra is machine washed utilising the gentle cycle, consumers should put them in a lingerie bag to protect other clothing from the hooks and to prevent the bras from being twisted out of shape in the washer.
Another way to extend the life of a bra collection is to own more bras. Many women rotate amongst an average of four bras, when six to 10 bras allows each bra to last longer. Bras worn regularly may last six months. Bras made with Lycra stretch from body oils and heat; they take about a day to return to normal. It is a good idea not to wear the same bra two days in a row. High-quality bras last longer than less expensive bras, so it makes more sense to buy the best bra one can afford.
How to Buy Everyday Bras on eBay
When shopping for an everyday bra on eBay, you may start your search on any page on the site. Simply enter a search term, such as "plunge bra", in the search window, resulting in a variety of listings to browse. If you wish to refine your search, you can narrow the results by including the colour, condition, style, size, and brand, such as "Berlei".
If you prefer to collect your purchases in person, you may search for sellers within a certain radius of your postcode. Some buyers prefer to patronise eBay's Top-rated sellers or those that have an eBay store, or they may take advantage of eBay deals. Be sure to become familiar with each seller's profile, including dispatch reliability, feedback rating, selling policies, and customer comments.
Conclusion
The health hazards caused by an ill-fitting bra include back pain, tingling nerves in the hands and arms, headaches, pain, abrasions, breathing difficulties, and rash. Being fitted for the proper size bra once a year keeps the wearer healthy and feeling better as well as looking great in any kind of clothing. After researching the sizes, types, brands, and colours of bras, consumers can find bras to suit any style preference and budget.
Buyers on eBay should research each seller's reputation as well as feedback rating, sales policies, and selling history to ensure smooth transactions. With its continually updated listings, eBay is a great resource for women who wish to purchase a particular style of bra with confidence and ease.
Bra|Women's Underwear|Underwire|Demi Bra|Bra Fitting