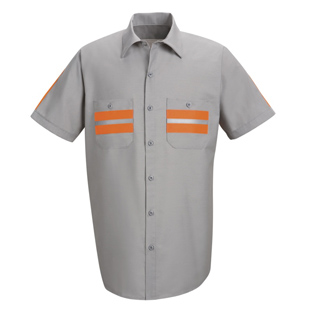 Casual has become the new fashion buzzword in the world of men's clothing. Casual Fridays dominate the workplace. Party invitations now include the request to "come casual" for parties once exclusively reserved for formal wear. Because of the increasing demand for men's casual clothing, manufacturers have increased the number of styles and even added the petite size to its standard list of shirt sizes. Men can find petite men's casual shirts at a number of big box shops and small men's clothing outlets, but the best place to shop for the diminutive casual shirts may be online at eBay. Before men search for the perfectly fitted men's petite casual shirt, they should learn about the best shirt styles for petite men, the fitting requirements, the casual shirt sizes, and refer to a list of the eight best casual shirts for petite men.
The term "petite" creates confusion amongst both men's and women's clothing shoppers, but it has more of an enigmatic meaning for men. Some of the reason for the confusion is that clothing manufacturers have never defined the term, and thus, petite takes on different meanings at different apparel shops. Is petite the same as small, or does it represent a size or two larger or smaller than the pervasive "small" size? Men who want to wear the best casual shirts should refer to petite in two ways. The first way describes petite in terms of body height and the second definition focuses on the slenderness of the upper torso. Since some labels carry separate petite lines, men should consult with men's clothing sales professionals to obtain a definitive answer about what petite means.
Style plays a major role in defining the best casual shirt for petite men. Search for hemmed shirts that rest only a few centimetres below the waistline of long trousers and at the waistline of shorts. Men should tuck longer casual shirts into their pants to prevent the perception of short legs. Tailors can alter the hem length of shirts whenever a man finds a high-quality casual shirt that may be a bit too long for him. Classy casual men's shirts have higher armholes that neither presents a baggy or clinging appearance on the upper torso. Casual shirts that include vertical stripes augment height to a man's appearance, but choose thinner stripes to prevent the shirt from overpowering other aspects of the attire. The best materials for casual men's shirts include silk and cotton . Both materials possess high durability and breathe better than other types of men's casual shirt materials.
Clothing manufacturers label many types of men's casual shirts as petite, but the shirts do not have specific measurements listed on the package or collar label. Petite-labelled casual men's shirts typically measure near 35 cm around the collar, with an 85 cm chest size. The regular sleeve length for petite men's casual shirts registers between 80 and 85 cm. Remember that the measurements for petite men's casual shirts vary among manufacturers and retailers. Moreover, some men must ask for customised fits to compensate for abnormally small or large neck, chest, and sleeve sizes for shirts within the petite size range. The following chart lists the five standard men's casual shirt sizes.
| | | |
| --- | --- | --- |
| Size | Neck Size (cm) | Sleeve Size (cm) |
| S | 37-38 | 84 |
| M | 39-41 | 89 |
| L | 42-43 | 91 |
| XL | 44-46 | 97 |
| XXL | 47-50 | 97 |
Always consult size charts that include petite measurements. Clothing professionals provide an excellent source of accurate fitting information, especially when it comes to the oft-confusing term of "petite". Men who have doubts about their shirt sizes should receive accurate measurements from tailors or clothing shop sales employees. Manufacturers design casual men's shirts by implementing various cuts and styles that do not flatter all body types. If a man finds himself with a petite casual shirt that looks droopy or too tight, he can take the shirt in for altering by an accomplished tailor. Petite shirts of any type are difficult to return due to the low resell demand of the shirt.
Men ' s fashion magazines run issues that focus on ranking the multiple types of men's clothing. A compilation of rankings released in early 2013 listed the eight best casual shirts for men. The following casual men's shirts all come in the petite size. The criteria used to name the best casual men's shirts include style, comfort, and durability.
Marks and Spencer casual shirts come with floral or 1960s retro geometric prints, which many critics praise as a welcome alternative to run-of-the-mill plain coloured casual shirts. This type of design on a men's petite shirt accentuates the man's stature and the shirts typically pair well with a wide variety of coloured trousers .
Hawaiian shirts have been a men's casual shirt standard for a long time. This print combines high-rise beach condos and palm trees to convey the ultimate casual look. The '60s-style button down casual shirt breathes well in humid climates and it handles the rigours of frequent machine washing and drying.
Australian men should be familiar with this Japanese clothing brand. Beams Plus manufactures casual shirts that integrate clever artistry with the classic American preppy appearance. The unique combination produces a design that has become very popular amongst Australian men.
Men who prefer large floral prints that present striking appearances should consider Christophe Lemaire men's casual shirts. The casual shirts work well with plain jeans and chinos, especially in outdoor gatherings, such as beach barbecues. One men's magazine calls this shirt one of the most rugged casual shirts on the market.
This immaculately cut casual shirt should comprise a part of every man's wardrobe. The plain white shirt projects softness that appeals to women. Raf Simons has earned a strong reputation for creating designs that work well with men who wear small and petite size casual shirts.
Topman creates casual shirt designs that work well when the sun shines brightly, which it often does in sun-drenched Australia. This casual shirt feels luxuriously soft to the touch and the fabric used to weave the shirt possesses the ability to rebound from prolonged periods of stretching.
As the most stylish casual shirt on this list, this exceptionally woven shirt has a combination of a two-tone white and azure design. The Italian collar leaves a larger neck spread than typical casual petite men's shirts, which allows smaller men with larger necks to wear this shirt in comfort.
Paul Smith men's casual shirts are renowned for ebullient prints that match perfectly with the classic Hawaiian background. The cotton blend shirts are easy to clean and come in several different colours to provide men with more trouser pairing choices.
eBay offers men a search engine to find the right petite casual men 's shirt seller. You can type brand names into the search engine or search by typing "small" or "petite". Just make sure that any eBay seller under consideration presents the neck, chest, and sleeve measurements of the casual petite shirts for sale. Stay away from used men's casual shirts, and instead, focus on the sellers who offer virtually brand new men's casual shirts at discounted prices. The sellers have removed the shirts from the original packaging, but they have never worn the shirts. Do not forget eBay deals, where the e-commerce site offers numerous men's clothing products. Consider sellers who have earned positive feedback for selling men's clothing on eBay.
Conclusion
Men want to buy casual men's shirts that offer style, comfort, and the ability to withstand stretching and moisture. However, it may be difficult for smaller men to find casual shirts. This is because many men's clothing manufacturers do not offer a "petite", but instead offer several sizes in the small range. Look for casual petite shirts produced by some of the most recognised men's clothing manufacturers, such as Raf Simons, Christophe Lemaire, and Beams Plus. Shirts designed by the best men ' s clothing manufacturers possess timeless style and impeccably woven materials. Make sure to get the perfect fit by having a tailor perform neck, chest, and sleeve measurements. After all, it is difficult to find a petite shirt in general and much more difficult if you guess at the upper torso measurements.
Men's Casual Shirts|Petite Men's Shirts|Men's Shirts|Casual Men's Shirts|Men's Clothing