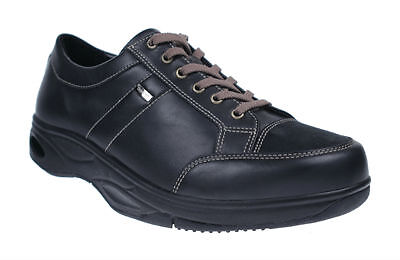 Professionals who wear casual shoes to work often want to wear the same pair of shoes off the clock, whether they play on the football pitch or in a pub. Men ' s footwear manufacturers recognise the demand of consumers to wear casual shoes that help them transition from work to play. They can buy such shoes at shoe shops or big box outlets that have shoe departments. However, the best way to shop for multi-purpose casual shoes involves a few mouse clicks on one of the leading e-commerce sites, eBay. Before multitaskers begin their search for the day-long pair of shoes, they should review the most popular types of casual shoes, and then learn why trainers represent the best casual shoes for people who like to work and play hard.
Types of Casual Transition Shoes
Work attire requirements have changed over the years, as many companies have relaxed their once strict dress codes. What began as "casual Friday" now covers the entire work week. The tech industry started the casual clothing trend, but industries across the board have shunned the coat and tie for more relaxed clothing rules. However, workers must walk the proverbial fine line when it comes to selecting the best casual shoes. They still want to look good, without making squeaking noises with every step they take. Here are the recommended types of casual transition shoes.
Leather Oxfords
Many people mistakenly refer to leather Oxfords as men's dress shoes, when, in fact, a high-quality leather casual Oxford looks great with a pair of khakis or seamlessly blends with cords. The comfortable shoes appeal especially to workers who spend long stretches of the day on their feet, and then wear the shoes at night during a cocktail party. Leather Oxfords come in a wide array of styles that include shoes produced by Rockport and Johnston Murphy.
Slip-On Loafers
Slip-on loafers are popular at work because they provide comfort and enough support for people who need to leave one meeting in Building A and travel across the corporate complex to another meeting in Building G. Loafers may be worn with conservative dress trousers, as well as dark jeans.
Boots
Men have made boots one of the most popular types of shoes that help them transition from department meetings to a night of revelry. Suede boots provide supreme comfort by repelling the moisture that builds up between socks and shoes. This popular all-in-one casual shoe looks great with a pair of trousers.
Trainers
It is doubtful that a boss allows workers to don Air Jordan trainers, but people who want to transition from work to play in a pair of trainers have numerous other trainer options. Keep the running shoes in the bedroom closet, and instead, put on a pair of Jack Purcell, Chuck Taylor, or Stan Smith trainers. Both Nike and Puma have adapted to the new work-to-play trend by constructing shoes meant for both environments.
Speaking of Trainers
Many workplaces have gone much further than changing attire requirements from the suit and tie to casual shirts and trousers. The less stringent workplace dress codes also include shoes. Initially, companies require workers to wear conservative, neutral-coloured shoes in the workplace, such as brown casual shoes. With the changing times came a change in shoe company business models. Most of the major shoe players produce trainers that double as office cubicle footwear and after work hours shoes. Workers can wear the following best trainers on the job for eight hours, and then catch dinner and a film after the long work day.
Puma AMQ Vascular
Puma was one of the first shoe manufacturers to offer hybrid shoes, the shoes that workers wear to business meetings and at children's recitals. Alexander McQueen designed the shoes to create a dressy look that belies the casual comfort and support of shoes worn in less formal environments. Not every Puma style can be worn in the workplace, but the AMQ Vascular represents the prototype work-to-play casual shoe.
Nike Mad Jibe
Once considered one of more popular casual Friday shoes, the Mad Jibe from Nike allows workers to remain classy on the job and mobile on the field under the lights. Nike uses the same leather upper and rubber outsole that the company integrates on its Nike Dunk brand of trainers, which means workers can expect comfort and sturdy support in the office and at a friend's house for dinner.
Nike Air Force 1
Nike constructs the Air Force 1 line of trainers to make an automatic transition from the workplace to the adult playground. Wear the shoes with khakis, black trousers, or new jeans at work and skip the stop home to change shoes on the way to a nice restaurant for dinner with work associates. The shoes project a fresh, clean image in a simple style.
Adidas Stan Smith II
Named after tennis legend Stan Smith, this Adidas line of trainers has been a staple in casual work environments for decades. The all-leather upper exudes class, while the rubber cup outsole absorbs the pounding that feet take during a bustling day at the office and on the tennis court. Fashion magazines have described how men pair the shoes with formal business suits, with the shoes not missing a style step.
Diesel Paramark
Many types of Diesel casual shoes are great for long strolls through the park and anxiously tracking a work project all day on a computer monitor. However, Diesel Paramark is perhaps the best line of Diesel casual shoes for transitioning from the workplace to more relaxed after hours environments. The leather Nappa upper soothes tired and aching feet and the solid base outsole rebounds from incessant pounding. The laced enclosure adds a touch of class without going overboard in casual environments.
PF Flyers Perrin
Most PF Flyers trainer designs do not mesh with office attire. However, the Perrin line of casual PF Flyers bridges the gap between workplace decorum and no holds barred fun after work. The high-top trainer prevents ankles from rolling during competitive sports and the variety of colours offered by the company expands the norm of casual office attire. PF Flyers Perrin casual shoes have a resilient quality that extends the life of the shoe beyond the average for a shoe of its type.
How to Buy Casual Shoes to Transition from Work to Play on eBay
Your primary objective on eBay is to find a seller who has established a strong record for selling men ' s clothing, particularly casual shoes. You can accomplish this by accessing seller candidate product pages and reviewing the customer feedback that eBay compiles. Look for positive feedback that encompasses the past year and includes multiple postings for men's casual shoes. Confirm shoe size and style by analysing the enlarged photograph and shoe description on the main seller product page. You can also review each seller's accepted payment methods and delivery terms. eBay also offers deals on many of the products sold on the site, including new and used casual shoes. Some sellers have only taken the shoes out of the box, which means you may pay less than full retail price for a pair of new casual shoes.
Conclusion
Shoe manufacturers have adapted to the new workplace attire, constructing casual shoes that exude professionalism on the job, as well as offer enough comfort and support for after-work play. The key is to buy the best casual shoes that transition from work to play. Some of the best casual shoes to consider include slip-on loafers, leather Oxfords, and boots. Yet, the best casual shoe type is a style of shoe that performs on the pitch and in the corporate boardroom. Puma, Nike, and Adidas make casual shoes that flawlessly transition from the workplace to less casual environments. You can find the best casual shoes at shoe shops, but why pay a premium for a pair of new shoes in person? eBay brings together sellers who offer the best casual shoes and buyers who want convenience into the largest virtual marketplace.
Men's Casual Shoes|Trainers|Nike|Best Casual Shoes|Leather Oxfords