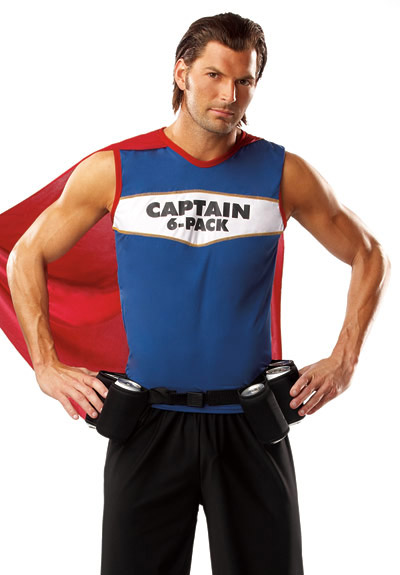 Wearing costumes is not limited to Halloween, and with costume parties becoming increasingly commonplace, a significant number of men are looking for costumes. Not everybody looks for the same kind of costume, though, and a number of muscular men tend to look for costumes that can help flaunt their chiselled bodies. The good news is that men have a number of options to turn to when it comes to looking for such costumes.
While costume shops offer buyers some alternatives, the online marketplace comprising of sites like eBay, provides buyers with more options from which to choose. In any case, before deciding which costume to buy, buyers should ideally think about just how revealing they want their costumes to be, and once they narrow down the costumes that they like, they should take factors, such as price and quality, into account.
The Best Costumes
Occasions that require wearing costumes give muscular men the ability to show their muscles to the world, and the best costumes to do so depend on how shy or uninhibited the man may be. While some men are not comfortable showing any skin, others enjoy the attention they get by doing just that. Given below are some of the best costumes that muscular men can expect to find.
Superman
With new Superman films being released at regular intervals, this superhero continues to remain on people's mind, and with more recent Superman films redefining the caped hero's traditional costume, people looking for Superman costumes now have more than just one option from which to choose. The Superman costume is particularly good for people who do not feel comfortable showing too much skin, and yet, can show off muscles for which they have worked so hard. Superman costumes score over most other superhero costumes given that Superman's face is always visible.
When it comes to buying Superman costumes, buyers have numerous options to turn to, and while some come with padding to help provide Superman's muscular look, others do not come with any padding at all. Muscular men can choose to buy body-hugging Superman costumes that come without any internal padding, opting to let their muscles provide the needed bulge. Paying attention to footwear is important, and if a costume does not come with suitable shoes, buyers should look for something suitable on their own. An old favourite with muscular men the world over, this is one costume that does not seem to be going out of style anytime soon.
Roman or Greek Warrior
Men who do not mind showing some skin ought to think about investing in Roman or Greek warrior costumes. With films like "Ben-Hur", "Gladiator", "Nero", "300", and "Spartacus", doing rather well, what is certain is that this period in history continues to hold the attention of mankind, and these costumes are among the best because they allow muscular men to show off their bodies and not feel odd about doing so. Typical Greek or Roman warrior costumes come as single-piece tunics as well as costumes that include separate lower and upper portions. While some costumes also come with accessories, like matching belts, shoes, and armbands, this is not always the case, but buyers can choose to buy these individually. When it comes to buying accessories, buyers also have the option to choose a variety of helmets, masks, swords, shields, and spears made using different materials.
Firefighter
There is something about firefighters that continues to catch the attention of the fairer sex, and for that reason alone, firefighter costumes are a big hit at most costume parties. When it comes to buying firefighter costumes, men have numerous options from which to choose, and these include costumes that come with oversized coats and costumes that come with artificial padded chests. Neither of these is particularly good for men who wish to show off their muscles. Muscular men should ideally look for basic firefighter costumes that come with trousers and a pair of suspenders, given that these allow men to go topless. Wearing a hardhat and matching boots is recommended.
Male Stripper
Men who tend to turn to male stripper costumes are usually those who can truly carry the act as it should be, given that it not only requires a certain physique, it also requires a certain frame of mind, although there are a few geeky men who have a go at this as well. These costumes are ideal for men who wish to show off their upper torsos, given that male stripper costumes require men to go topless. Male stripper costumes tend to come with black trousers and matching butler bow ties and cuffs. Wearing matching formal shoes is highly suggested, and pairing this costume with sneakers or slippers is definitely not recommended.
Borat's Mankini
The mankini, made famous by Sacha Baron Cohen when he wore it in the 2006 film "Borat", can help men display close to their entire body, given that it leaves little to the imagination, and the humour associated with this costume certainly helps add it to this list of best costumes for muscular men. Made available in different colours, the mankini can help muscular men display their bodies as almost no other costume can, and men wearing mankinis can also act like Borat: sexist, blunt, rude, and not to forget, hilarious. Men wanting to invest in mankinis should know that they also have the option to look for orders that come with fake Borat-styled moustaches. When it comes to footwear, men wearing mankinis can do so with slippers, sandals, or flip-flops, and can even choose to go barefoot.
Buying Costumes for Muscular Men on eBay
Muscular men looking for costumes have a number of options to browse through when shopping on eBay, and these options include Superman costumes, Greek and Roman warrior costumes, firefighter costumes, male stripper costumes, as well as mankinis. There are a host of other men ' s costumes that buyers can find on eBay that can help show off their muscles, some of which include Star Trek costumes, Mario Brothers costumes, and aviator costumes.
When shopping on eBay, buyers ought to pay particular attention to how much they are required to pay in the form of postage and packaging costs, given that different sellers are known to charge differently. For example, while some buyers offer free shipping, some others base postage and packaging costs on each order's actual physical weight. In order to look for any given costume, buyers can simply turn to the search box found on each eBay page.
Conclusion
Deciding upon a costume when it comes to showing off muscles does not have to be difficult. Take into account how much skin the wearer is comfortable showing. For instance, men who are not comfortable showing skin can opt for Superman costumes, given that not much other than the face is visible, and there is more than enough emphasis on the wearer's muscles. Men who do not mind showing skin, or those who want to, may consider a Borat costume and wear a mankini.
Before buying costumes, buyers should take into account just how often and how many times the costume may be used. Consequently, aspects like price and quality should ideally be based on any costume's intended use. Lastly, searching through online platforms for costumes is always a good idea, given the number of men ' s clothing deals buyers can find.
Superman Costumes|Roman Warrior Costumes|Mankini|Male Stripper Costumes|Firefighter Costumes