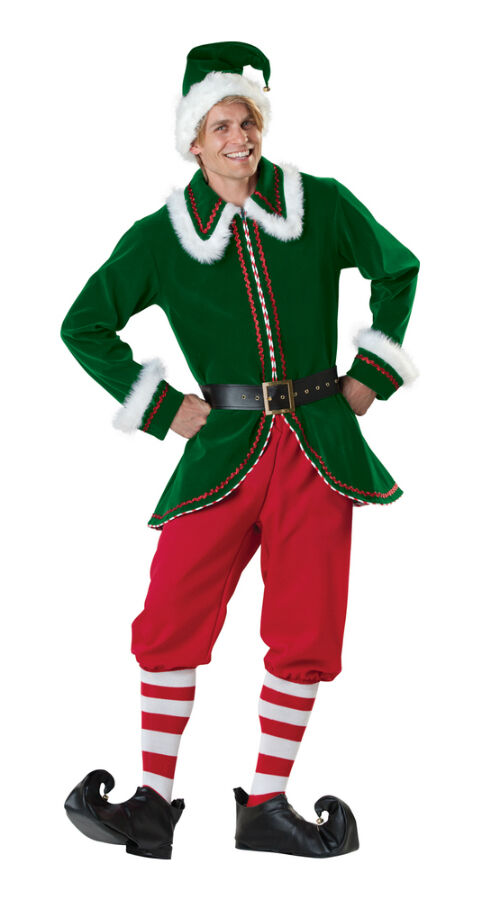 Being above average is something that many people desire from certain aspects of their lives because it creates windows of opportunities that others may not have. However, being above average in height, especially for men, does have its drawbacks in some areas, like when it comes to finding garments that fit well.
Not only are everyday clothing options often limited for tall men, but when the specifications for clothing choices becomes even more detailed, like finding men's costumes, the choices are often much narrower. Costumes for tall men are located at some retail department stores and online at eBay. Finding the best costumes for tall men is easier when they know how to choose the proper size for their body types.
What Makes a Costume the Best
What makes costumes the best for tall men is all in the details. There are several things that need to be considered before going on the hunt for the perfect costumes. One of the most important things that needs to be taken under consideration is size.
Not all bodies of tall men are created equal. Some men have the majority of their height in the upper section of their bodies, starting at the waistline, while the majority of height for other men comes from the length of their legs. There are also men who are evenly proportioned with the torso and and the lower halves of their bodies being fairly similar; however, this does not necessarily mean that they also have an abundance of costume choices to choose from either.
There are a great number of men's costumes available for all occasions. Knowing how to take the proper measurements and equate those measurements to a lettered size often makes finding costumes easier.
Taking Measurements
Taking measurements is one way to ensure that the proper size is obtained before picking out a costume. Although not all manufacturers of costumes for tall men are designed in the same way, the chances are more likely the size is going to be closer to what is needed if the measurements are taken properly.
Regardless of which part of the body is being measured, it is important to make sure that the tape measure is one that is flexible and that conforms well to fit the curves of the body. In addition, it is equally important to make sure that the tape measure is level with the ground when it is placed around the body.
When measuring the neck, it is important to place a finger under the tape measure over the Adam's apple in order to make sure the fit is more comfortable for the neck. The sleeve measurements should be obtained by measuring from the shoulder to the wrist of the arm. For all other areas of the body, the fullest portion of the sections should be measured.
Sizing
Many people find that they enjoy buying costumes created in other countries like the United States or Australia, however they do not necessarily know how to convert inch measurements into letter sizes. The table below lists a variety of measurements taken and what each size equates to when it comes to picking out costume shirts and pants that are manufactured in the United States and Australia. There are specific areas of the man's body that should be measured that are not always measured on a woman's body, so knowing which parts to measure makes a big difference when it comes to finding the appropriate fit. The majority of tall men wear sizes that range from XL to 4XL and for this reason, these sizes are the ones that are listed below. All sizes are in inches.
| | | | | |
| --- | --- | --- | --- | --- |
| Measurement/Size | XL | 2XL | 3XL | 4XL |
| | 17 to 17.50 | 18 to 18.50 | 19 to 19.50 | 20 to 20.50 |
| Chest | 46-48 | 50-52 | 54-56 | 58 to 60 |
| Sleeve | 35 to 36 | 36 to 37 | 37 to 37.50 | 38 to 38.50 |
| Waist | 40 to 42 | 44 to 46 | 48 to 50 | 52 to 54 |
| Inseam | 32 | 34 | 34 | 34 |
It may not always be easy for men to take their own measurements or even have another person around to assist in this task. It is important to note that many locations that sell or rent formal wear often have store personnel available who are able to take measurements and convert them into standard letter sizes.
Type of Costumes
There are a wide variety of costumes available to suit almost any occasion, and often the ones that are the best fit for tall men are the ones that are easily adjustable. There are many type of costumes available in unisex varieties as well as ones meant for just for men. Knowing the various options available helps tall men to find the ones that are best suited to their needs.
Adult Unisex
Adult unisex costumes are another choice for tall men. Women tend to be shorter in stature than men to begin with, so this is not always the best option. It is possible though to find adult unisex costumes for tall men if they know where to look for them, and one of the easiest places to find a wide variety costumes to fit men of above average height is often online.
Custom Costume Creations
Finding a costume that fits properly is a hard thing to do on many occasions, especially when a specific theme is required. Sometimes it is even less expensive to simply create a costume for a theme rather than finding separate men's shirts and pants that match. Togas are great ideas for tall men who need costumes and are easily tailored to fit their statures. Another great thing about using togas as costumes for tall men is that they can be used on a variety of occasions, such as Halloween.
King Costumes
King costumes are simple to assemble and look great on tall men. Many men enjoy the idea of having costumes that are simple because they do not want to spend a lot of time dressing and worrying about keeping the costumes intact throughout the night, which is often hard for anyone to do when costumes have a large variety of items that are needed as accessories. New king costumes are great choices for tall men who want to have simplicity and still look and feel noble.
Medieval Costumes
Another costume type that is considered to be best for tall men is one with a medieval theme. Because these types of costumes are often created from layered fabric, they are good choices for tall men since they easily adjust to fit their height. In addition, the layered fabric also makes these costumes a good fit for men who are also larger in girth. Another feature that makes medieval costumes fun for men is that there are a multitude of accessories that are used to further customise the costumes in order to liven them up, such as hooded capes or replicas of boots worn during that time period.
How to Buy the Best Costumes for Tall Men on eBay
Many people enjoy shopping on eBay because of the variety of items that are consistently available and also because there are many great deals every day as well. It is often much easier to locate hard-to-find items here than it is to find them in other places.
It is not hard to find a costume to fit a tall man when you use know how to use this website. All it takes to find the perfect costume is to type relevant keywords such as "pre-owned men's costumes". Any costumes tagged with these keywords are sent to you via the search results for you to browse through. Additional information is also usually obtained by reading the full item descriptions. You may also use the advanced search feature options.
Conclusion
It is sometimes hard for men of average height to find great costumes that fit well, and often, men who are taller than most find it even more difficult to find ones that fit them properly too. One of the reasons that many men struggle with this is that they do not know what their correct size is, so they often just guess. Knowing what size costumes need to be is the first step in finding the best ones for tall men.
In addition, finding costumes that are easily adjustable is even more rewarding. There are many kinds of costumes that are available that work for a variety of occasions when the wearers know what types of costumes are the best for tall men.
Men's Costumes|Kings Costumes|Medieval Costumes|Togas|Unisex Costumes