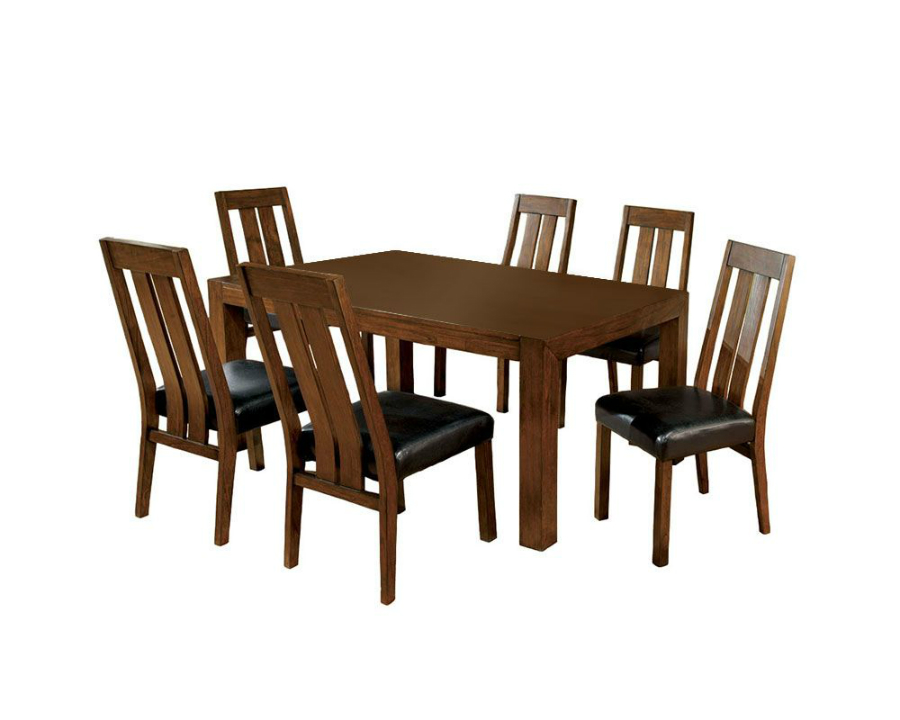 Dinnertime is an important ritual for most families. This is the time when family members come together, talk about their day, and spend some much-needed quality time together. For large families, having the right size dining table is important, as this means everyone can sit and eat comfortably while still being able to easily talk to each other. For buyers, finding the best dining tables for large families is a priority.
Dining tables are available at many retail stores, department stores, and local furniture stores. However, buyers looking for a good deal can also turn to online sites like eBay, which can offer buyers a wider range of choices and in many cases, better prices. Buyers should consider the shape and features of a dining table in order to determine which would suit their large family best.
1. Rectangular Dining Tables
The most basic type of dining table is the rectangular dining table. As the name implies, this dining table is a rectangle. The shorter sides usually seat one person, while the longer sides can seat several people. Rectangular tables come in all sizes though standard rectangular tables usually have enough room to seat four people comfortably on each side and one person on each end. One advantage is the possibility to place these tables side by side to seat more people in what is called conference-style seating. As this is the most common type of dining table, rectangular tables come in variety of materials and finishes. Oak is perhaps one of the more sought-after woods for dining tables as this particular material is quite elegant and durable.
2. Drop Leaf Dining Tables
Many families do not stay the same number for very long. Some welcome the arrival of new babies. Some children may go away to college or move out. Some may come back with their significant others and their own children. Therefore, a drop leaf dining table is perfect for families who are in transition. This type of table features a top with sides that have hinges, instead of nails or glue. This allows the sides to flip open, extending the surface of the table to seat more people. Although this is the most common type, there are other designs, some of which actually double the size of the table. Some are split in the middle or have a portion underneath the main surface that extends out.
3. Trestle Dining Tables
On the surface, a trestle table may look like any rectangular table, but underneath, it is very different. The legs consist of a long beam supported by a pair of sloping legs. These tables originated in the Middle Ages and designed to be easy to assemble and put away. Trestle tables are not only charming and evoke an Old World feel, but they can also accommodate more people since there is more space for people's legs. This design is quite sturdy and can easily support heavy table tops. These tables are also perfect for casual outdoor settings and easily assembled for a summer picnic or family reunion.
4. Farmhouse Dining Tables
Far mhouse dining tables are usually less formal than other types of tables and have a rustic feel. This type of table is perfect for large families as it can hold more people, especially when paired with long benches. Perfect for any kitchen or informal dining room, they can also serve a variety of other purposes when not being used for eating.
5. Circular Dining Tables
Circular dining tables are more flexible and accommodate several people without being too crowded. A round dining table is also great for small spaces and for people with small children as there is no danger of them running into sharp corners. For those who follow Chinese geomancy or feng shui, a round table is a good choice as it represents harmony and promotes the flow of good energy. Many formal occasions, like weddings and balls, have banquet-style seating and use circular dining tables since they can accommodate more diners and look very stylish when dressed up.
6. Oval Dining Tables
Oval dining tables are perhaps one of the oldest styles of tables, and some of the more beautiful pieces are often family heirlooms. Oval tables are circular in shapes but feature elongated sides. These tables have the same advantages as round tables, but an oval table with a comparable size can hold more people. Handcrafted and made to last a lifetime, antique oval dining tables can sell for a lot of money, although buyers can purchase a less expensive modern version made in factories.
7. Round Pedestal Dining Table
A round pedestal dining table is similar to a circular one, except that it has one large leg in the middle, instead of three or four legs along the edge. The advantage of this design feature is that more people can sit comfortably around the table without worrying about their knees bumping into the table's legs. This table design goes back a few centuries, but there are more modern and contemporary styles.
Comparison of Dining Room Tables
With several types of dining tables from which to choose, buyers may have a difficult time deciding which one is best for their family. By looking at these tables side-by-side and comparing their features, buyers can easily determine which table they should purchase.
Type of Table

Description

Rectangular

Has two long sides and two short sides

Large size fits 10 people

Used for conference-style seating

Drop Leaf

Has hinged sides, which are extendable

Can accommodate small or large families

Trestle

Casual-style seating

More room for legs

Farmhouse

Informal dining table

Used for other purposes

Circular

Has round tops and rounded corners

Flexible and accommodates more people

Oval

Similar to circular tables, but sides extend further

Round Pedestal

Has a single leg in the middle

Provides more comfortable seating since there are no legs to bump into
When making any decision, buyers should consider their own needs and wants. A rectangular dining table is a good choice for families of eight or more, and it is easy enough to extend with another table should there be additional people. A round table, on the other hand, may not accommodate as many people but may suit the style of a room or the buyer's personal taste.
How to Buy Dining Tables for Large Families on eBay
By shopping on eBay, buyers have a better chance of finding the right piece, as there are many items listed on this site at any given time. To find dining tables, start with a keyword search for "dining tables". You can also be more specific in your search and include other identifying terms, such as "round dining tables" and "oval dining tables".
Using Advanced Search
Aside from the main search box, you can also use the Advanced Search option. By accessing this option, you can instruct the search engine to limit searches to certain parameters. For example, you may want to return items that are only found on eBay Australia, between a certain price range, or even items from only top-rated sellers.
Conclusion
When purchasing a dining table, the size of the family is perhaps one of the more important factors homeowners need to consider. A dining table should have enough seating space and elbow room for everyone to fit and eat comfortably. For larger families, finding the right size dining table can prove to be a challenge, but there are certain types of tables suitable for big families.
Homeowners can choose among several types of dining tables, such as rectangular, drop leaf, trestle, farmhouse, circular, oval, and round pedestal. Learning about these different types of tables and the advantages of each enables buyers to find and choose the right dining table.
Dining Tables for Large Families|Rectangular Tables|Drop Leaf Tables|Round Tables|Trestle Tables