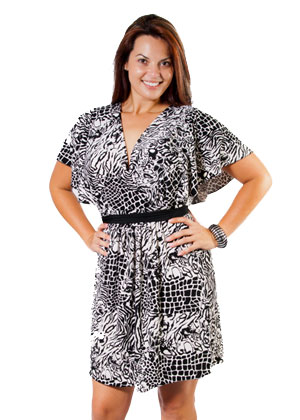 A dress is a one-piece garment with a bodice and a skirt. The 1860s introduced various styles of dresses, including floor-length dresses, dresses with low necklines, and dresses with hoop skirts and crinolines. Today, dresses are wardrobe staples for office wear and formal wear, including weddings, proms, and other special occasions. Casual dresses also offer additional fashion choices for women. The best
dresses for plus-size women
are styles that downplay body size while highlighting positive body features. Plus-size women desire comfortable, stylish, well-fitting dresses just as much as any woman. They enjoy the latest trends, designer labels, and professional and casual styles for work, home, and play.
When buying a plus-size dress, a buyer needs to determine her body type and the correct size. Other considerations include dress styles and lengths, fabrics and colours, accessories, and versatility. Plus-size dresses for women are sold in many retail clothing stores and online on sites like
eBay
. eBay also offers special
deals on dresses
.
Types of Dresses
The different types of dresses for plus-size women include formal dresses for special occasions, office wear dresses, and casual dresses for home or play. Plus-size women enjoy wearing different types of dresses in various styles, fabrics, colours, and lengths. A wide range of choices allows for a better selection of plus-size dresses along with matching accessories.
Formal
Formal dresses for plus-size women include wedding dresses, prom dresses, evening dresses, and ballroom dresses. These dresses may be purchased off the rack, custom-made, or rented. Silk and satin formal dresses often incorporate sequins or rhinestones into their designs.
Office Wear
Tailored, conservative dresses for the office are an essential wardrobe staple for all women. A dark-coloured, knee-length dress paired with a dress jacket and heels displays professionalism in the office. Women may also choose this type of dress for important meetings or social gatherings.
Casual
Many women wear casual dresses when vacationing or relaxing at home. The dresses are cooler than pants and more comfortable for lounging. Casual dresses provide stylish alternatives for informal entertaining, social gatherings, and more casual office wear.
Additional Considerations
When shopping for the best dresses for plus-size women, a buyer must also consider body type, dress style and length, fabric and colour, size, accessories, and versatility. The buyer should select dresses that are appropriate for plus-size women that emphasise positive body features. The dresses should also exemplify comfort, versatility, and personal preferences.
Body Types
Before selecting dresses, plus-size women should first determine their body types. Many apple-shaped body types with thicker stomachs and waists and fuller busts look good in empire dresses with v-necklines to emphasise their longer torsos. Loose-fitting,
knee-length dresses
are good choices for apple-shaped body types. Many pear-shaped body types with fuller bottoms and legs and smaller busts look good in darker colours with beads or ruffles around the tops of the dresses to direct attention to upper body areas and away from lower body areas. Drop-waist dresses and
mid-calf dresses
are good choices for pear-shaped body types.
Dress Styles and Lengths
Plus-size women should emphasise their best physical features with appropriate dress styles. Most plus-size body types benefit from wearing knee-length, A-line dresses, regardless of the occasion. An A-line dress narrows underneath the bust and then cascades away from the body, creating a tailored, streamlined appearance. It also lengthens and slims the upper body and legs.
Full-length dresses
are appropriate for tall plus-size women.
Sleeveless dresses
, dresses with v-necklines, and dresses with cleavage highlight the arms, neck, and bust. Sagging, flabby arms benefit from
long sleeve dresses
or
three-quarter sleeve dresses
. Other popular, plus-size dress styles include trendy maxi dresses, classic wrap dresses, and tailored jacket dresses. These styles of dresses, combined with the right accessories, reflect formal or casual looks for various occasions.
Fabrics and Colours
Fabrics and colours accentuate or detract from a garment's appearance. Summer dresses should be comfortable, cool, and stylish.
Cotton
,
chiffon
, and crepe dresses provide good fabric choices for summer dresses.
Halter dresses
and sundresses draw attention to the shoulders and upper body and camouflage the waist and stomach areas. Summer dresses and casual dresses for plus-size women employ brighter colours and prints than office wear dresses. Plus-size women should rarely wear light-coloured or small print dresses. These types of dresses make the body appear heavier. Silk, satin, and linen fabrics work well in cooler weather. Darker colours and vertical stripes elongate and slim the body, downplaying problem areas.
Sizes
Plus-size women should correctly determine their dress size before making final decisions. To do this, they should compare personal measurements with dress sizes. The following table compares dress sizes, starting with size 16, in relation to bust, waist, and hip measurements.
| | | | |
| --- | --- | --- | --- |
| Size | Bust | Waist | Hips |
| 16 | 106 cm | 94 cm | 113 cm |
| 18 | 111 cm | 99 cm | 118 cm |
| 20 | 117 cm | 105 cm | 124 cm |
| 22 | 122 cm | 110 cm | 129 cm |
| 24 | 127 cm | 115 cm | 134 cm |
| 26 | 132 cm | 120 cm | 139 cm |
Plus-size women should never wear dresses that are too large or oversized. The larger dresses make them appear larger and heavier than they actually are. They should always buy dresses that are compatible with their personal measurements.
Accessories
Accessories such as necklaces, scarves, and shoes should also correlate with dress styles. A long necklace worn with a v-neckline lengthens the upper body, drawing attention to the neck, shoulders, and bust. A brightly-coloured scarf also emphasises the upper body and neck. High heels lengthen the legs, making a woman appear taller and thinner. Accessories dress up a casual dress to match the latest trends and styles in fashion and promote a confident image. They also add sparkle to formal dresses and office wear.
Versatility
All women should select dresses that are versatile and can be mixed and matched with different accessories, shoes, hosiery, and outerwear, such as coats, jackets, and wraps. Fabrics and colours should coordinate well together and enhance the overall appearance. Women should feel confident and secure wearing dresses and be eager to wear the latest styles and fashions. They should not limit their wardrobes and accessories to a few items. Instead, they should explore different options and wardrobe choices for different occasions that suit their own personal preferences.
How to Find the Best Dresses for Plus-Size Women on eBay
To find the best dresses for plus-size women on eBay, you can begin your search on any of the pages on
eBay
by typing keywords into the search bar. Descriptive keywords such as '
short sleeve plus-size dress
' or '
black plus-size dress
' help you narrow the search field. You can then review pages of listings for the specific types of plus-size dresses you entered. Be sure to read the descriptions carefully to determine sizes, colours, fabrics, dress styles, lengths, and any additional accessories.
eBay offers a wide selection of plus-size dresses in various styles, fabrics, colours, and lengths to fit different body types. Affordable plus-size options range from formal to casual dresses for various occasions. You may want to examine a particular seller's profile before making a final decision. eBay's 'top-rated sellers' have achieved high ratings for quality customer service and delivery.
Conclusion
When searching for the best dresses for plus-size women, a woman must determine her body type and correct dress size based on personal measurements. Other important considerations include dress types, dress styles and lengths, fabrics and colours, accessories, and versatility. The best dresses for plus-size women emphasise attractive physical features while hiding body flaws. These dresses give women confidence, poise, and flexibility in various situations, and they accentuate personal styles and comfort levels.
eBay offers a wide selection of popular plus-size dresses for different purposes, including formal, office, and casual. Various colours, fabrics, prints, and styles enhance and highlight appearances while minimising imperfections. Whether it is for a wedding, an office meeting, or a stroll along the beach, a dress exists to perfectly complement the occasion.