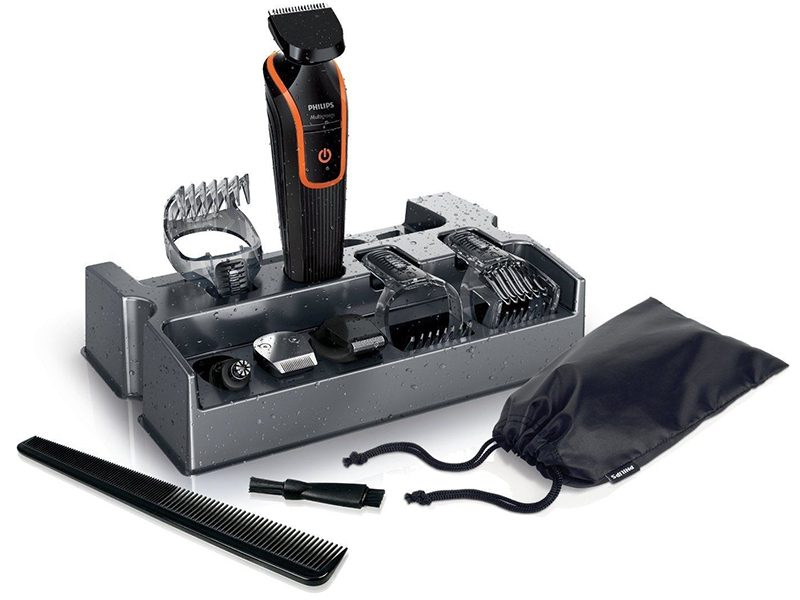 The general purpose of an electric razor might lead some consumers to believe that determining the best option is a relatively easy choice. In reality, electric razors have almost as many features to consider as there are different facial hair styles and shaving routines. In order to determine which razor is the best choice for a given user, shoppers need to consider such characteristics as versatility, water resistance, portability, and charging options.
Versatility
Some men enjoy sporting beards in the winter and smooth faces in the summer. Others like to leave a bit of shadow around a full-bodied moustache. Some men also have to work to keep nose hair under control. These different preferences call for versatile razors that clip, trim, and style, as well as shave.
Various adjustable attachments
Men who lean toward flexibility in their appearance require a single product that handles all their grooming needs. They should opt for electric razors packaged with a variety of adjustable attachments and cutting heads. A versatile grooming package typically includes:
Foil shaving head
Full-size trimmer
Nose hair trimmer
Detail shaver
Adjustable comb attachments
These sets usually come with stands or stations that conveniently store all the extras on bathroom counters or shelves. The Philips QG3352 Waterproof Multigroom Set and the VS Sassoon VS7053A Metro Titanium Precision Deluxe Grooming System are two examples of diverse kits that handle beards, moustaches, sideburns, detailing, and more.
Water resistance
Philips, Braun, Remington, Panasonic, and many other major brands offer at least one electric razor that includes wet/dry shaving capabilities. These options allow users to apply shaving gel before shaving or use the razors directly on dry skin without irritation. That means users can shave in the shower or in the car.
Easy cleaning
The water resistance of an electric razor is also important when it comes to the convenience of cleaning. Inexpensive razors without water resistance do not offer users the option to rinse the units clean under running water. In those cases, it is necessary to brush the razor head clean and wash and dry other components separately.
Portability
For men who sometimes need simple shaves when they are already on the road, portability is a primary consideration. For an electric razor to excel as a travel-mate, it needs a compact construction and a long-lasting, quick-charging battery.
Compact
Compact travel razors do not have as many grooming options, but they fit easily in small pockets and cramped bags. The Panasonic ES3833S Pro-Curve Wet/Dry Travel Shaver is a good example of a small and simple handheld electric shaver with its own carrying case. It requires two AA batteries, which power about 90 minutes of shaving time and free users from adding to the bulk with a power cord or charging stand.
Long-lasting battery
Another worthy feature in a travel razor is an advanced battery that goes the distance. The rechargeable NiMh battery included in the Remington F-5, for example, powers up to one full hour of shaving time on a single charge. It offers a quick-charge mode for last-minute power boosts and operates with universal voltage for charging internationally.
Charging options
The majority of the popular electric razors offer cordless operation with rechargeable batteries that charge in a variety of ways. The predominant charging solution uses a cord that runs from the unit to the wall socket. A newer and less common option, particularly among travel shavers, is charging with a USB cable.
Charging dock
For those who prioritise organisation in the bathroom, attractive and uncluttered docking stations are a major plus for electric razors. The Philips Norelco AT814 PowerTouch AquaTech Cordless Razor comes with an attractive, low-profile charging dock.
Cleaning station
Razors with combined charging and cleaning stations that sanitise the razors between uses are another nice option. The Braun CoolTec CT5cc offers this feature. However, stubble and hair eventually require removal, regardless of the use of a cleaning station.
How to buy an electric razor on eBay
To find the perfect razor for your needs, enter the term "electric razor" into the search bar on any eBay page. If you already have an interest in a specific brand or model, enter those terms into the search window to yield focussed results. Carefully read each item description for details about the features and included accessories and examine any photos for a sense of the condition and appearance of the razor. Choosing the best electric razor essentially comes down to personal preferences, and plenty of choices are available.