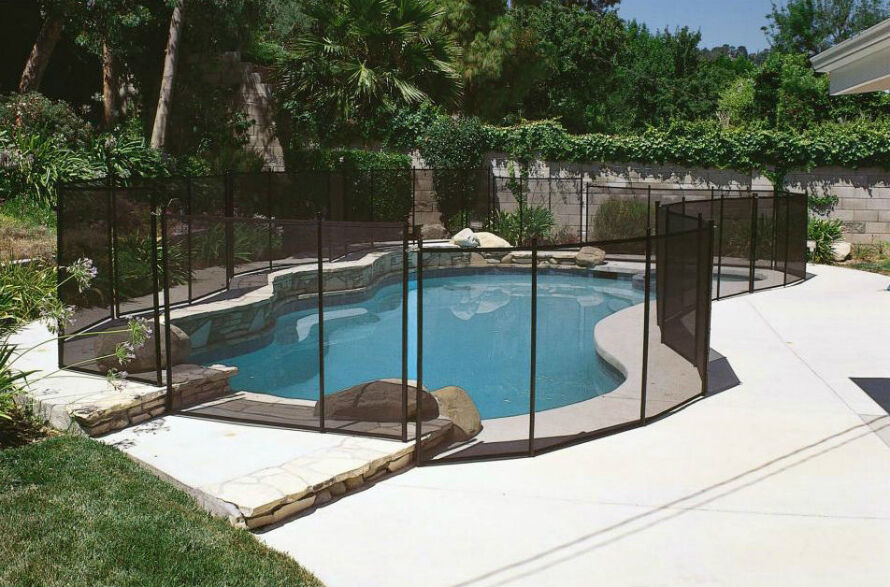 A private pool in the backyard is convenient for whenever owners want to beat the heat or go for a swim. Come summertime, kids love to splash about in cool water as well, and every homeowner is aware of the value that a pool adds to the home. However, having your own pool brings security concerns, especially in homes with little kids. They require child-safe pools to avoid any untoward incidents, and ensure they meet safety standards. In general, homeowners must set up pool fences that comply with AS 1926.1, 1993 or 2007 standards. Learning about the different types of fences and their efficacy helps homeowners decide on how to make the swimming pool one hundred per cent safe for kids.
Options Available to Make Child-safe Pools
Nothing provides more foolproof security for children near pools than the watchful eyes of adults, and it is a proven factor that vigilant adult supervision is the key to preventing pool accidents. However, fences, barriers, and covers serve as additional safety measures in conjunction with adult supervision and their importance cannot be overlooked.
While putting up a fence, barrier, or covering the pool, there may be overlooked spaces, and those may be the spots where danger lurks. Space under the fence large enough for a toddler to crawl under is an example of a potential safety hazard. Therefore, whatever the method to secure the swimming pool, homeowners must ensure they select products that are well-made and one that incorporates additional safety features, just in case one fails. These safety measures have to be adopted for in-ground pools, above ground pools, indoor pools, and for wading and bathing pools as well.
Types of Pool Safety Fences
Fences made using various types of materials can be put up around swimming pools, each with its own unique advantages. The choice a homeowner makes would depend upon their specific needs and budget. However, since the fence is primarily put up for safety, that should be the number one consideration and must not be compromised in any way.
Frameless Glass Pool Fences
The very mention of glass as fencing material conjures up visions of shattered glass. However, thick, tempered glass with thickness ranging between 8 to 12 mm is stronger than aluminium. Glass is gaining popularity as a building material for residences, and frameless glass pool fences are beautiful and child-safe as well. The view of the pool remains unobstructed with glass panels. Equipped with self-closing glass panels and a latch placed high enough on the structure that children cannot have access, frameless glass fences are a desirable choice.
Moreover, glass surfaces are smooth, making it impossible for kids to climb up. Panels of glass are bound to tiles, concrete, or pavers using specially designed spigots that keep the glass firmly rooted, and hence, no frames are required. Using special fixings, glass pool fences can be fixed to timber decks, and the fixings that hold the glass may also be used on the lawn or garden beds if there is a concrete pad around them. Most manufacturers of glass pool fences have their materials and components tested by NATA accredited testing agencies.
Semi-frameless Glass Pool Fences
Not as expensive and as aesthetically appealing as a frameless glass fence, semi-frameless glass pool fences are equally effective for child-safety. It meets the standards required for child safety, including children not being able to climb over or under the fence, safety latch at the specified height, self-latching arrangement, and pool fence door opens outward from the pool area.
Heavy-duty stainless steel or aluminium posts hold the glass panels in place. The toughened glass, 8 to 12 mm thick, may be clear or tinted according to preference and can be installed directly into the concrete or timber deck surrounding the pool. Homeowners can select the shape of the pool fence to be square or round.
Aluminium Pool Fences by ARC Fences
Strong, durable, and corrosion-resistant aluminium pool fences are affordable and offer adequate child protection as well. All pool fencing components are tested in the ARC laboratory, which is NATA accredited. These pool fences may have powder-coated aluminium as well, and all products are compliant with Australian Standards for child safe pool fences. These requirements include height of the fence at 1.2 m, space between ground and fence bottom less than 10 cm, vertical rails at no more than 10 cm apart, distance between the horizontal bars at least 0.9 m, and a self-latching gate door that opens outwards from the pool with the latch 1.5 m from the ground.
Temporary Pool Fencing
When a swimming pool is excavated during renovation or a new pool is being dug, the law requires a temporary pool fence to be set up around the area. The temporary pool fence must have all the safety features for children as seen in a permanent pool fence. This is mandated by law in most or all states in Australia, and the council may disallow the filling up of the new pool if the temporary pool fence is not in place. Aluminium temporary pool fences are available for hire. Alternately, mesh pool fences are easy to install and dismantle as well and may be used provided the mesh fulflls all the safety parameters mandated by law.
Specifications for Fences Around Swimming Pools
Fences around swimming pools must comply with certain strict specifications to be absolutely child-safe. Apart from this, for the safety barriers have to be used correctly for these to be efficient. The following chart lists the do's and don'ts to be followed strictly to ensure that the pool is a child-safe one.
| | |
| --- | --- |
| Do's | Don'ts |
| Ensure the fence is at least 1200 mm high | Allow easy access to the backyard |
| Ensure that gate possesses self-closing, self-latching mechanism | Slack on any maintenance work on fence, pool covers |
| Ensure latch is placed at least 1.5 m from ground | Leave children unattended even for a second |
| Vertical bars must be no more than 10 cm apart | Buy life-saver rings, inflatable vests that do not conform to relevant Australian standards |
| Horizontal bars must be at least 0.9 m apart | Leave any windows of the house that give access to the pool without bars or mesh screen |
Child safety vis-a-vis the swimming pool is an ongoing, constant process. Adults have to be on the lookout every waking moment of the day. Though death by drowning is absolutely preventable for children less five years of age, more than 70 per cent of child deaths occur due to inadequate parental supervision.
Finding Child-safe Pool Fences on eBay
Buyers looking for pool fences must be aware that pool owners in Australia should comply with the law that necessitates certain safety features to be incorporated in the pool fence they own. eBay has pool fences made from various materials. To find relevant listings, shoppers can start a preliminary search with the general search terms of "pool fence".
For pool fences made of specific materials, relevant keywords, such as "glass pool fence" or "aluminium pool fence" are apt to narrow down the listings to the desired product. Moreover, the individual listing page has more product details, images, shipping and handling charges as well as feedback and ratings the seller has received. Furthermore, eBay offers several secure payment options, so buyers can rest assured.
Conclusion
Swimming pools provide great relaxation for adults and fun galore for kids. However, adults must constantly monitor kids near or in the pool without letting them out of sight and arm's length even for a second. Erecting pool fences keep prying kids away from the water. These glass or aluminium pool fences have to meet certain safety criteria that ensure that the pool is child-safe. For instance, there are regulations concerning the fence's height, maximum gap between the base and the ground, and height of latches. Knowledge about the features of different pool fences and the required safety regulations ensures that buyers are able to find the best pool fence to make their pool child-safe while meeting the standards set in place to ensure child safety.
Pool Fence|Child-safe Pool Fence|Glass Pool Fence|Aluminium Pool Fence|Frameless Glass Pool Fence