Xenon HID Upgrade Conversion Light Kits
Pro Vision Lighting & Electrical HID kits ( Arco Imports Pty Ltd ) are by far the best for 2016.
Go through their store or give them a call here on 1300775359.

Pro Vision have been around since the conception of High Intensity Discharge Lights and have gone through all the pitfalls when buying HID conversion kits.
They are the leading experts in HID technology and provide free advice for all different types of applications.

The main components of an HID upgrade kit and what to look for.
1. HID Bulbs: Always make sure that the HID bulbs you buy are UV Cut quartz. This is important as the radiation from an HID, if not properly manufactured, can burn and warp headlight lenses.
2. HID Ballasts: Check the start rates, and the current compatibility. You want a high quality hid ballast to be fast enough to switch to full brightness almost instantly, a lot of cheaper ballasts do not have this capability.
The current compatibility for cars , trucks, and motorcycles is best when it is AC compatible. A lot of ballasts are only DC compatible. AC means Alternating current, DC means Direct Current.
In short, you want an AC/DC compatible ballast.
The problem with DC only ballasts is that an irregularity in the current draw can cause the system to not operate properly.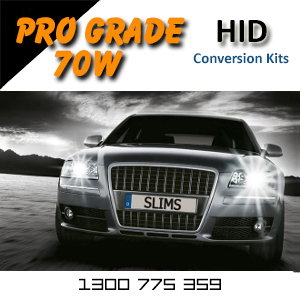 70w Fast Start HID Kits
When it comes to upgrading your spot or driving lights with an HID Kit the 70w Pro Kits are second to none.
The main advantages of them is that they have the fastest starting ballasts in the world which means when switching between high beam and low beam there is no delay to maximum brightness.
The 70 watt Professional Grade kits also have a 5yr warranty on the ballast which gives you peace of mind in regards to the quality and performance of the light.
The slim ballast is only 15mm thick so when it comes to mounting them you don't have to worry about not having the room to fit them.