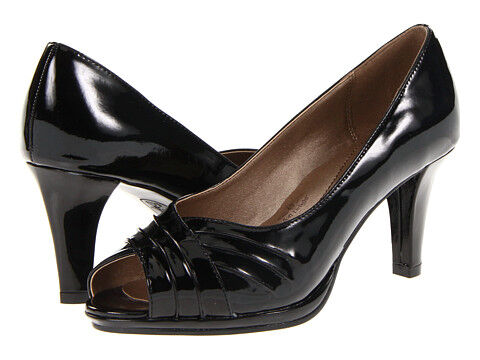 High heels are designed to elongate and show off a woman's legs. They should not only look good, but feel good too. High heels go well with a wide variety of outfits, from casual to smart, and they are considered a main wardrobe staple for many. With comfort being key, women with wide feet should not have to suffer the restraints of narrow fit shoes because they find buying wider high heels a challenge. Some shoe materials stretch better than others and offer women with wide feet a greater opportunity to find the best heels.
When purchasing heels for a woman with wide feet at retailers such as eBay, buyers should consider the various heel types, familiarise themselves with proper shoe measurements, and learn about the different factors that help them to select the best pair.
Types of Heels for Women with Wide Feet
There are various types of heels, each varying in length and width. When searching for the best pair, women should consider how comfortable they are walking in heels, as well as the overall look.
Heel Type

Description

Typically the highest of all heels

Ranges in height up to 20 centimetres

Heels are thin and provide very little surface for stability

Can be difficult to walk in

Often worn with knee length or shorter dresses, skirts, and shorts

Practical footwear

Provides stability with a slightly wider and shorter heel

Typically has a 5 to 7.5 centimetre heel, a leather upper, and padded insoles for comfort

Appropriate for office wear

Much shorter heel, between 2.5 and 4 centimetres high

Curves to a narrow point

Typically has a leather upper and is worn by women that like the look of heels, but prefer something lower

Can be worn with most styles of clothing

Easiest to walk in

Larger surface area touching the ground

Can be made of a number of materials, including leather, jute, or acrylic

Offers more arch support, reducing foot and ankle problems caused by other types of heels

Worn with dresses, skirts, trousers, or shorts
Standard pumps are considered flattering on women with wide feet, while wedges are often more comfortable and better proportioned. Many shoe manufacturers have met the growing demand for wider high heels by creating special lines tailored towards those with wide feet.
Problems Caused by the Wrong Width of High Heels
The wrong size of high heels, especially if they are too narrow, can pose severe health problems because they place the foot in an unnatural position. In addition to foot and toe pain, wearers may experience a series of other issues, including blisters, bunions, calluses, corns, hammer toes, or overlapping toes. More severe issues include ingrown toenails, toenail fungus, athlete's foot, and foot odour. This means that it is important to ensure the high heels fit properly. In order to find the right fit, women should measure both feet before shopping.
Measuring for High Heels
Buyers can measure their shoe size using the Brannock device that is commonly found in shoe stores. If measuring from home, buyers can arrive at the same measurements using a ruler, paper, and pencil. Shoe length can be measured in several different ways, but the following method is the easiest. With feet resting flat on a piece of paper, take a pencil and make marks at the top of the big toe and at the back of the heel. Measure the distance between the marks in inches, multiply this number by 3, and then subtract 21. The resulting number indicates the shoe size. It is important to note that one foot may be slightly bigger than the other. The shoe size should be selected using the larger of the two measurements.
To measure shoe width, once again rest the feet flat on paper, using a pencil to make small marks at the left and right side of the ball of each foot at the widest part. Measure the distance between the marks in inches.
Factors to Consider when Searching for Wide High Heels
Although many shoe companies offer wide sizes, many only do this for a limited selection of styles and colours. Buyers should take into account the following factors to make shopping for high heels a more enjoyable experience.
Parts of the Shoe
High heel shoes are composed of many parts, as seen in the table below. Buyers should familiarise themselves with shoe terminology to help them find the right fit for wide feet.
Part of Shoe

Description

Toe box

Front section of the shoe where the toes rest

Vamp

Front section of the upper of the shoe

Covers the top of the foot

Heel

Supporting structure beneath the heel of the foot

Top piece

Bottom of the heel

Touches the ground at the same level as the sole on the forefoot

Sole

Section under the forefoot or ball that touches the ground

Insole

Surface on which the sole of the foot rests in the shoe

Upper

Top part of the shoe

Throat

Opening of the shoe

Topline

Edge of the opening of the shoe

Lining

Material used to line the inside of the upper

Provides comfort for the foot
It is important to pay special attention to the heel of the shoe, as well as the upper. These parts largely influence the shoe's appearance, especially with respect to the width.
Style of Shoe
Women with wide feet should pay close attention to the style of shoe when selecting a pair of high heels. Shoes with a strap across the ankle or foot, such as an ankle strap, T-strap, or Mary Jane style, make the legs look shorter, and therefore, wider. It is best to avoid kitten heels as they make a wide foot look even wider. Instead, women with wide feet should choose shoes with a slender, delicate heel and no straps.
Colour of Shoe
Colours that match the skin of the wearer give the impression of narrower feet and longer legs. So, women with wide feet should consider a pair of high heels in natural shades, such as nude beige, light to dark brown, light pink, or peach.
How to Buy the Best Heels for Women with Wide Feet on eBay
Shopping for high heels for women with wide feet is easy because of the variety of footwear available on eBay and the convenient online experience. From any eBay page, simply enter keywords to search for any type of high heels and a wide variety of results appear. You can use eBay's advanced search feature to filter your results to exact specifications, including price, colour, and condition. Take a look at the eBay Deals pages to find great offers on high heels.
Before finalising any purchase on eBay, investigate the seller thoroughly. This is simply a matter of reading sellers' feedback comments and checking their ratings. Good ratings indicate that sellers are known for dealing fairly within the eBay community. Sellers with consecutive positive feedback from buyers over an extended period of time are indicated by their Top-rated seller badge.
Conclusion
Women with wide feet often find themselves at a disadvantage with the limited selection of high heels in their size. However, shopping on eBay gives shoppers a large selection of footwear at competitive prices. When searching for high heels, buyers should first consider which types best flatter wide feet. Stilettos can help give the legs an elongated appearance and make the feet look better proportioned. Wedges offer better support for wide feet. Buyers should also consider the colour and style of the high heels. Shoes that have a neutral colour and do not have ankle straps are best for wide feet. For the ultimate comfort, buyers should take into account the proper size of their feet and measure both the length and width before shopping.
high heels|stiletto heels|pumps|kitten heels|wedges