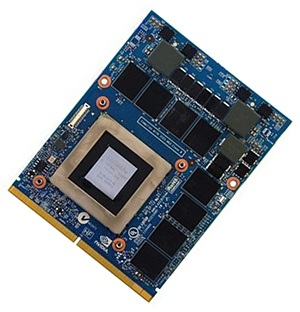 For those gamers out there looking to increase their laptop's performance, the first thing to get is a high quality graphics card, also known as a video card. The average computer's integrated graphics just aren't enough to experience the full potential of HD graphics in modern games. Some dedicated gaming laptops come with graphics cards, but the cards can also be purchased separately to enhance any laptop's graphics. Here are some of the best graphics cards currently available for laptops.
Nvidia Graphics Cards
Nvidia is one of the most well-known and trusted names on the market for graphics cards. They are constantly upping their game when it comes to providing newer and better graphics cards, so it can be hard to keep track of which is the best. Currently, the Nvidia GeForce GTX 980M is their most high-powered graphics card, but that will no doubt change in a few months. One way to check for their best card is to see which comes pre-installed on the newest Alienware computers.
AMD Graphics Cards
A close second to Nvidia's pervasive popularity, AMD produces the second best graphics cards at a slightly lower expense. Their current top cards belong to the AMD Radeon R9 series. When searching for cards, take note: Sometimes AMD is used interchangeably with ATI, a company that AMD acquired and formerly the chief rival of Nvidia.
SLI and Crossfire Linked Card Technology
It's possible to use more than one graphics card at once. This allows two, three, or four cards to share the graphics load and boost their efficiency. The only drawback to a multi-card setup is the possibility of microstuttering. When playing a game with a relatively low frame rate (30 fps), players may notice small gaps between frames that arise while the graphics cards communicate back and forth. This problem is not enough to hinder most gamers and is constantly being worked on by graphics card providers, who create downloadable software patches to help deal with the problem.
Nvidia's multiple card technology is called Scalable Link Interface (SLI). All cards that use this technology have SLI at the end of their names. The most advanced of these cards available is the NVIDIA GeForce GTX 980M SLI. AMD cards feature a similar technology called Crossfire. Their top card is the AMD Radeon R9 M290X Crossfire, which is not nearly as high performing as its Nvidia competition, but much more affordable. Sometimes Crossfire chips are listed as CrossfireX or simply CF.
Graphics Card Laptop Compatibility
One of the pitfalls of investing in electronics is forgetting to make sure two devices are compatible before buying. It is much more difficult to install a new graphics card in a laptop compared to a desktop because of the computer's size and limited power. Always research the capabilities of the laptop and graphics card before making a purchase.
Installing a new graphics card can be as easy as putting it into an ExpressCard slot or as difficult as taking apart the computer and rebuilding it, DIY style. Remember, the guaranteed easiest way to get the best graphics card in a laptop is to buy a new laptop with that graphics card already installed.
With one or more of these powerful graphics cards enhancing the gaming experience, playing on a laptop feels all the more real. A great graphics card is essential to any serious player of computer games, from MMORPG to FPS.