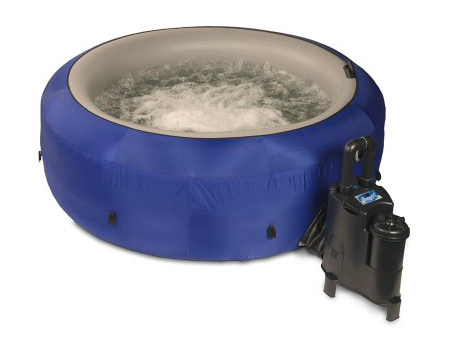 Hot tubs or spas are a great way to relax. Those who prefer to have access to their own hot tub at home should consider getting a home spa. Some buyers who think they do not have enough space need not worry, as there are indoor spas for the home. These spas come in a variety of shapes and sizes to fit most dwellings. There are many types of spas available in the market, so buyers should do the necessary research to find the best ones that suit their needs. One type of spa may not be suitable to all people, so buyers should consider their individual needs before making any final decision. Indoor spas for the home are available at outdoor stores, specialty stores, or at any local swimming pool store.
1. Acrylic Indoor Spas
Acrylic is a type of material that comes from acrylic acid or other derivatives of this compound and made into a clear plastic material that resembles glass. Often called polymethyl methacrylate or PMMA, there are two types of acrylic: cast and extruded. Most indoor spas are made of the former. Aboveground acrylic spas are perhaps the most popular type of indoor spas for the home. These acrylic tubs are durable and come in a wide variety of sizes and form factors; plus, they are quite comfortable. The inside features an acrylic shell with a supporting frame. The outside is made of a strong material, usually plastic with a decorative grain.
Acrylic spas are portable but do take time to break down and move, as the acrylic shell attaches to a foam or fiberglass structure. These spas have their own filtration and heating system and require a lot of maintenance. They require cleaning with special spa chemicals, draining and refilling, plus the filters need regular replacement. Of course, for the price point, these spas usually have more to offer in terms of amenities. Some have interchangeable jets, fitness tools, computer-controlled cleaning mechanisms, and even sound and audio systems.
2. Inflatable Indoor Spas
Inflatable spas are another popular type of indoor spa, especially for those on a budget. These spas are not only inexpensive but also simple to install. Inflatable spas use strong plastic, vinyl, or nylon material, which may not be as durable as acrylic or wood, but it is easy to move from place to place. Most inflatable spas weight about 100 pounds and accommodates anywhere from two to four people. These spas are suitable for both indoors and outdoors on any flat surface and only requires a standard outlet to inflate.
There are many types of inflatable indoor spas. Some have more advanced features like heating, bars, and thermal covers. They do not require any plumbing and are basically plug-and-play. Air blowers create the water jet effect, and while this makes the spa easier to maintain and more cost effective, they can cause the water's temperature to drop and are quite noisy.
3. Wooden Indoor Spas
Manufacturers of wooden indoor spas use cedar, redwood, or teak and design the tubs to have a round shape. These two factors help the tub retain heat naturally, and the natural fragrance of different wood types adds aromatherapeutic benefits to the tubs. They are often handmade and need more care to ensure the wood grain stays beautiful. Most are very simple with a bench for seating and have depths up to 41 inches. Most wood hot tubs are for soaking and do have not water jets.
A wooden spa's heating system is very different from other type of spas, as they are separate from the tub itself. These spas use electricity, gas, or even wood-fired heaters; there are also hybrid models. Wooden tubs require draining and re-sealing every so often, and the wood must be stained periodically. The great thing about using a wood-fired heater is that these spas can be installed almost anywhere, even in remote regions where there may not be any electricity. While they require a lot of work, natural wood tubs are quite beautiful and unique.
4. Swim Indoor Spas
Most people buy spas for relaxation and hydrotherapy. However, swim indoor spas are quite different. Swim spas have a continuous water current, so the user can swim in place. Unlike a lap pool, the swim spa does not take up a lot of space and allows the swimmer to continue swimming without having to stop or turn around. Aside from swimming, the buyer can also use it for underwater running, strength training with elastic bands, water aerobics, as well as for relaxation or leisure. Some of the more deluxe versions may feature kayak and surf training. Indoor swim spas require installation and use a steel panel and vinyl liner.
Fiberglass and acrylic are common materials that manufactures use to make swim spas. These spas come in a variety of shapes and sizes but are usually rectangular and up to 19 feet in length. Some swim spas also have seats. Swim spas can cost a lot of money, but some people may find the expenditure worth it and certainly costs less than a full-sized lap pool.
5. In-ground Indoor Spas
In-ground indoor spas are perhaps the most expensive types of spas because of the installation requirements. Not only does the buyer have to find a suitable spot indoors but also has to remove any flooring in order to dig out an appropriate-sized hole in the ground. Plus, there is also the spa plumbing and electrical work, which requires a professional. There may also be other requirements depending on the buyer's location, and he or she must pay for the necessary permits. However, since this is a home improvement, buyer may be happy to know that when done properly, an in-ground spa can increase a home's value.
These spas heat up quicker and maintain the temperature better than other types of spas. Since the heating and filtration systems are separate from the actual tub, it is possible to use electric or gas systems, and the latter can end up being cheaper in the long run. In-ground spas are made of concrete with a tile surface. They are built much larger than most above ground spas, sometimes seating up to 16 people.
How to Buy Indoor Spas for the Home
As one of the largest online marketplaces, eBay has numerous listings of all sorts of items at any given time, and buyers can find the right spa for their needs. To find any item on eBay, simply enter keywords that relate to the spa you want, like "small indoor spa" or "indoor spa bath".
The Benefits of an eBay Account
Registering for an account on eBay has its advantages. First off, doing so is necessary to buy on the site, but once you have an account, you can save searches for later, in case you want to perform the search again at another time. You can also add individual items to your Watch List and get alerts about the status of those items, such as if it is no longer available or relisted.
Conclusion
Relaxing in a hot tub is a great experience and can even help alleviate aches and pains in the body. Many people who want the convenience of having their own spa opt to build or buy indoor spas for the home. There are many types of indoor spas, so buyers need to consider their needs, budget, and how much work they can put to maintaining a spa. Buyers need to ensure they choose the right one that suits their home and lifestyle. Knowledge about the best indoor spas for the home helps buyers with their purchase decision. Whichever one they pick, smart buyers know that eBay is one of the best places online to find good deals on indoor spas.
Indoor Spas|Home Spas|Hot Tubs|Spa Baths|Indoor Pools