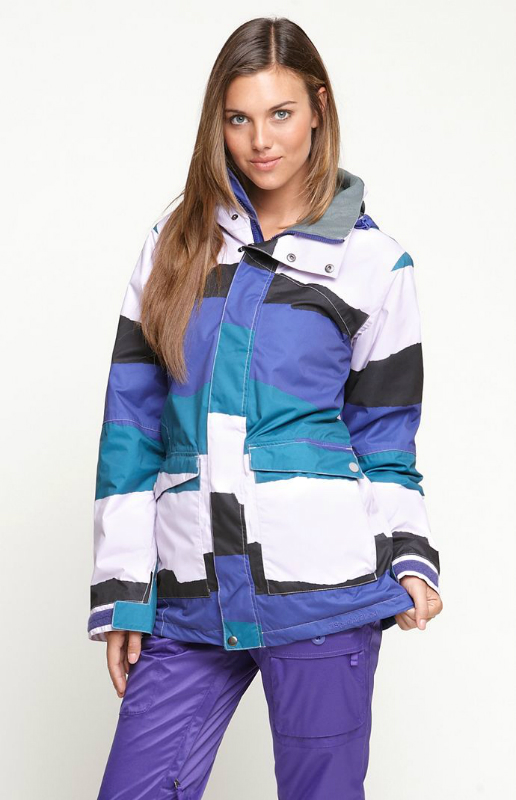 The onset of cool weather typically means that it is time to head to the mall to purchase a nice, warm
jacket
in preparation for the chilly weather to come. Yet many consumers have trouble deciding on what jacket they should buy. The choices that line the shelves of department stores, and virtual halls of websites like
eBay
, tend to be a bit overwhelming at times. There are many different styles of jackets, and selecting the wrong one is the difference between being comfortable in cold weather or freezing.
However, not everyone needs the same type of jacket, and most consumers own more than one. An insulated jacket, for example, is comfortable in the snow but not so inviting on a brisk autumn day. Therefore, when it comes to selecting the right cool weather jacket, buyers need to keep several factors such as warmth, material, and the intended size in mind. Evaluate the different types of jackets in order to find the perfect one that fits the buyer's needs.
Non-Insulated Jackets
When the weather outside is just a little bit cold, it is time to put on a non-insulated jacket. These lightweight
jackets
are versatile enough to wear under an insulated one on cold days. Wear them alone on slightly cool days to keep the chill out.
Fleece Jackets
While these jackets appear woven from sheep's wool, most modern day
fleece jackets
use synthetic fibres like
microfibre
. It is easier to care for synthetic fleece compared to natural fleece, and this saves the buyer money when it comes time to clean the coat. Natural or synthetic, however, the fleece jacket is exceptionally soft and very comfortable.
How warm the jacket actually is depends on its weight. A heavy fleece jacket works well in very cold conditions while a lightweight fleece does best in moderate temperatures. One downside to these jackets is that they are not waterproof. However, they are often worn as an additional layer under a waterproof jacket for warmth.
Soft Shell Jackets
Soft shell jackets are a hybrid between fleece coats and shell jackets. They are made out of synthetic fibres like a fleece jacket, but they also offer moderate water resistance like a shell jacket. This type is lighter than the fleece jacket and does best only in moderate weather conditions. Pair it with a heavier jacket for cold temperatures. Furthermore, water resistance is not the same as waterproof. The coat resists some water penetration but fails under heavy downpours or severe snowfalls. Do not depend on this jacket to repel snow or heavy rain.
Selecting between a soft shell jacket and a fleece jacket is largely a matter of personal taste. Some consumers prefer the soft feel of fleece. Others give up fleece in exchange for a jacket that resists water damage. Those who cannot decide between the two versions often end up purchasing both and wearing them together. This is a good idea on cool days but quickly makes the wearer hot if the temperatures are only slightly chilly.
Shell Jackets
Shell jackets are the answer to cold, wet days. Typically made out a resistant fabric like
polyester
, each jacket has a waterproof shell that keeps out the rain and blocks the cold at the same time. They also utilise a hood that helps to keep the head warm. However, they are lightweight and only suitable in moderate weather when worn alone. For cold conditions, they must be layered with another jacket underneath. Using a waterproof shell jacket in combination with a fleece jacket is a good choice on cool, rainy days.
Insulated Jackets
In truly cold weather, insulated jackets are king. They are thicker than non-insulated jackets, and are designed to hold in body warmth. These types of jackets are best for long outdoor stints during the winter. They are even known to withstand freezing temperatures.
Down Insulated Jackets
Down insulated jackets use the feathers of ducks and geese to keep the wearer warm. These feathers are great natural insulators. Each jacket comes with numerous pockets in the lining filled with feathers. The only downside to these jackets is that some people have an allergic reaction to animal feathers.
They typically come in one of two weights. Sweater weight insulated jackets have a higher loft (fill count of between 700 to 800). The baffles, or areas in the lining used for filling, are smaller than traditional weight jackets. Traditional weight jackets have a lower loft, between 400 to 500, along with larger baffles. Traditional weight jackets are warmer than sweater weight.
Three-in-One Jackets
Three-in-one jackets, sometimes called system jackets, come with different components. This makes them extremely versatile. On extremely cold days, users wear all three, while on moderate days, just one jacket works.
A normal three-in-one jacket uses an inner fleece jacket, a middle insulated jacket, and an outer shell jacket. These three pieces zip together when worn all at once. When wearing them on separate occasions, simply unzip the jackets and wear one while leaving the others behind.
This are the most expensive jacket option, but considering the value it is a great economic option. With these three jackets, buyers are able to pick and choose which pieces work best for certain temperatures. They are a great option for anyone who spends a lot of time outdoors during the winter.
Sizing Jackets
Size is crucial. It is also a confusing aspect of buying a
jacket
. Purchasing a tight fitting one is not always the best idea, but buying one that is too large has its own problems. The tighter the fit, the better the jacket is at retaining warmth.
Layering
Jackets are often worn in combination with other layers of clothing. More layers means going up a size or two. In a store most people try a jacket on while wearing several layers of clothes, but this is not possible online. The best option is to put on several clothes and then measure around the chest, hips, and waist.
| | | | | |
| --- | --- | --- | --- | --- |
| Size | Chest (cm) | Waist (cm) | Hips (cm) | Sleeve (cm) |
| XS | 32-33 | 24-26 | 33-35 | 31.5 |
| S | 33.5-35 | 26-28 | 36-38 | 32 |
| M | 36-38 | 29-30 | 39-40 | 32.5 |
| L | 39-40.5 | 31-33 | 41-43 | 34.25 |
| XL | 42-44 | 34-37 | 44-47 | 35 |
The sleeve is also important. Measure sleeve length by running the measuring tape from the shoulder to the wrist. When in doubt pick a size with a slightly longer sleeve as it is better to have sleeves that are too long as opposed to sleeves that are too short.
Jacket Care
The final option to consider is how to care for the jacket. Some jackets, especially down, require special care and cost a considerable amount of money. Cleaning them the wrong way ruins the jacket and wastes money.
Synthetic jackets clean easily. They go in the washing machine and dryer with ease. Wash them with common laundry detergent and thoroughly dry them in the machine. Water temperature does not matter as synthetic fibres do not shrink unlike natural ones when exposed to hot water.
Down insulated jackets are a different story. These jackets are able to outlast synthetic ones as long as the owner follows proper care instructions. The less cleaning a down jacket goes through, the better. Do not wash them in a washing machine or run them through a dryer. They must be dry cleaned as water exposure harms the feathers inside. Worst of all, water trapped inside the jacket causes mould and mildew to grow on the feathers. Anyone who buys a down jacket has to take it for dry cleaning once it becomes dirty.
How to Buy Cool Weather Jackets on eBay
eBay
sells plenty of cool and cold weather jackets in
new
and
used
condition. As long as the jacket is in good shape there is no problem with buying a used jacket. However, keep in mind that buying a used down jacket is risky. There is no way of knowing if the previous owner followed proper care instructions, and this severely compromises the internal structure of the jacket.
Start off by doing a search for jackets based on gender. Jacket sizes vary depending on gender, so it is important to limit the search this way. Type in '
women jacket
' in order to enter the correct section. Once you are here, begin narrowing down the search by adding different terms. For example, a search for '
women fleece jackets
' only returns fleece jackets. It is also possible to search by different brands such as '
women Columbia jacket
'. Use different terms to return unique results and easily find the results you want.
Conclusion
Anyone who spends a lot of time outdoors during the late fall, winter, and early spring needs a good cool weather jacket. Which model to buy largely depends on consumer needs and budget considerations. Non-insulated jackets work best in moderate temperatures and several models use waterproof lining. Fleece jackets, soft shell jackets, and shell jackets work well when used separately. Combine them together in layers for extra warmth on chilly days.
Insulated jackets made from down provide the greatest warmth without a lot of extra weight. Three- in-one jackets combine different coats together for extreme temperatures, or split apart into different jackets during mild weather. Measure before buying a jacket on eBay in order to get the right size the first time, and always follow proper care instructions. A consumer who considers all of these points is ready to buy a cool weather jacket that lasts for years to come.