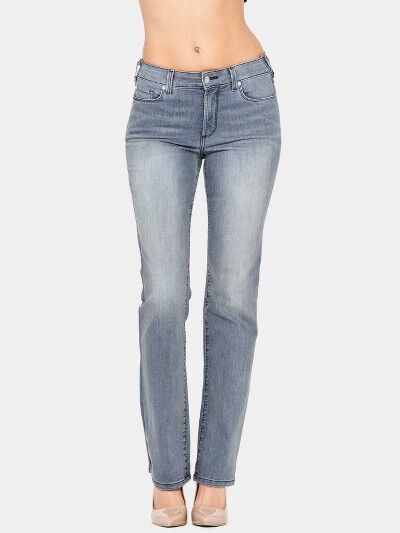 Choosing a pair of flattering jeans may prove to be a difficult task for some women. The reason behind this is often the shape of one's body because not all styles of jeans look great on all women. In order to avoid spending countless hours in the fitting rooms of department stores to find suitable pairs of jeans, women should learn which styles of jeans are flattering for their body shapes. One of the most common body shapes is the pear shape. This is a term used to describe women with wide thighs and hips in comparison to their relatively small busts and waists. Pear-shaped women should first do some research in order to identify the kinds of jeans that suit this body type in order to avoid buying jeans that end up unworn in the back of the closet.
What to Look for When Shopping for Jeans for Pear-Shaped Women
Pear-shaped women often struggle to find pairs of jeans that fit well on their larger hips and smaller waists. Finding a fitted pair is not impossible, though, if one knows what to look for in a pair of jeans. The rule of thumb for pear-shaped women is to choose jeans with a bit of kick flare. These jeans often hug the legs at the hips and knees and make a pear-shaped woman look more in proportion.
Besides the actual cut of the jeans, women should also look out for other important factors, such as colours, materials and pockets. Women who have pear-shaped bodies should stay away from jeans with large rear pockets or embellishments on the backside. These jeans may make one's buttocks look bigger. A curved waistband is also a good idea.
As for colours, dark denim is suitable for this body shape because it can create an optical illusion of thinness. Pale coloured jeans are not a good choice because they tend to draw attention to the bottom half. Low-rise and mid-rise jeans can create the illusion of a long and lean body. Pear-shaped women should definitely avoid jeans with high waists because they can make the legs appear shorter.
Jean Styles for Pear-Shaped Women
There are several styles of jeans that are flattering for this body type. Whether a buyer opts for a pair of flared, bootcut, or straight jeans, she should also pay attention to the colour and pockets, and she may want to try on a few sizes in order to find the perfect fit.
Flare Jeans
Most flare jeans sit low on the hips and have a slim fit on the rear and thighs. The legs flare out below the knees, and the flare can range from a light to an exaggerated flare. These jeans first became popular in the 1960s, and they were later associated with the 'Flower Power' period. Flare jeans reappeared after the 1990s, and they are currently one of the best choices for pear-shaped women because they draw attention away from the hips. The good news about these jeans is that they work well with a lot of clothing items, including wedge sandals, boots, shirts, blouses, and more. A woman who is looking for a 1970s vibe can opt for a pair of towering wedges and a chiffon blouse, for example. The possibilities are virtually endless, and it only takes a bit of creativity to look great every day in a pair of flare jeans.
Bootcut Jeans
Also known as the original jean, the bootcut has been present on catwalks for decades, and it remains a classic even when other styles fall in and out of fashion. The bootcut fit is a good choice for pear-shaped women because it forms to the thighs but flares a little from the knee. Bootcut jeans are not the same as flared jeans because the flare is much softer. A pair of mid-rise bootcut jeans is one of the most flattering styles for pear-shaped women. Dark colours such as indigo and black are the best options. Bootcut jeans work well with T-shirts, shirts, jumpers, and heeled boots.
Straight Jeans
Straight jeans have an androgynous appeal, and they are the ultimate leg lengtheners. They are a good option for both casual and formal outfits, and pear-shaped women may appear slimmer when wearing this kind of jeans. Straight jeans create the optical illusion of slim thighs and calves, and they work well with heels. Low-rise straight jeans are the perfect choice for women with larger hips.
Finding Jeans for Pear-Shaped Women in the Correct Sizes
Buying jeans in the correct size is crucial when it comes to obtaining a flattering look. Not only does the correct size look great on one's body, but it can also boost a woman's confidence. Unfortunately, with so many brands and styles to choose from, it may be challenging to find a pair that fits perfectly. In order to find jeans in the correct sizes when shopping online, buyers should measure their waists and hips. They should also take measurements of their inseams, which is the distance between the crotch and the ankle, because many brands offer jeans with different length options. The chart below illustrates the common sizes for women's jeans.
| | | | | |
| --- | --- | --- | --- | --- |
| Size | Waist (cm) | Waist (in) | Hip 20cm below waist (cm) | Hip 20cm below waist (in) |
| | 60 | 23.5 | 87 | 34 |
| 7 | 62.5 | 24.5 | 89.5 | 35 |
| 8 | 65 | 25.5 | 92 | 36 |
| 9 | 67.5 | 26.5 | 94.5 | 37 |
| 10 | 70 | 27.5 | 97 | 38 |
| 11 | 72.5 | 28.5 | 99.5 | 39 |
| 12 | 75 | 29.5 | 102 | 40 |
| 13 | 77.5 | 30.5 | 104.5 | 41 |
| 14 | 80 | 31.5 | 107 | 42 |
| 16 | 85 | 33.5 | 112 | 44 |
| 18 | 90 | 35.5 | 117 | 46 |
| 20 | 95 | 37.5 | 122 | 48 |
Asking someone else to take measurements may result in more accurate sizing information. Another method one could try in order to determine the exact size is to measure an already owned pair of perfect-fitting jeans. That way, new jeans can be purchased in the same size and length.
How to Buy Jeans for Pear-Shaped Women on eBay
With so many styles and brands of jeans available, it is no wonder that pear-shaped women have a hard time finding jeans that look flattering. A good approach to the buying process is to browse through as many styles as possible and compare their characteristics. One of the best places to do so is on eBay. The website offers great deals on jeans, and a large selection of these jeans in all colours and sizes is suitable for pear-shaped women.
In order to start shopping for women's jeans on eBay, type a search term such as 'women's bootcut jeans' into the search bar you can find on each page of the website. You can view the several pages of results, or you can narrow the list down according to your personal preferences to speed up the search.
Conclusion
Choosing the right pair of women's jeans depends on one's body shape and personal preferences. Pear-shaped women have several options when it comes to cut and colour, and they can choose pairs of jeans for any occasion. From straight to bootcut jeans, women can choose from different styles to create a variety of outfits. They can shop for jeans in high-end shops and department stores, or they can benefit from the advantages of shopping online and buy jeans on eBay. The website offers a large number of styles at competitive prices, and buyers can take advantage of some great deals when shopping for jeans. Regardless of the types of jeans women are looking for, they can find them quickly on eBay.
Women's Jeans|Flare Jeans|Bootcut Jeans|Straight Jeans|Low-Rise Jeans