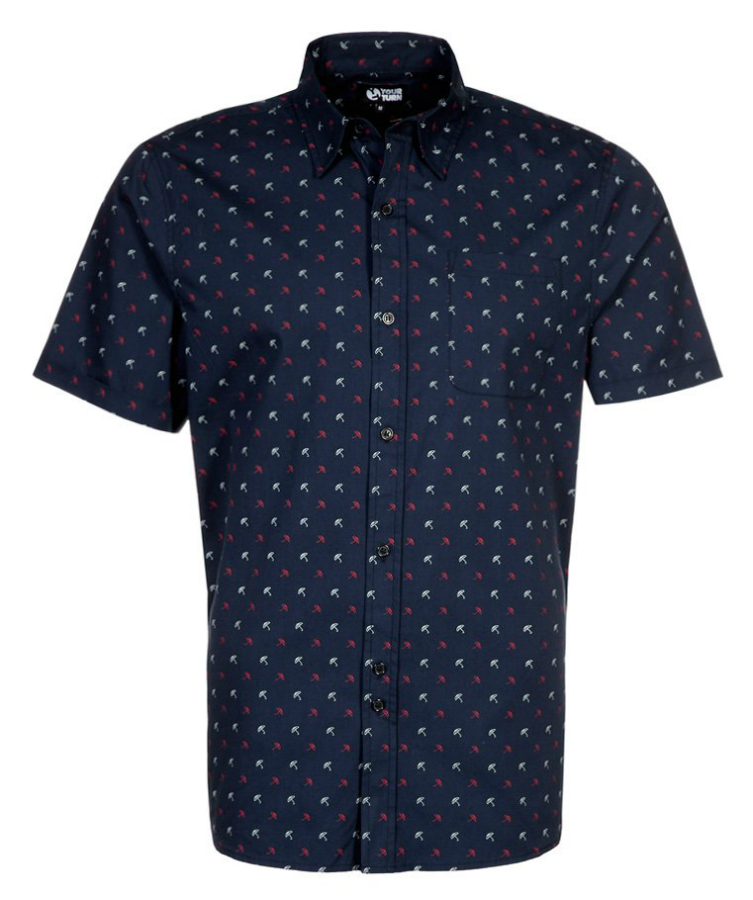 Jeans have a long association with the outdoors. In fact, they were invented, using durable denim and metal rivets, to withstand the rigours of working outside during the California gold rush. Since then, jeans have been used as a fashion statement as much as they have for work pants. This means that a man who spends a lot of time in the outdoors may have trouble finding the right pair of jeans. For the outdoors, a pair of jeans should be durable and comfortable.
Many outdoor activities require a full range of motion, so jeans should not be limiting in that regard. It is also helpful if jeans have a number of pockets where outdoor equipment may be secured and stored. In some cases, jeans suited for use in the outdoors are waterproof or windproof, allowing the wearer to enjoy more time in the elements without becoming too cold or waterlogged. Knowing what kind of jeans are best for the outdoors makes it easier to buy them, whether it is in a clothing store or online via websites like eBay.
Alternatives to Denim
One thing that many jeans fans have trouble wrapping their heads around is that jeans do not always have to be made from denim. It may be argued that what made jeans a distinct fashion option was the rivets, and not the denim. This is supported by the history of jeans; when Levi Strauss and Jacob Davis first developed jeans, they used denim as well as another material called duck. Duck proved to be unpopular so denim was used thereafter. While denim is popular, many pairs of jeans today are made from different materials.
Problems with Denim
It is true that jeans were originally meant to be used outdoors. Today, however, denim is not a wise choice for outdoor use. Denim is made of cotton, a natural fabric. While cotton is ideal for casual wear or relaxation, it tends to absorb moisture. This may become a problem in the outdoors. Wading through a stream or river may mean that a pair of jeans is going to be damp and uncomfortable for hours. Wet jeans may also become a serious problem if temperatures drop.
Ideal Materials for the Outdoors
There are many jeans that are better suited for the outdoors than those made from denim. Many of these make use of synthetic materials that not only whisk moisture away, but they are more comfortable and allow for a greater range of motion than denim. Other options include materials that are incredibly durable while still offering moisture and wind resistance.
Even duck has had something of a comeback as it is a tough, durable material. Another example is softshell fabric. This material has a double weave construction that is tough on the outside and soft on the inside. Some of these materials are proprietary, but most make use of the latest technology for durability and comfort.
Styles of Jeans Best Suited to the Outdoors
There are many styles of jean available for men. Some of these jeans are distinguished primarily by cut and not in terms of which ones should be the best to wear on a long hike. Many different styles of jean are available in fabrics other than denim, which makes them better able to handle the outdoors.
Cargo Jeans
In some circles, cargo jeans have outlived their popularity. This being said, they are still extremely popular for the outdoors. This is in large part due to the large pockets that are the defining feature of cargo jeans. These large pockets make it possible to carry essential equipment like a compass, GPS locator, mobile phone or canteen in a place that is easy to reach.
Convertible Jeans
Many jeans that are meant to be used for outdoor activities are convertible jeans. Basically, these types of trousers make it possible to remove the lower half of each leg with a zipper. Many cargo jeans are also convertible. The convertible feature makes it possible to turn the jeans into shorts on a hot day or when it is necessary to wade through a shallow body of water. The detached legs may even be used for survival, doubling as storage containers.
Carpenter Jeans
Carpenter jeans, or carpenter trousers are those that feature a number of different pockets as well as loops where tools may be hung. While these jeans are ostensibly used for carpentry or other forms of manual labour, they may be incredibly useful in the outdoors. The many pockets are not as large as those featured on cargo jeans, but there are more of them.
The loops which are strong enough to hold a hammer are strong enough to hold a flashlight, a small hatchet, or any kind of outdoor equipment. The location on the jeans rather than in a backpack makes it easier to retrieve the items in an emergency. Perhaps the most appealing feature of carpenter jeans is that they are designed to be slightly wider in the leg. This makes it possible for carpenters and others to bend down frequently without any problems. This feature is also ideal for hiking as it allows the wearer to spread their legs while climbing and assume positions that would make other jeans rip or tear.
Bootcut Jeans
Bootcut jeans are a very popular style. They have a flared leg that is meant to be worn with boots. This feature makes it popular with men who spend time in the outdoors. A good pair of boots may be good for finding traction while hiking, but they may also be a protection against snakes and other hazards. To be the best fit for the outdoors, bootcut jeans should be made from duck or some other material. Bootcut jeans may seem like more of a fashion statement, but by making it easier to wear boots, they may be highly useful outdoors.
How to Buy Jeans for an Outdoors Man on eBay
Many of those who want specialised apparel for the outdoors choose to do their shopping on eBay. Not only are jeans available for purchase, but they come in a variety of materials and styles. Many of them are brand new and are made by some of the leading manufacturers of outdoor apparel. In order to find the right jeans for an outdoor enthusiast, the first step is usually the search bar found on every eBay web page.
Entering a term like, 'duck jeans' may produce a number of results. Of course, any search term may be modified as needed. It is also possible to find apparel and other outdoor items on eBay Deals. Before making any purchase, it is always helpful to carefully read the product description. This description may make it easier to know what condition jeans are in before buying.
Conclusion
Jeans have a long history and association with the outdoors. Even when they are not made from denim, they are still useful and durable pieces of clothing. Many of those who spend significant time outdoors choose to wear jeans for comfort and practicality. Before making a purchase of a pair of jeans, it is important to know if it is the best kind of jeans for outdoor use. One of the most important things to examine is the material that they are made from.
Many modern textiles are waterproof, windproof, and are able to withstand harsh conditions better than classic denim. It is also important to evaluate different styles of jeans in order to determine what kind might be the best fit for certain activities. Taking all of these factors into consideration makes it possible to find jeans that should not only last for a long time, but should be comfortable and stylish.
Jeans|Men's Apparel|Outdoor Apparel|Cargo Jeans|Carpenter Jeans