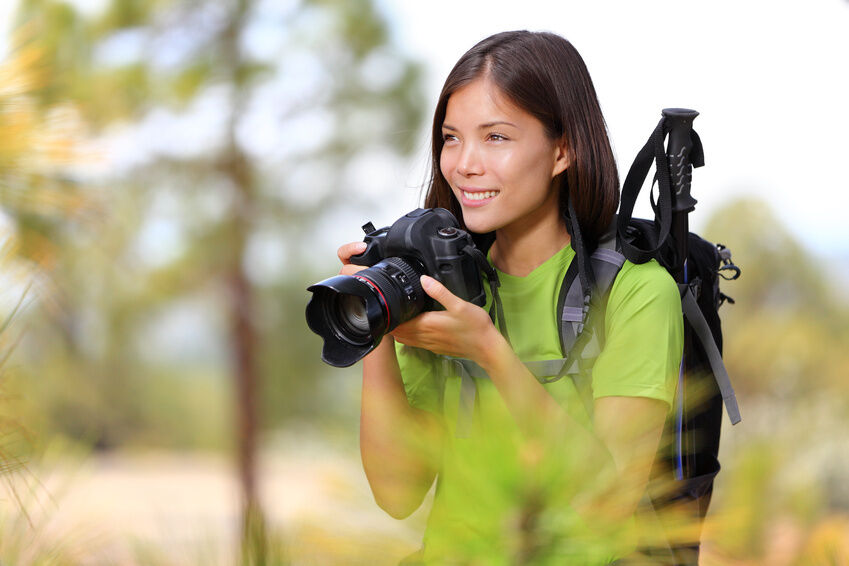 Filters are essential to landscape photography. With so many bright colours and details to consider, filters help sift out stray light so that photographers can focus on the natural beauty of the scene. Some filters are necessary for shooting outdoor scenes, while others are good to have on hand because of their unique effects. By learning about the effects of the top filters for landscape photographers, shoppers can decide which filters add to their camera bag.
Polarising filter
A polarising filter is one of the most important filters for outdoor photographers to have on hand, as it eliminates stray light and reflective glare to capture natural colours and highlight small details. They add vividness and contrast to the colours of the landscapes, as well as reduce atmospheric haze. A polarising filter works by blocking certain light waves from entering the lens. Unlike other filters, the effects of a polarising filter cannot be emulated on a computer during the editing process.
Neutral density filter
A neutral density filter's effects cannot be replicated by a computer. This filter reduces the amount of light that enters the lens, allowing photographers to increase exposure time and decrease shutter speed. When photographing waterfalls or other landscapes with moving water, these filters can create a foggy and mystical effect. For still landscapes, a neutral density filter allows photographers to increase exposure time to capture vivid details.
UV filter
Many photographers use a UV filter with their camera for outdoor shots. The colourless filter reduces ambient UV light to maintain optimal image sharpness. When there is not an excess of UV light, the filter serves as a form of protection for the lens. It does not alter image quality or colour when used during non-daylight conditions. Additionally, photographers can use this filter in conjunction with other filters.
Graduated neutral density filter
While typical neutral density filters evenly reduce the amount of light coming into the lens, a graduated neutral density filter has a gradient effect. These filters are darker at the top than at the bottom, meaning that less light can enter through the top of the lens. These filters are especially useful for photographers capturing shots that include a bright sky and a dark landscape.
Warming filter
If a photographer is shooting landscape photography when the sun is high overhead, the lighting conditions can be harsh. This creates a blue or cold effect on the resulting images. Warming filters have orange or amber tones to mimic the lighting of the late afternoon or early morning, which helps to soften the contrast and warm the overall image. Additionally, shoppers can find graduated warming filters to apply warming effects to only part of the landscape.
Didymium filter
Didymium filters increase saturation in orange, crimson, and scarlet colours to make them pop. They are especially useful for landscapes that include foliage, rock formations, wood, and other similarly coloured subjects. Because didymium filters are global filters, they enhance all warm colours in the frame. This means photographers should avoid them if there are people in the frame to avoid unnatural skin tones.
Contrast filter
Contrast filters include a wide variety of lens filters that feature different effects, but are similar in the sense that they affect the contrast of the image. Whether the contrast is too high or too low, this filter allows photographers to adjust them to acceptable levels. Landscape photographers should be careful when selecting a contrast filter, because too much or too little contrast can affect the amount of detail in the photograph. Examples of contrast filters include fog filters and pro-mist filters.
Infrared filter
Designed to block nearly all visible light, infrared (IR) filters create a unique effect. While they are not ideal for all landscape projects, they do create interesting and artistic images. Because these filters are opaque, only infrared light can penetrate the filter and reach the sensor or film. The resulting image is in black and white, with the bright sky appearing black and foliage and other subjects with lower amounts of infrared radiation appearing white.
How to buy lens filters on eBay
Shop for cameras, camera accessories, and filters on eBay. Enter keywords into the search box to begin shopping for new and used items. Select options such as brand, condition, and price to narrow the results and find the filters that you need. Carefully read the item description to ensure the filter is compatible with your camera, and make sure to view photos to get a feel for the condition of the filter. Whether shooting fall foliage or a cascading waterfall, you can find lens filters for all types of landscapes by shopping on eBay.