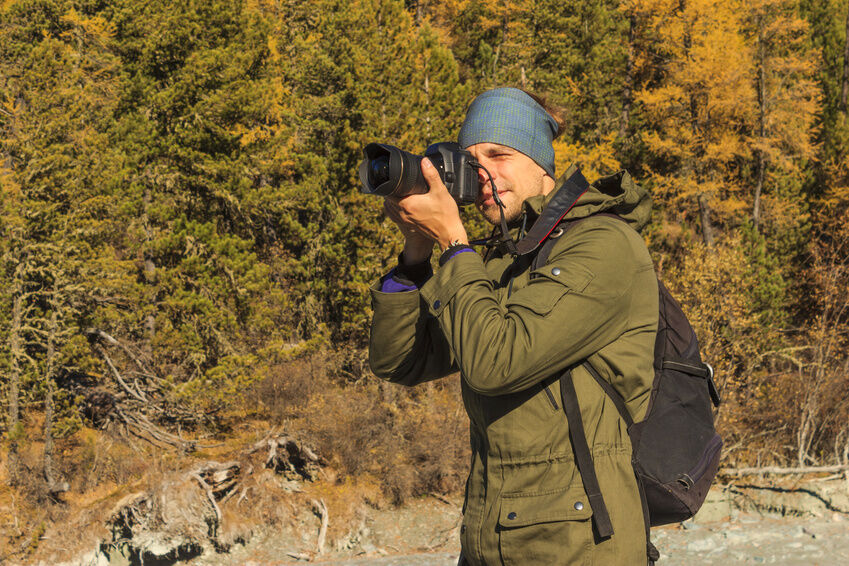 When it comes to artistic photography, nothing stands as tall and majestic as the landscapes of nature. Capturing high quality landscapes on film is about more than the default wide-angle camera lens. In fact, the discerning professional or even advanced amateur photographer must diversify his options for the best results. Learning about the lenses that are optimised for landscape photography is about understanding not only the benefits of a wide angle, but what other types of lenses have to offer and how to use each when capturing nature's beauty.
Wide-angle lenses for landscapes
The wide-angle lens may be the default choice, but it is important to landscape photography. Although a wide-angle lens is anything between 20mm and 35mm, the most popular options for landscape photography are 21mm and 24mm lenses.
Wide-angle lenses offer a greater depth of field for a given aperture setting than any other lens. This creates an image that literally draws the viewer in by creating a horizon line that seems farther away despite its 2D rendering.
Manufacturers design these lenses to capture a little bit of everything that the photographer sees through the viewfinder, and the flowers in the foreground appear in sharp focus, as do the mountains hundreds of metres away. As a result, viewers can easily place themselves right beside the photographer when viewing the picture.
Other important lenses for landscape photography
Despite the seeming monopoly that wide-angle lenses have on landscape photography, they are not the only lenses that work. In fact, by broadening their options and looking at a landscape scene from a different perspective, photographers open up a whole new world of beauty and possibility within their work. There are several other lens sizes that accomplish this task in various ways.
35mm lenses
Technically, 35mm lenses are at the high end of wide angle, but they are less commonly used than 21mm and 24mm lenses. Therefore, considering the particular benefits of a 35mm lens is important.
Opting for a 35mm lens instead of a 24mm lens reduces wide-angle distortion. This allows a photographer to hone in on a particular subject or focal point with increased accuracy over the smaller wide angle options.
50mm lenses
Anything between 40mm and 60mm is considered a "normal" length lens. Although these lenses are not typical in landscape photography, their enhanced ability to compress a background and focus in on details has immense potential in the field.
When photographers use a 50mm lens and get enough distance between it and the subject, they create a more accurate "human eye" perspective. Because this lens most accurately depicts what the human eye actually sees, it can also reproduce that authentic scene with much more precision.
85mm and 135mm lenses
As lens sizes increase, so does the compression of a photograph or its "zoom". When using an 85mm or 135mm lens, a photographer increases his ability to centre on one particular subject or aspect of an overall scene. Although the surrounding environment blurs at this level of compression, it is still possible to create an interesting landscape perspective that highlights one tree within a forest or a single peak within a mountain range, for example.
Choosing to use an 85mm or 135mm lens is all about managing the amount of compression required for a particular shot, so it is specific to the location and the camera.
70 to 200mm telephoto lenses
The use of a telephoto lens like a 70 to 200mm lens may seem misplaced in landscape photography, but it can be useful. The reason for this relates to the concept of perspective. As Ansel Adams wrote, "perspective is a function of camera-to-subject distance", and when shooting landscape photography, a longer distance is often ideal.
Unfortunately, in order to fill a frame with perspective at a distance, photographers need to adjust focal length, which a telephoto lens accomplishes with ease. When photographers employ a 70 to 200mm lens, they can selectively frame the details of a landscape. This, in turn, allows them to easily and precisely capture even the finest points of vision despite that distance.
How to buy camera lenses on eBay
Diversifying your lens collection is the best way to capture beautiful landscapes. Shopping on eBay makes doing both easy since reliable sellers offer individual and bundles of lenses, both new and used, at a variety of price points. Simply type the lens's size and brand into the search box located on any page to locate products that are compatible with your DSLR or SLR camera. From there, narrow the options easily using the provided filters. Consider buying from local sellers to save on shipping costs.