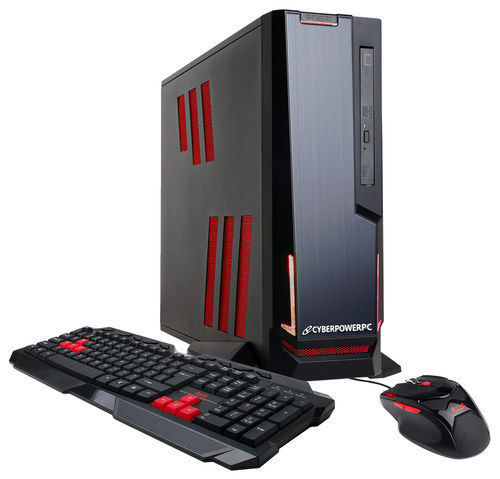 The best PCs for gaming are often built by users from a selection of the latest computer parts. This keeps the process affordable by providing all the best features, but it also takes skills that every user doesn't possess. For those who aren't interested in DIY methods, there are several computers on the market that are specifically created for playing games. With intense processors and graphics cards, they do keep up with the demands of the latest games. Here are four models suitable to every budget and build preference.
Digital Storm Coridium
For those looking for the current cream of the crop gaming rig, the Digital Storm Coridium is an impressive beast. It boasts two of AMD's latest graphic cards, the Radeon R9 295X2, and the Coridium relies on an overpowered Intel Core i7 to do its heavy lifting. Any game you could ever want to play can be carried on the system, and it can be supported by multiple monitors for friendly play action or for full development testing. There's no need to worry about overheating either, as a full-system HydroLux cooling setup keeps components chilled. To take advantage of the system's features, however, you'll have to fork out at least $8000, making it one of the most expensive high-end gaming PCs available.
Origin Chronos
While the Chronos costs just under $1700, it's capable of out-performing computers two to three times its price. The compact gaming computer has two graphics cards--6GB Nvidia GeForce GTX 780 Ti cards. Supported by a Corsair 850W power supply, an Intel Core i7-4770K processor, and a 1TB, 7200rpm HDD/1 TB SSD, this unit heats up fast. Thankfully, an internal cooling system and two heavy-duty top-loaded fans keep it well under critical temperatures, even during intense 3D gaming.
CyberPower Zeus Mini
Microcomputing is where gaming is at. This is more than apparent with the introduction of this mini-computer packing an impression punch for under $1000. Unlike the Chronos, the Zeus Mini has an onboard optical DVD±R/RW drive. A Cooler Master Seidon system is essential to keeping this ultra-compact computer up and running. Fit with an Intel Core i7-4770K processor and an EVGA GeForce GTX 780 Superclocked GPU, the Zeus Mini easily drives up the heat on the competition.
MSI AG270 Gaming All-in-One
Tablets have a long way to go before reaching gaming maturity and laptops can be notably slow, so for gamers who want the least fuss possible in purchasing a rig, the MSI AG270 gaming all-in-one is the way to go. At just over $2000, it's reasonably priced for a system providing outstanding graphics and precision, as well as quality sound. Its impressive 27-inch 1080p monitor provides players with touch functionality and has the option of being anchored to a wall. The included wired keyboard and mouse are optimized for gaming, and the system comes with preloaded software like XSplit Gamecaster, which makes it easier to record and share gaming sessions. With an Intel Core i7-4860HQ processor, 1TB hard drive and Nvidia GeForce GTX 870M help create a competitive gaming rig in an ultra-convenient package.