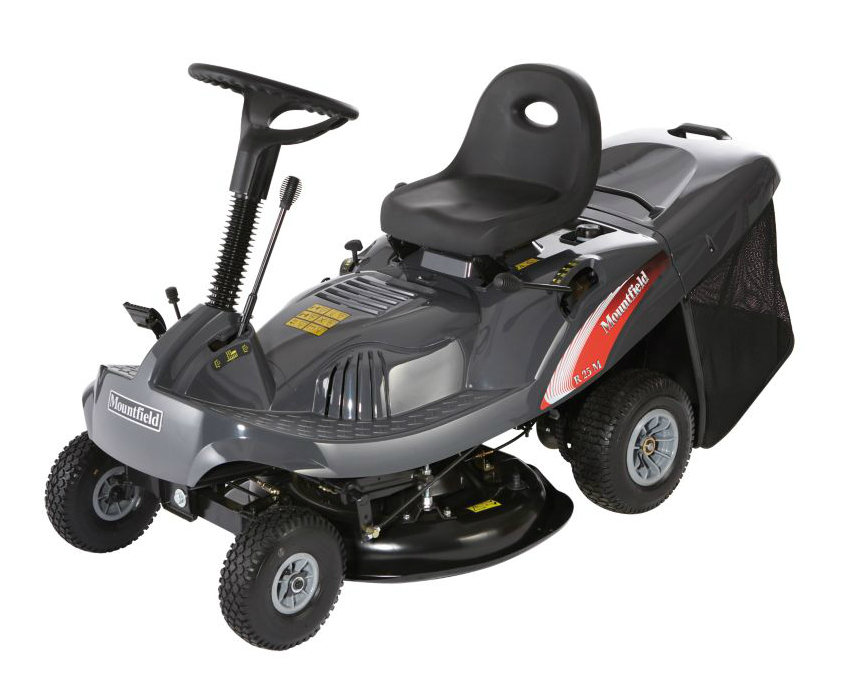 The nice thing about owning a home on a large plot of land is that a person typically has increased privacy, lots of room to roam, and possibly enough space for things like adding a swimming pool or building an addition to the house. The bad part, however, is that with more land comes more yard maintenance. This is especially true when it comes to mowing the lawn; typically, a push mower just does not 'cut it'. That is where riding lawn mowers come into play, as they help keep the yard neatly maintained with minimal effort. That being said, not all riding mowers are right for the job, and because of this, it is important to find the best riding mower for that large yard.
A Brief History of the Lawn Mower
Lawn mowers, and clean-cut lawns in general, have been around for much longer than most may think. The first instances of people keeping a short, clean-cut looking lawn dates back to the 1700s in France. People kept their lawns short and tidy by utilising grazing animals, as well as outdoor equipment such as scythes, sickles, and even shears, in which they had to hand-cut their lawns. This practice of keeping a clean, short lawn soon spread to England, and the rest of the world followed soon after that. Because of this widespread adoption, the first machine designed and patented solely for mowing a lawn came in 1830 by a British engineer named Edwin Beard Budding.
Budding's revolutionary machine was based off a machine used to cut cloth in a cloth mill, in which the blades were mounted on a rotating cylinder. The first mechanical lawn mowers created by Budding were made out of cast iron, so they were extremely heavy, probably horse drawn machines. Developments of the lawn mower later in the century first led to lighter versions of these machines, followed by petrol and steam-powered engines by the end of the century. As time continued to march on, so did the evolution of the lawn mower. Modern land mowers include small, lightweight, petrol and electric-powered push mowers, as well as small, tractor-like riding lawn mowers.
Choosing the Best Riding Mower for a Large Plot of Land
Choosing the proper riding lawn mower for those with large plots of land can certainly take the headache out of lawn mowing. While riding mowers are typically made for larger plots of land in general, some may handle these large plots better than others. Because of this, it is important to factor in a few things when finding the right one. Those things include the land plot acreage, durability, and lawn terrain.
Land Plot Acreage
The size of a plot of land is typically measured in acreage, especially in larger plots. With these larger plots of land, it is typically a good idea to find a tractor that can cover more ground with a larger mower deck. Such a mower that does this exceptionally well is the John Deere X304, which features a mower deck of about 106 cm. This is roughly twice the size of a typical lawn mower, meaning it covers twice the ground in less than half the time. Also, with bigger plots of land, a faster mower may be desired to further cut the time it takes to mow the lawn. Mowers that feature higher amounts of horsepower are suitable for this, as they cover more area at a quicker rate.
Land Mower Durability
Another important factor when deciding on the best riding mower for a large plot of land is the durability of the mower. Because large plots of land take longer to mow than smaller ones, it means that the mower is going to be used longer during a single cut. And as lawns that have to be cut more frequently require the mower to be more frequently used, it means that the overall durability of the mower should be greater than a mower that may be optimal for a smaller plot of land. According to consumer reviews, the following brands offer high-quality riding mowers that promise durability of both the mower and motor.
Land Mower Brand

Brief Description

Very popular

Many different types of mowers available

Expensive

Very high quality

Innovative

Durable mowers

Durable motors

Extremely popular

Reputable brand
Of course, price often plays a large part in determining how durable a mower is. However, since a large plot of land requires frequent lawn mowing, it is often wise to choose a brand that promises a good quality mower and motor, like the ones listed in the table.
Lawn Terrain
When choosing a riding mower, it is extremely important to factor in the terrain of a user's land. Some riding mowers handle rough terrain better than others, and some may only be suitable for fairly flat terrain. Also, the type of grass a lawn has is important to factor in; some types of grass are thicker than others. Because of this, thicker types of grass take longer to mow, or may require a better blade on the mower to get the best quality cut, as well as bigger wheels and a higher amount of horsepower.
Buying a Riding Lawn Mower on eBay
Finding the right riding lawn mower suited for a large plot of land for the right price can sometimes be hard. One such place to find great deals on most things is eBay. By simply entering the keywords 'riding lawn mower' in the search bar, you can find pertinent results that make finding the right riding lawn mower a little easier. You can further refine your search by entering the desired brand to the keyword search, or by browsing through the many different categories. You may also want to check eBay Deals; lawn mowers may be available at a special price.
It is important when purchasing a riding lawn mower from eBay to buy from a trusted seller. It is also important to read the full product description and pay attention to shipping details, as some sellers may only offer local pick-up. If the seller does offer shipping, be sure to find out the price of the shipping before buying, as such a large item most likely costs a lot of money to ship.
Conclusion
Having a big plot of land is highly beneficial for many reasons. But because of the sheer size of some plots, it can make lawn mowing an all-day chore for some homeowners. The solution to this problem is a riding lawn mower, which mows the lawn at a much quicker rate than a standard push mower, and requires a lot less physical labour to do so.
Of course, not all riding lawn mowers are ideal for large plots of land, and because of that, it is important to find the best one that is well-suited for a plot of land. Things to watch out for when choosing the right riding mower is how big the plot of land is, the terrain of the lawn that is to be cut, and the durability of the mower itself. Some of the best riding mowers available on the market are Craftsman, Honda, Husqvarna, and perhaps the most popular, John Deere. Homeowners can find them in brick and mortar shops or on eBay, where lawn mowers are available as both new and used from various sellers.
Riding Mower|John Deere X304|Riding Lawn Mower|Push Mower|Lawn Mower