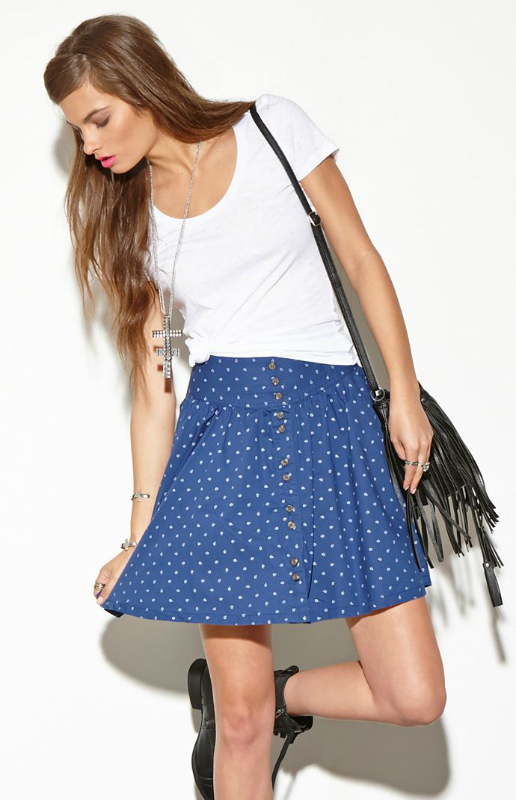 Tall women often need to pay extra attention when it comes to choosing flattering pieces of clothing. They have to make sure their bodies looks in proportion, and this means items like skirts must be chosen carefully. Whether they are looking for casual, business, or formal skirts, tall women should opt for the right lengths and cuts in order to present their bodies in a good light.
When choosing a skirt for a tall woman, one should take into account various factors, including the woman's age, the shape of her legs, skirt colours, and more. By learning more about what types of skirts are suitable for tall women and how to wear them, women can make informed choices every time they shop for clothing.
What to Look for When Shopping for Tall Women's Skirts
Most tall women have been blessed with long legs, but this does not mean any kind of skirt looks great on tall bodies. Deciding exactly how much skin one should reveal is often tricky, and women should consider the occasions prior to making their purchases. The good news is that many skirt lengths go well with long legs. However, buyers should opt for skirts that are flattering to their overall silhouettes.
Choosing Colours
Besides choosing a skirt in the right length, buyers should also make sure they purchase skirts in flattering colours. Too much colour may be overwhelming for tall figures. For example, wearing the same colour skirt, tights, and shoes may create the impression of very long legs, so tall women may want to avoid this combination in order to make their legs look more in proportion with the rest of their bodies. Wearing nude tights or a colour that contrasts with the rest of the outfit may make a woman's legs look shorter.
Coordinating a Skirt with Footwear
Since tall women often opt to wear flat shoes, they should take this into account when shopping for new skirts. Coordinating skirt purchases with the shoes that already exist in a wardrobe is a sensible approach. Short skirts look nice with ballerina flats and low ankle boots, while mid-length skirts are suitable for court shoes and knee boots. As for long skirts, they are a good combination with summer sandals or even a pair of fashion trainers for a casual outfit.
Types of Skirts That Are Flattering for Tall Women
Several types of skirts are flattering for women with long legs. They can choose different styles for both casual and formal outfits and combine them with various tops to obtain the desired looks. Women can also make skirts more flattering by accessorising them. A wide belt, for example, is a good way to make the entire body appear shorter.
Maxi Skirts
As its name suggests, a maxi skirt drapes to ankle length. These skirts are available in various cuts, such as tight fitting or free flowing. A maxi skirt is a very good choice for a tall woman, and she can find styles that are suitable for formal and casual wear. When shopping for maxi skirts, the length is perhaps the most important thing to take into account. The general rule is to wear a maxi skirt that grazes the top of the ankles. However, women who want to appear shorter can go for a hemline that is longer. Loose fitting maxi skirts accentuate the silhouette and often look great on tall women. Tighter styles may be a good choice for some women, and they can choose to accessorise them with wide belts if they want to look shorter.
Boho Skirts
Boho skirts are somewhat similar to maxi skirts, but they have a more bohemian vibe and feature ethnic prints and embellishments. They are a good choice for hot summer days and outdoor festivals. Even though many boho skirts are ankle length, buyers can find them in shorter versions, as well. They work well with flat sandals and solid-coloured tops. Boho skirts are not a good option for formal occasions, but they are ideal for casual wear and should make it into every woman's summer holiday suitcase.
Tiered Mini Skirts
Tall women who want to show off their legs, especially in the summer, may opt for tiered mini skirts. This is actually a twist on the classic mini skirt that features a structured waistband and two or more tiers. Tiered mini skirts are available in a wide variety of materials, with lace and linen being among the most popular choices. Buyers can choose from solid-coloured tiered mini skirts and prints, such as floral or paisley. This style of skirt emphasises the legs and suits a tall silhouette perfectly. One can choose to pair a tiered mini skirt with heeled sandals or low ankle boots for a flattering look.
Mid-Length Skirts
Mid-length skirts come in a wide variety of styles, ranging from pencil skirts to A-line skirts. Tall women should opt for knee length skirts when it comes to business outfits. Pencil skirts are a good way to accentuate a tall silhouette. For casual occasions, denim pencil skirts are a nice choice. The main advantage of wearing mid-length skirts as a tall woman is the sense of proportion that is created.
Tips for Choosing a Skirt in the Correct Size
In order to be flattering, a skirt needs to fit perfectly, especially on a tall woman. To achieve this effect, women should make sure the skirts they purchase are the correct size. Taking measurements of one's waist and hips is a good way to determine the exact size that is needed. The information in the chart below may help women decide which sizes are suitable for them.
| | | | | |
| --- | --- | --- | --- | --- |
| Size | Waist (in) | Waist (cm) | Hips (in) | Hips (cm) |
| 6 | 23.75 | 60.5 | 33.75 | 86 |
| 8 | 24.75 | 63 | 34.75 | 88.5 |
| 10 | 26.75 | 68 | 36.75 | 93.5 |
| 12 | 28.75 | 73 | 38.75 | 98.5 |
| 14 | 30.75 | 78 | 40.75 | 103.5 |
| 16 | 32.75 | 83 | 42.75 | 108.5 |
| 18 | 35.75 | 90.5 | 45.75 | 116 |
Buyers should keep in mind that the sizing information in the chart is not always concrete, and sizes may actually vary from one brand to another. Trying a skirt on when shopping in person and reading product descriptions carefully when shopping online are good ways to find the perfect fit.
How to Buy Skirts for Tall Women on eBay
eBay provides buyers with great deals on a large selection of skirts that are suitable for tall women. Whether you are looking for a new or used skirt to add to your wardrobe, it is possible to find it quickly on eBay. If you want to find inspiration on the website by browsing through a long list of styles, simply perform a general search for skirts by using the search bar located on each page of the website. If you have a good idea about what you are looking for, you can add some extra keywords to find skirts that closely fit your expectations. You can also refine the results you view by size, price, colour, material, location of the seller, and more.
Conclusion
Shopping for a skirt that would be a good fit for a tall woman is often something that takes a bit of time. Several styles can be flattering on a tall woman, and the selection in traditional clothing shops and department stores is diverse. Buyers who want to find an even larger variety of options all in one convenient location may choose to shop for women's skirts on eBay. Regardless of the occasion for which a skirt is needed, it is not difficult to find one in the correct size and style when shopping on eBay. Besides offering a large selection of skirts, the site is also a great place to shop for people on a budget. They can find plenty of excellent deals and bargains on the website.
Women's Skirt|Maxi Skirt|Boho Skirt|Mid-Length Skirt|Tiered Skirt