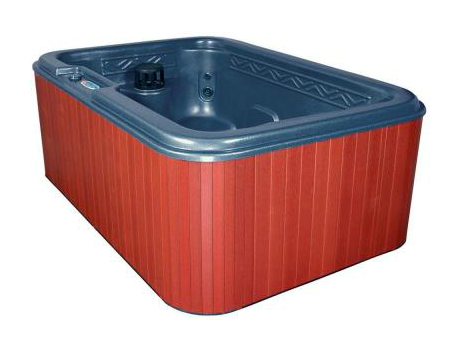 Spas are commonly used for the purpose of hydrotherapy. A spa is generally defined by two things: heated water and massaging water jets. The water temperature of a spa approaches 40 degrees Celsius; the warmth boosts the body's blood flow and circulation. In addition, massaging jets of water often mimic analgesic pain relief, thus reducing the need for anti-inflammatory or other pain reduction medication.
The word "spa" is often interchangeable with "hot tub" or even the product line of "Jacuzzi". Although many people purchase spas for entertainment or enjoyment, they are also an excellent way to relieve sore and strained muscles, stress, and minor discomfort, including temporary or persistent back pain. To find the best spas for people with back pains, buyers should have an understanding of the components of a spa and quality brands to ensure a wise purchase.
Overview of Spas
In general, spas are heated via either electricity or gas; however, some models that utilise solar power are available. In the outdoors, naturally occurring hot springs are nature's spas. However, individuals should not visit a hot springs location without first learning about the site itself. With no means of temperature control, some hot springs may be hotter than is recommended or may be withstood. In addition, before using hot springs that run hotter than most, a bather should ensure that a cold water source is nearby. The standard spa is composed of the following elements, each of which has a particular function.
| | |
| --- | --- |
| Component | Purpose |
| Air Blower | Pushes air and produces the bubbly effect; in the event a spa utilises a second set of hoses, induced air is added to the water stream, thereby making for a more gentle massage |
| | Keeps the water from becoming murky and dirty; may be a dedicated external filter or one built into the spa itself |
| Ozone System | A separate set of hoses is required when a spa utilises an ozone system, which contributes to water maintenance |
| Pressure System | Provides water to the jets |
| Suction System | Recycles the water and delivers it back to the pumps |
Understanding the various components of a spa is important for buyers considering a purchase as they are often a large investment. It would be wise to ensure that all the necessary components meet the buyer's standards before choosing a specific spa to purchase.
The Use of Spas in Hydrotherapy
Hydrotherapy is a medical term encompassing any health treatment performed with water. Following an early appearance in ancient Greek, Roman, and Egyptian civilisations, hydrotherapy made a comeback during the 18th and 19th centuries. Since the 1920s, physical therapy has included spas in the form of hot tubs or whirlpools in its treatment regimen. Moreover, hydrotherapy spa destinations are popular tourism sites.
Amongst the health improvements spa users may enjoy are better athletic performance, better sleep, stress reduction, and pain relief. Three of the more common elements of hydrotherapy are underwater massage, water jets, and mineral baths, any or all of which may be found in spas, hot tubs, and whirlpool baths. These days, homeowners have additional hydrotherapy options, as well, as benefits are also available from hot baths, Swiss showers, and in-tub whirlpools.
Spa Therapy for Back Pain
A spa relieves back pain via two components: warm water and massage jets. By itself, the water from warm to hot improves circulation, eases pain, and enhances relaxation.
It should be noted that, immediately following an injury, ice should first be applied to reduce swelling and inflammation. After two or three days, once inflammation has been reduced, heat application can then be used to promote healing.
According to the Journal of Rheumatology, spa therapy can provide both short- and long-term relief for individuals suffering from lower back pain. It reported a study that found reduction in both intensity and duration of back pain, as well as a growth in flexibility with spa therapy. In fact, as the National Institute of Arthritis and Musculoskeletal and Skin Diseases proclaimed that heat "alters the sensation of pain" for the better.
Spas Used for Back Pain
Amongst the top three home spa products are whirlpools, water jets, and bubblers. The whirlpool turns a home bathtub into a circular, swirling tide; the bubbler, just as it sounds, pumps air into a tub of water to create soothing bubbles of air. The water jet, on the other hand, propels forceful jets of water to massage aching back and other muscles.
Jacuzzi
Perhaps the best-known brand of spa or hot tub is Jacuzzi. Beyond spas and hot tubs, products available from the company include baths and bathtubs, showers, sinks, toilets, and other accessories. Jacuzzi continues to differentiate itself from its competition with the use of patented jets, ergonomic seating, sun-resistant siding for outdoor units, and foam insulation.
Nearly all models of portable home spas allow for the adjustment of the water pressure; bear in mind, however, that the force is far less than that found in a larger, more permanent home spa or hot tub. Also, as the portable model cannot contain the motor as a larger hot tub spa can, use is going to be louder than that of a standalone unit.
Jacuzzi makes a wide range of home tubs, baths, showers, and hot tubs. The company's luxury collection includes such amenities as electronic heat, pressure, and timer control panels; lumbar support, blower systems with fully balanced airflow, and multiple jets ranging from 8 to 23 in number.
Maax Spa
Maxx Spa, along with its subsidiary Jaden Spas, is a big name in home spa equipment in Australia. The companies offer a number of options, both portable and built-in, to suit any space or therapeutic need.
As the company boasts on its website, Jaden spas are "built to last". Beyond simple sit-in spas, Jaden also delivers a line of swim spas, facilitating additional exercise and stretching of sore back muscles. The five-layer shell construction conserves energy, provides warmer water, and long-lasting quality. The company's full-size models are available in a range of both wood and acrylic finishes, all of them high quality. The well-known Davey brand is also available through Maxx Spa.
Pollenex
According to an old Pollenex spa promotion, the spa line delivers "fast temporary relief of minor … backache" and relieves tension and tired muscles. And whereas initial spa buyers may have been older, the affordability of home models has made their use more widespread and universally enjoyed. Pollenex was one of two early companies producing the portable whirlpools that work when draped over the side of the tub. In recent years, however, the company has moved from producing home spas to delivering accessories, such as massaging shower heads, spa benches, shower radios, and more.
How to Buy a Spa on eBay
You can perform your search from any page on eBay. To start a general search, type in "Jacuzzi" or "hot tub" into the search bar. To narrow your results, you can filter the results and choose "Spas" as the product type. Other available options here are accessories, such as covers, chlorinators, pumps, and filters. You can also filter or add in a keyword for a specific brand name, such as Davey.
Once you see a potential buy, click on the listing to see more information, including the item's descriptions, photos, whether the product is brand new or used, the shipping cost and terms, and the rating on the seller. With eBay, finding a spa to relieve your back pain is quick and easy.
Conclusion
The benefits of hydrotherapy are well proven, dating back to the therapeutic baths heralded by the early Egyptian and Roman empires. After a renewed interest in water therapy around the turn of the 20th century, hot tubs and spas were recognised as beneficial. As hydrotherapy came home, people found themselves with affordable choices.
Providing room for multiple people and delivering a more immersive experience, the patio or recreation room hot tub is common for water-based enjoyment and relaxation. Through the use a spa's heated water and massaging water jets, many people have found relief from discomfort, including that nagging ache that comes from intermittent or persistent back pain. With knowledge on the components of a spa and the various types available, buyers are better equipped to choosing the best one for back pain.